Download and install #DRIVE APK and test your driving skills. There are no opponents to race with or a time to finish a race. A player's success or failure depends on them.
Description of #Drive
#DRIVE is another driving game where you have the chance to showcase your skills and overcome several difficult challenges. Basic ideas have created many excellent things, which is why this game is the favourite of all car fans. No levels or enemies exist, and you do not have to race with anyone. You only need to grab the wheel; the game's speed will increase and transport you on an unlimited journey.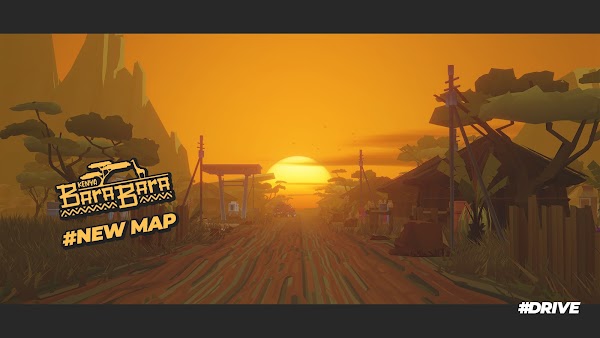 #DRIVE was released and developed by Pixel Perfect Dude; unlike Voodoo, which is so popular, Picture Perfect Dude is pretty much unknown in the Google Play community. However, this publisher has created a few games for both iOS and Android, such as Extreme Beach Volley, Ski Jump, and so on. Their games are often fun, simple, and with addictive gameplay. Rather than creating classic racing games, this particular game has unlimited run gameplay –similar to the popular game known as Subway Surfer.
Gameplay
While playing this game, you will explore several exciting locations, from the lovely snow-white roads to the hot asphalt roads. But surely, you can't expect things to be simple. A Player will encounter several careless and reckless drivers that are only sightseeing but don't care about other cars. The police only attempt to stop you when pulling the throttle to the extreme (if they are on your tail, always remember to visit the doughnut shop).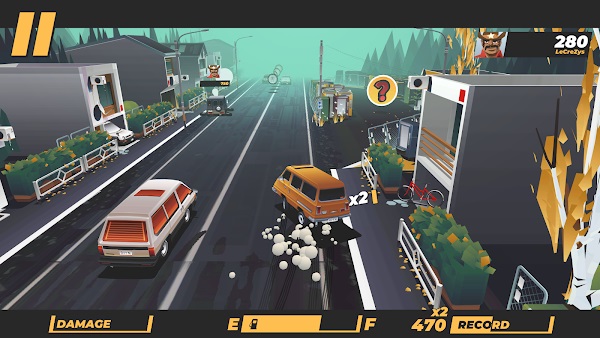 Do not allow them to take your attention away for too long. Remember that the farther you travel, the more points you receive; therefore, always ensure that you collect as many bottle caps as possible on your path. And also, always remember to check the fuel bar and the damage the car has incurred to identify when you should stop the journey. You will need to recover before you can continue moving.
Bottle Caps
You need to understand that #DRIVE is not a game for racing, and it is not for speed either. So you don't have to go extremely fast. There is no racer competing with you; the only opponent you have is yourself – so your success or failure relies completely on your actions. The distance you travel will determine the number of points that you earn. However, do not hastily conclude that this is an easy or boring game. Several obstacles will cross your path while you are driving. Several things are designed to distract you and prevent you from completing the task. A split second of distraction can damage your car. The roads close to the desert are often sandy, making driving a little bit harder since it would be slippery for cars. If you drive your car at an extremely high speed, you will most likely lose control of the vehicle and collide with buildings.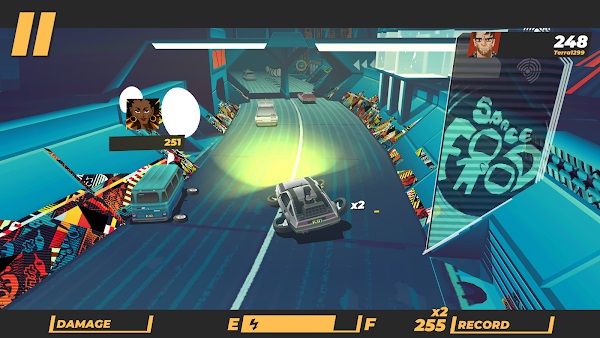 Always remember to collect money as you drive. The bottle caps you will see are the money. You will receive a bonus according to how many bottle caps you receive. However, that can also be a terrible trap. Sometimes, when you come across several bottle caps, you eagerly follow the route the caps are directing you, but you will suddenly realise that a vehicle is moving slowly before you. Therefore, you have to remain focused. Your most important mission is to travel as far as you can.
Intuitive Controls
You can easily control your car's movement and your journey with a very simple pick/play mechanism. A player can also control the car's steering wheel by simply touching one or two parts of the screen; to brake, you only have to touch with both thumbs. In essence, it is easy to play this game. You will be able to control your car to journey around the world with the gameplay of an Endless Run game. In this game, you can do many things, such as crossing beautiful beaches, snowy mountains, deserts, or towns.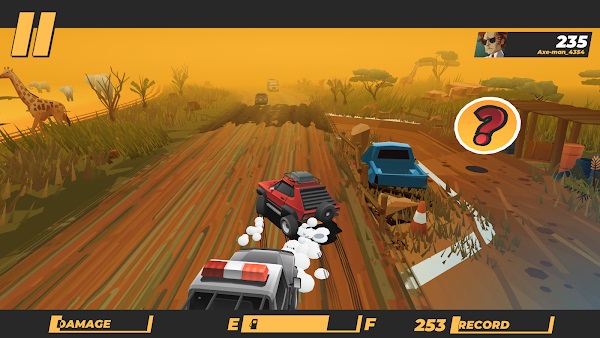 This game only possesses a third perspective that allows you to view the car from the back. This is pretty straightforward to know. Because #DRIVE is small and pretty simple, the publisher has ensured that there are not too many features that will complicate it. The developers only focused MAJORLY on its gameplay.
Graphics in the 70s Style
At the introduction, the publisher (Pixel Perfect Dude) declared that the game's graphics have the sound and style of the 70s. Right from the vehicles' design, colour and graphics, they are all pretty old and bring about nostalgia. Furthermore, you will realise that the game's landscape is of similar colours to the old action movies. Apart from that, the game is also loaded with popular music from that era.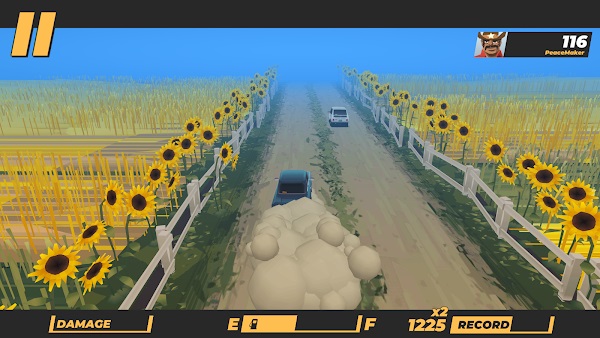 The game's graphics are not extremely detailed and sharp. However, the control and physics are pretty smooth without any lag. It provides you with a smooth driving experience. All appreciation to its easy graphics, #DRIVE, can smoothly run on several types of mobile devices.
Upgrade and Unlock Vehicles
If you desire the latest supercars of modern times, you cannot find them in this game. Instead, you can decide to go for GRID Autosport or Asphalt. However, the cars you could drive in this game are pretty old due to the context. They are more like normal cars without any modern gadgets; they are early cars for work and family rather than cars for racing.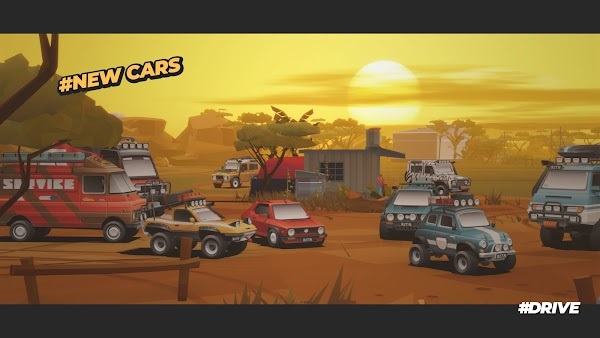 Apart from that, #DRIVE offers you a detailed car upgrade system. After the upgrade, the car's tyres and brakes will reduce the loss of wheel control, especially when journeying on roads with terrible terrain.
Last Take
The pace of #DRIVE is not very fast, not as fast as a game designed for racing. #DRIVE is only ideal for gamers who want to drive, sit back and enjoy the ride. The discomfort from loss will motivate you to play the game further. Even if you love racing games, you will still enjoy the features that this game offers. You can't know what you are missing until you have tried to play the game several times.