Download CatLife APK for a game with a unique concept. Enter a simulation of cat life and learn about your favorite pet's peaceful and calm life.
About CatLife
This game simulates how you'd lead your life as a cat rather than a human. The game allows you to become a virtual cat and see everything from a cat's perspective. While the concept is unique, the game is also quite impressive and exciting. There are lots of things to do, and seeing things from the perspective of a lovely and cuddly pet animal like cats is interesting.
The game is extra fun for cat lovers because it allows them to learn more about their cats and see how they fair under their skins. You'll have to start naturally, though, as a tiny kitten just brought into the family and ready to live a long and fulfilling life. Many elements will help you achieve the game objectives, and you'll get to make your decisions yourself. As a cat, many challenges and opportunities will come your way, and you'll have to make a catlike decision too.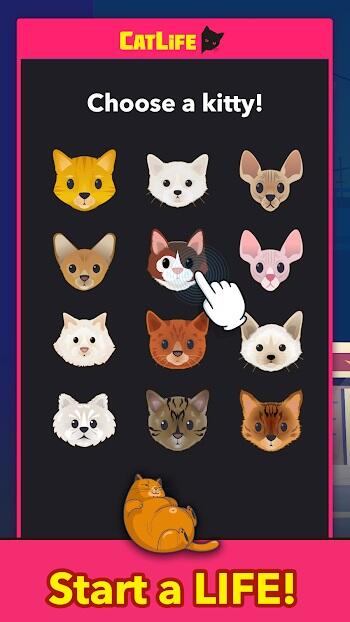 Although there isn't much need to make the game a reality, the designers still put more effort into making the game as realistic as possible. The visuals are impressive, and the animation is also excellent. You'll also notice some natural behavior of the cat, human, and other subtleties, such as in the gameplay.
The game was developed by Candywriter LLC and categorized under simulation games. CatLife BitLife Cats has gained much popularity over the years, with millions of users downloading the game since its release. The game also has an impressive rating from players online and is relatively low on storage space, so you don't have to worry about your storage when you install. It's also available in multiple languages for players worldwide.
How to Play
The game is relatively straightforward; you'll spend more time making decisions than you'd imagine. The decision-making process starts when you become a kitten and have to choose your appearance. Once you appear, the next task is to determine what you behave like and what place you'll grow in. You'll have various options when deciding here. For example, if a young lady approaches you in the street, you can choose to bite her, run away or go home with her.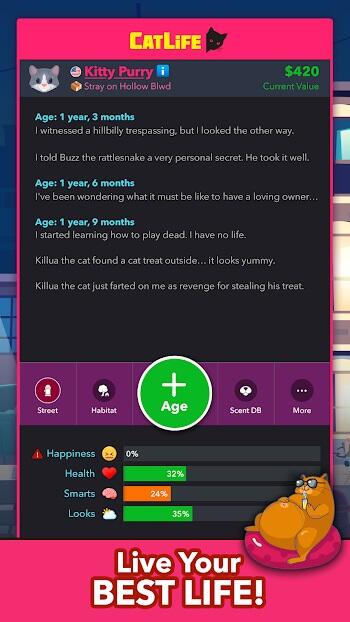 These decisions will lead to various scenarios, which is why the game can allow players to branch off in different parts of the game, thereby creating a unique game experience. Each time you choose an answer for your cat, you'll only be able to select a single option, and your decision will influence what happens next and whether the cat will be able to survive. You'll discover more things about cats when you play, so enjoy the game and make cat-life decisions that are beneficial for your cat.
Game Features
There aren't many games out there that give you the perspectives of life from a lovely pet from the feline family, so CatLife is an excellent and unique game. Check out some of the game features below: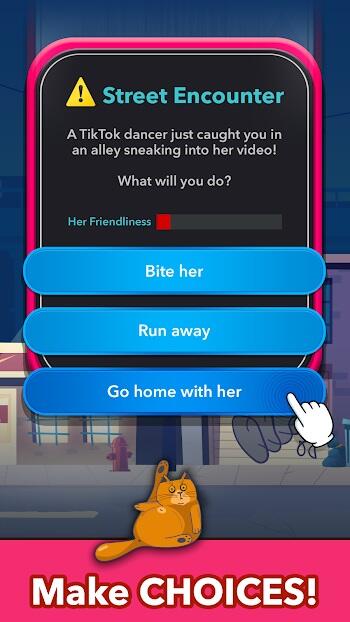 Unique Gameplay
There isn't anything overly exciting in the game aside from the fact that you experience life as a cat. The game is also not quite interactive because you won't get to see the visuals from a cat's perspective, but rather open your mind to the possibility of being a cat and living a good life as one.
However, there is unique gameplay here, such that you won't be bothering yourself with unnecessary features such as cat movement, feeding, sleeping, hobby, and others. Instead, your game rather depends on deciding what happens and getting to shape how the cat lives its life in the long run.
Storyline
The game has various storylines compiled in Series, so players can have different experiences when they play. But, of course, you won't be getting the same experience as another player because you are bound to make other decisions when faced with a different scenario.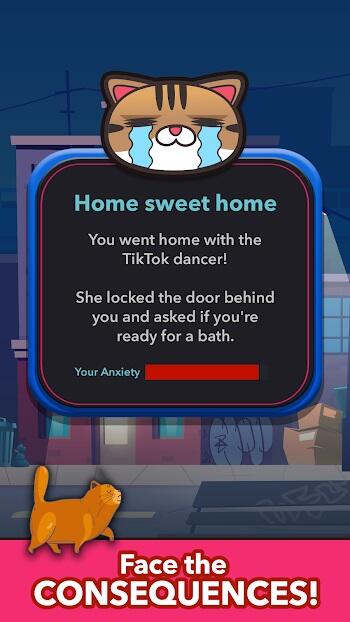 Since there are many decisions, you'll have many possible scenarios to experience. For example, the game allows following three different storylines somewhere in the game when the cat strolls into the video of a TikTok influencer. You can choose to bite her, run or go home with her.
These three decisions have different storylines, and your subsequent choices will also have different storylines. The unlimited storylines make CatLife quite enjoyable because even if you start the game over again, you're bound to have a different experience if you make other choices.
Realistic Touch
The game developers also added realistic features to the game, thanks to the storylines. There aren't visuals to shape the reality, so you only have the option of experiencing it through the story. Hence, you can lead a cat living in the game, which is as closest to reality as it can ever be. Consequently, your decisions as a cat stay like a cat; you'll not be getting the privilege to think like a human. All the scenarios in the storylines are also adapted to suit reality and not fantasy.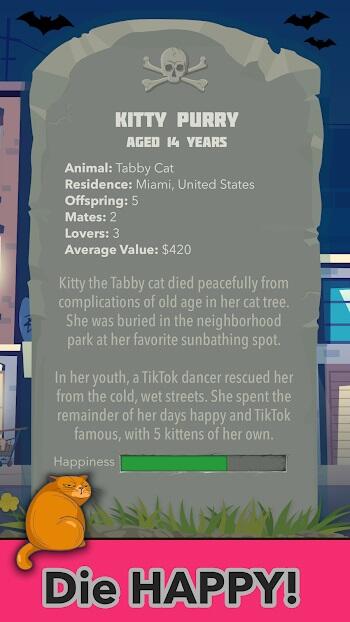 Game Control
Controlling the cat is easy; you won't need a virtual joystick or action button. Instead, it's a clicker game where you steer the cat's life by clicking on actions and reactions. For example, when you want to get adopted by a wealthy family, you can decide to stay with them or run away by choosing any of the options provided on the screen. The game appears as questions on what you'd do, and you'll be able to choose from any of the options available, which will determine your reaction and subsequent issues you'll have to deal with.
Conclusion
It's an exciting game that allows you to learn and love cats. The game does not allow you to interact with as many elements as you'd expect, but it has lots of depth and human values. You'll get to build compassion for cats and be able to understand basic things about their life and needs. The game also has impressive graphics and overall exciting gameplay.