Download Bike Racing 3D APK for an epic motorbike racing experience. It's a thrilling riding game that allows you to perform amazing stunts with your motorcycle.
About Bike Racing 3D
Bike Racing 3D is a motorbike race game that allows players to compete against obstacles and apply stunts to reach their destination as fast as possible. The game starts with the player on a motorcycle and racing towards the end line while evading anything across its path. The game might therefore look regular from this perspective, but you will encounter loads of obstacles that make the task more daunting and challenging to complete.
The game also has more than just solid backgrounds with different obstacles; there are many game circuits to race on. You must beat each of them, perform high-risk jump stunts, and avoid obstacles in each course to win. Hence, anyone who wants to enjoy the game needs to get a good hang of the game control and how to handle the bike for optimum riding experience properly.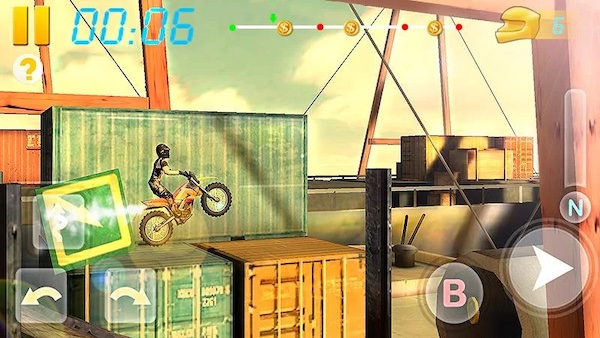 The game also has a relatively simple control system. All the on-screen keyboards are easily accessible on the sides of the screen. For example, you can use the right thumb to accelerate and apply brakes, while the left thumb is your ideal finger for manoeuvering the bike and biker's movement. Of course, if you over-tilt the motorcycle, the driver might fall off, and you'd have to lose the game.
Ride Like a Pro
Riding a motorbike is hard work; balancing and controlling is extra tricky, so it takes different skills to do any trick while at it. But due to the responsive nature of the game, you'll be able to perform tricks quite easily. In addition, the game rewards professional players since they get extra points and rewards when they perform stunts while riding.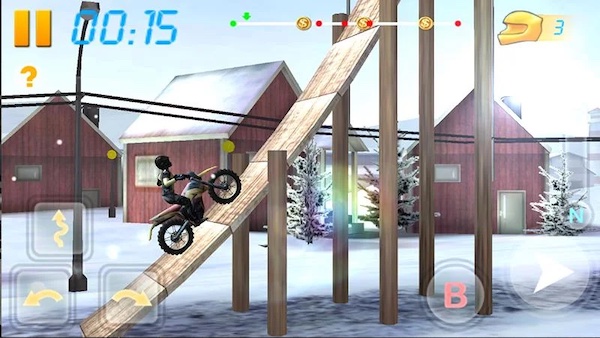 So if you're a player with no skill and finesse, you might find adjusting to this riding game difficult. However, the challenge doesn't end when you can do tricks on your bike. The more you progress across various levels with increasing difficulty and different obstacles, the better you become. So you'll constantly be tested in escaping steel platforms, metal crates, thin wooden planks, and many others.
Game Features
The game has many features that will take some time to get used to. There aren't many tasks and dynamism, so you only need to get better at handling your bike. However, there are essential features of the game worth mentioning, which include:
Impressive Graphics
The game uses 3D graphics and animations to create an enjoyable gaming experience. Considerable detail is added to the designs to give players many thrills when they ride through bumpy surfaces.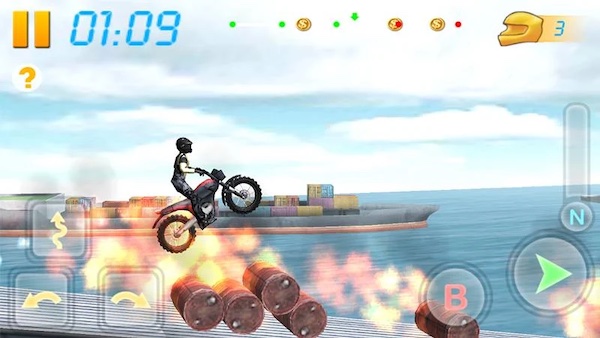 The effects of stunts are also exceptional, with different race courses, unique race tracks, and background game designs. Overall, the game has a fantastic design that will give players a good feel of the game's intensity.
Realistic Game Physics
In addition to the detailed game graphics, a lot of physics is added to the gameplay. If you're not good enough, you'll have trouble controlling the bike and biker, and the fact that the biker can fall off the bike at weird tilting angles shows how many physics and realistic touches the developers included in the game. In addition, you might notice subtle features such as friction, bumpy rides, etc., which are impressive additions to make you feel like a real rider.
Game Controls
There is a reasonably easy-to-use control system in this game. Rather than fidget with sophisticated on-screen buttons, players can use well-organized sets of buttons on their game screen. There are acceleration and brake controls on the right-hand side of the screen, while the left side is home to the stunts and action part of the game. For example, you can use the left thumb to tilt the bike to the sides and jump across obstacles.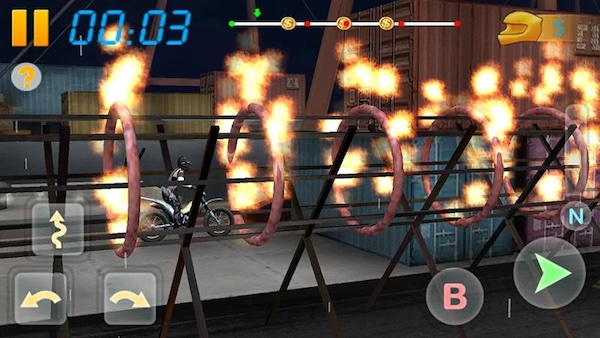 Coins and Bike Upgrades
The more you play, the more your chances of crossing scattered coins on the tracks. So, ensure you pass through these coins to add them to your savings. You must collect enough coins to unlock new motorbikes and upgrade your favorite ones with new features and parts. You'll get more power, flexibility, and capabilities to do stunts when you upgrade your bike. In addition, the upgrades can boost the motorbike's strength and resistance to damage.
Missions
You'll have to understand how the game works from the early stage and spend the rest of your time perfecting your skills for different missions. The game requires you to perform at least one stunt when you play. So if you can't do this, you'll ultimately fail the mission.
For other parts, you might have to make countless backflips, while other times, you'll achieve mission objectives when you spend specific periods in the air. Finally, you might also have to race against time and finish in the minimum amount of time. These mission varieties are why players spend long periods playing Bike Racing 3D.
Game Levels
The game has a comprehensive list of missions to accomplish; therefore, you have a lot of levels to progress as you play here. As you proceed across various levels, the tasks get more complicated, and it takes more focus to finish.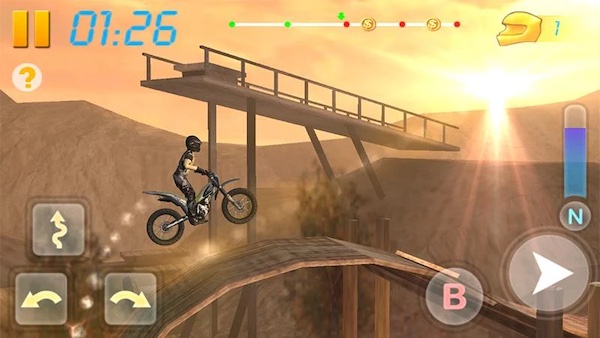 Bike Racing 3D has over 50 race circuits, each with several race tracks and unique backgrounds. You'll also change paths or get more challenging obstacles to evade when you change levels. However, the higher you go, the better your motorbike becomes and the more adept you'll be at controlling it.
Conclusion
Many frame critics have tagged Bike Racing 3D is one of the best BMX games on the internet. The game has lovely graphics, exciting gameplay, and an excellent interface. The game has impressive stunts for players to try, and the controls are ideal for the gameplay.
Although the game is in 2 dimensions, it does have 3D graphics that change perspectives once in a while to spice up the look, especially during stunts. It's an ideal riding game anyone should try if they truly take bike riding and actions seriously.