Download Beach Buggy Racing 2 APK latest version to access new powerups and better tracks. It boasts superior graphics & incredible audio sound systems.
Comprehensive Details about Beach Buggy Racing 2 APK
Beach Buggy Racing is a sequel to the famous Beach Buggy by Vector Unit. It is designed using the sturdy Vector Engine & NVIDIA's PhysX.
This latest version of the game is bigger and better with new tracks, new cars, new powerups, and even better graphics.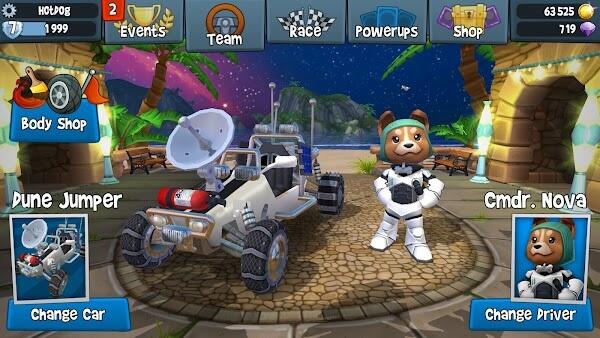 The game's off-road nature makes it unique among racing games. Its driving physics are also tweaked and improved to give players a more realistic experience.
If you want a game with extraordinary tracks, awesome cars, and great graphics, Beach Buggy Racing 2 APK for Android is your go-to game. It is super optimized and works well with Android 5.0+ devices.
A Super Invigorating Gameplay
Beach Buggy Racing 2 is an exhilarating game. You'll find yourself engaged in non-stop racing action from start to finish.
The tracks are longer and more challenging with plenty of shortcuts and jumps. The new cars are fast and handle well. There are also loads of powerups to collect along the way.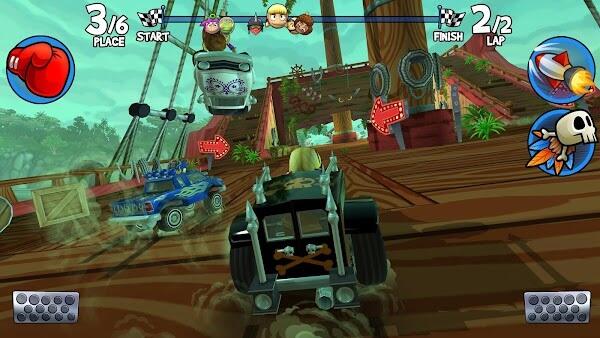 In the beginning, you must join the Beach Buggy Racing League. This league boasts experienced racers from around the world. You can race against them in a series of tournaments to earn coins and prizes.
You'll need these coins to upgrade your cars and powerups. You can also use them to buy new cars. This way, you will always have something to strive for in the game.
Top-Notch Graphics and Sound
Beach Buggy Racing 2 has console-quality graphics. The tracks are beautifully designed with realistic lighting effects, and the cars look great too. They are finely detailed and look like their real-life counterparts.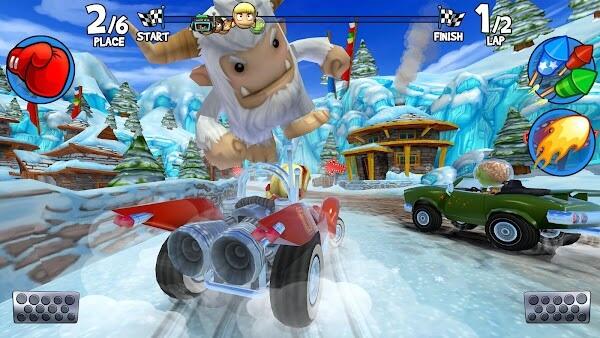 The sound effects are also top-notch. The engine sounds, the tire squeals, and the collisions all sound realistic. The music is also perfect for the game. It gets you pumped up and keeps you engaged in the racing action.
Highly Diverse Gaming Environments
You can race through dragon-infested castles, Egyptian pyramids, alien bio-labs, and pirate ships. Each environment is designed to challenge your driving skills.
These are not your ordinary racing tracks. They are filled with risky enemies, death-defying jumps, and treacherous traps. You must use your driving skills to survive and reach the finish line first.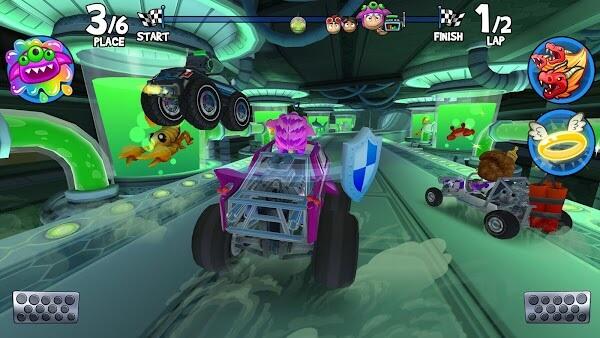 In some instances, you must also use your powerups wisely to overcome the challenges. For example, you can use chain lightning to take out a group of enemies or use nitro to boost your speed and make death-defying jumps.
Unique Features of Beach Buggy Racing 2
Breathtaking KART Racing Action
This game features kart racing action like no other. It has dynamic 3D off-road tracks that call for tenacity and skill. You must be quick to master the tracks and avoid the enemies.
The game's detailed characters, cars, and weapons make the gaming experience even more exhilarating. You can also race against your friends in split-screen multiplayer mode.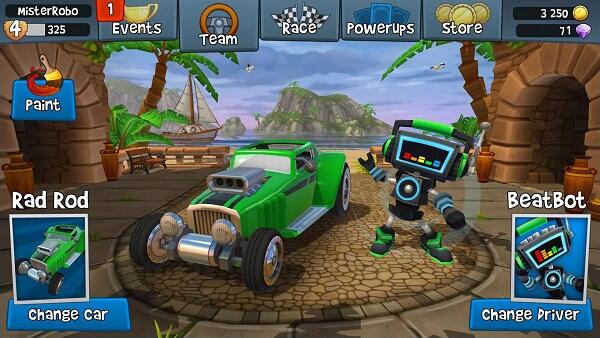 Upgradeable Cars & Powerups
You can use coins to upgrade your cars and powerups. Each car in the lineup has unique stats and abilities. You can also buy new cars with the coins you earn from racing.
Additionally, there are loads of powerups to collect along the way. They include Donut Tires, Killer Bees, Chain Lightning, and Boost Juice. There are more than 45 powerups that you can use to enhance your gameplay.
This game allows you to build a team of drivers, mechanics, and even agents. This way, you can chat with other players and share tips and tricks.
You must strategically select your team members to ensure that your team is well-rounded. Each member will provide different benefits that will boost the team's winning chances. Some of the available drivers are Mikka, Clutch, Beat Bot, McSkelly, Rez, and Roxie.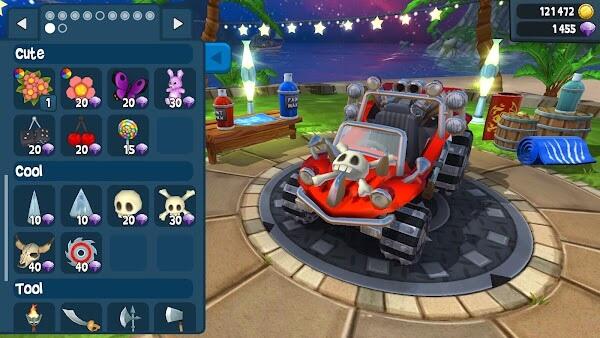 Collect and Customize Cars
This game has 40+ cars, including muscle cars, dune buggies, monster trucks, and even hot rods. Each car has unique stats that will affect your gameplay. Choose wisely and experiment to find the perfect car for your racing style.
You can also modify your cars to enhance their performance. Some of the available options are paint jobs, decals, wheels, and suspension upgrades.
You can compete against other players from all over the world in Beach Buggy Racing 2. There are millions of active players that you can race against. The game features global leaderboards and tournaments.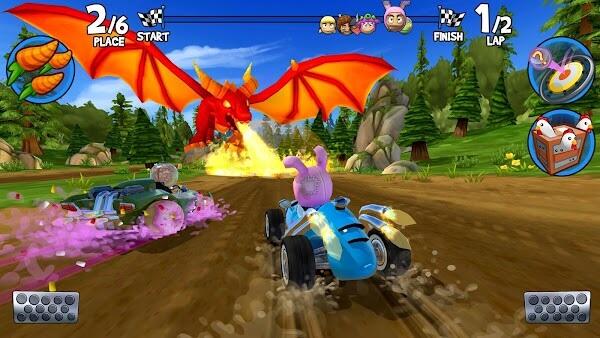 There are also daily challenges that you can take on to earn rewards. These challenges are different every day and they get harder as you progress.
Beach Buggy Racing 2 APK Download
Racing will be more fun if you get the Beach Buggy Racing 2 Hot Wheels APK download. This game allows access to any feature you need to get ahead in the game. Some of its outstanding features include:
Beach Buggy Racing 2 APK Unlimited Power-ups. This feature gives you an endless supply of power-ups. You will be like a one-man army on the track with this advantage.
Beach Buggy Racing 2 APK unlimited money and gems. With this version, you get an unlimited supply of resources. You will never again need in-app purchases to progress through the gameplay fast.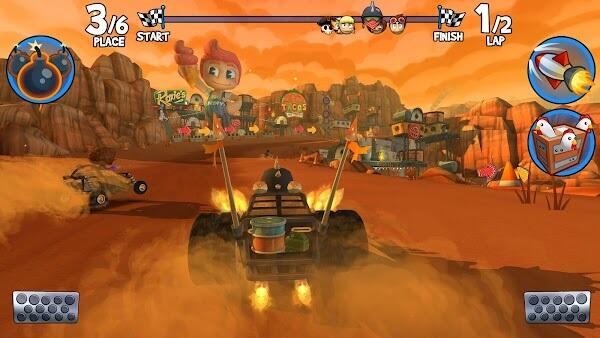 Beach Buggy Racing 2 APK Offline. With the Beach Buggy Racing 2 APK download, you can play the game offline. This guarantee 100% convenience.
No Ads. The Beach Buggy Racing 2 APK unlimited diamonds version is entirely ad-free. You can race all you want with minimal disruptions.
No Root Required. The Beach Buggy Racing 2 APK (unlimited money and gems) can be installed on any Android device without the need for rooting.
Conclusion
Beach Buggy Racing 2 APK is an excellent kart racing game with stunning graphics and exciting gameplay. It has challenging tracks, global tournaments, and multiplayer features.
The Beach Buggy Racing 2 APK (unlimited everything) version gives you all you need to get ahead in the game. From unlimited resources to access to all features, this game will give you optimum satisfaction.