Download AutoCAD APK 360 mobile version to edit and share your AutoCAD projects on your mobile devices. Access and manage all your projects from a smartphone.
About AutoCAD
AutoCAD is the official and recognized mobile version of the reputable AutoCAD software. The app has been available on PCs for several years, so there was a rush of excitement when the company announced the release of the mobile version, which offers pretty much similar features to the original PC version. The app allows you to view, edit and share anything related to the AutoCAD designs on your Android device.
There have been speculations about whether mobile devices can handle the features of the AutoCAD designs since PCs have much memory space and processor speed to run the software properly. However, with the release of the first version, it was clear AutoCAD was very much useable on mobile devices, and several users have been using the app to handle their 3D drawing needs.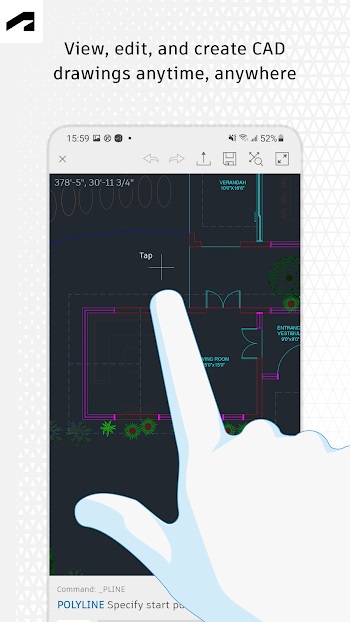 You can open any project saved or synched with your AutoCAD account with the basic edits a d drawing tools. You can move objects, resize, and do every other basic editing process you'd do with the PC version. Also, you don't need to have an internet connection before you can use AutoCAD mobile. You can quickly work offline and at your own pace. The whole file will be synched once you go online, so you can access it on any device you're logged in to.
Another impressive feature of this beautiful app allows you to share your projects easily. You can easily use the program interface, add notes, create images, and complement your project. You can also print your designs from your device with the ePrint and Share service you'll find on the app.
Autodesk Inc did a commendable job with the AutoCAD 360 mobile version. The app has been downloaded by millions of professional designers online and helps keep a better workflow since you can go mobile with your projects. In addition, the app is available in over 47 languages and is free to use.
Pros of Using AutoCAD 360 App
Get more productive on your projects by working with the latest drawings on your devices.
Safeguard essential files in your free account.
Collaborate and manage all your files in real-time when online.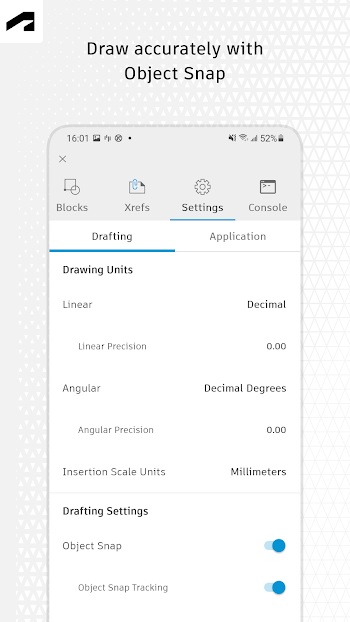 Adjust and change blueprints at job sites and with colleagues via your mobile app.
Have a seamless working experience across multiple devices.
Access the premium version for additional features.
App Features
AutoCAD is a useful app that helps users manage their drawings and architectural designs on their mobile devices. To do this, here are some of the features provided on AutoCAD:
Mobility
One of the best features of the mobile version is mobility. Rather than go around with your PC or get stuck on a project when you can't access it. The mobile version allows you to go around and work on your project anywhere. You can also change or share your projects with colleagues when you log in on your mobile account.
Viewing and Editing Your Designs
The mobile app might not be as functional and robust as the PC version, but it still allows you to do most of the things you'd do with AutoCAD on your PC. In addition, you can access even more features when you opt for the premium versions. So, viewing all your current projects and doing basic editing is convenient to do with the mobile version. Furthermore, it has features s such as storage, email, and external cloud storage functionality, which means you can save, edit, and share your projects with the app.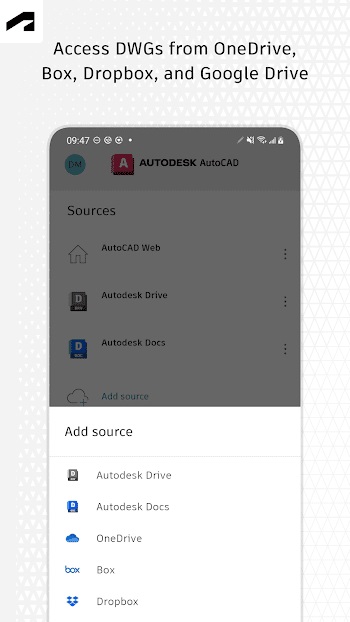 CAD File Management
You can create and adjust CAD files on the app too. You can create new values for the CAD files quickly from the app. You can also promptly draw and edit CAD shapes using the object snap and keypad input. Since this is the primary file format you'd get to use on AutoCAD projects, it makes the app functional and ideal for most of the actions you want.
Basic Tools
Advanced Technical Drawing and Editing Tools
The app has advanced Technical Drawing tools that allow you to create sophisticated designs however required by your project. These tools are as functional as those on the PC version. Although they might not produce as much effect as you'd prefer on your PC, they'd still be able to get the job done with the minimum amount of time. The editing tools are also ideal for drawing simple and precise arcs on your project and adding the necessary metrics and values to scale the designs correctly.
Offline Work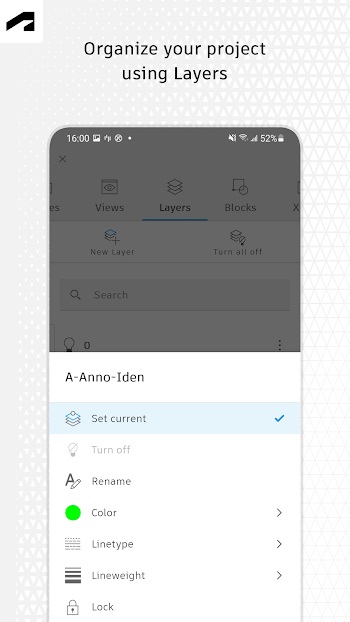 You can also work offline with the app. However, you'll be confined to your local storage. It will save all the projects you work on offline, so you can't access them on your other devices. You'll have to go back online and sync your files if you want to save them online and make them accessible across all your devices. Working offline is the same as online because you'll have access to all the features and be able to do the designs and editing you'd do with an online syn.
Manage Layer and Blocks
Since you'll be dealing with many layers on AutoCAD, you can also use the mobile app to interact with this feature. If you already have your project done with a PC and want to edit the layers on your PC, you can unlock the fixed ones and rename and delete any of them.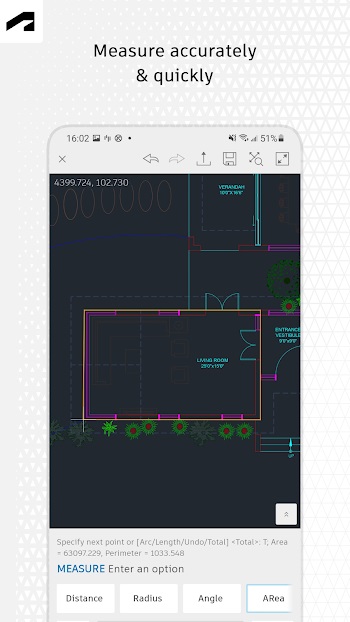 You can also create new layers. The app also has a select and move feature to move blocks. When you click the block, you'll have options to select, move, copy or remove the blocks on your current drawing.
Values and Coordinates
AutoCAD thrives on coordinates and values for proper measurements. You can therefore change these values on the app. Select, move, rotate and scale any object in your drawing. View the coordinates; your values can adjust the blueprint to fit the demand.
Conclusion
AutoCAD is a functional and lightweight app that does several tasks without taking up much of your device storage. In addition, the app can replace your PC version in urgent situations and is ideal for keeping track of your projects anywhere, anytime.


Join Telegram Group
Download AutoCAD APK 360 mobile version to edit and share your AutoCAD projects on your mobile devices. Access and manage all your projects from a smartphone.