Download the Angry Birds Transformer APK, an action-packed game. In this video game, the Birds (protagonist) and Pigs (antagonist) band up to fight the Eggbots.
Angry Bird Transformer
Have you ever seen an extraterrestrial Angry Bird robot? The AUTOBIRDS have arrived! This courageous band of warriors includes Red as Optimus Prime, Chuck as Bumblebee, and the others will be revealed soon.
But the heroic Autobirds won't be able to save Piggy Island on their own; they'll need to work with their archrivals, the DECEPTIHOGS, to stop the EggBots. Can these fierce adversaries set aside their differences and collaborate?
Description of the Angry Birds
Fun and engaging game in which you play birds, battle the forces of evil, or the Decepticons, and demonstrate what the Autobots are capable of. Create innovative and unusual tactics, assault opponents, and assemble a fighting team. If you lose in battle, morph into a truck and flee the battlefield.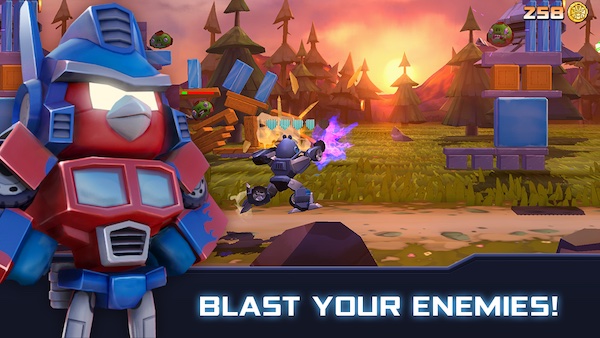 The Birds (as the protagonist "Autobirds") and the Pigs (as the antagonist "Deceptihogs") team up to battle against the "EggBots"
Plot
The plot starts with the EggSpark rushing towards Earth. The EggSpark transforms into an egg-like shape as it enters the atmosphere. The age-old fight between the Birds and the Pigs erupts as the EggSpark approaches Piggy Island, ready to brawl over a clutch of Eggs. The EggSpark crashes on Earth, transforming the Birds, Pigs, and Eggs into robots.
The Autobirds and Deceptihogs are about to resume combat after marveling at their new robotic bodies when the robotized EggBots began shooting at various environmental items and assaulting Autobird and Deceptihog. With a new threat on the horizon, the adversaries are forced to form an alliance to defeat the Eggbots and save Piggy Island.
Gameplay
The goal is to finish a run from beginning to end in each stage while dealing with Pigbots assaulting Autobirds and Deceptihogs. Popping pigs are not required to complete any level, popped pigs are utilized to unlock ice-encased characters. To burst the pigs, you can either shoot at them directly or destroy their strongholds, crushing them or making them fall from vast heights.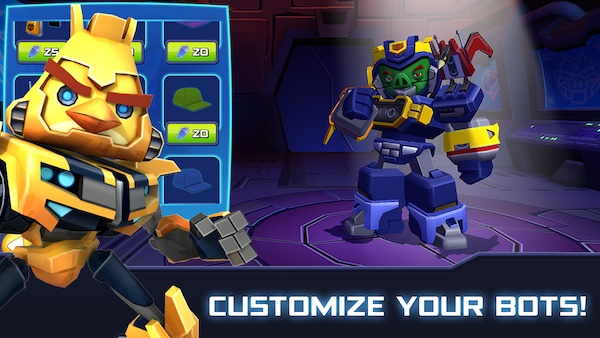 Transform to go through a level and avoid dangerous falling monoliths. You will get specific Energon skills as you develop your transformers, which can be recharged by firing roboticized environmental items to release Energon cubes.
You can invite a friend into a stage and summon them to help the player for a specific time. If Astrotrain hovers above you after your companion has vanished, they will no longer be able to assist you in completing the level before returning to Astrotrain. If your companion is still present when Astrotrain passes over you, they will stay until both of you return to Astrotrain.
Five hearts comprising five lines, each representing 4% of a player's health, are used to depict a player's health. If you run out of health, you'll fail the level, at which point Astrotrain will beam your battered transformer away from the action.The word "Unlucky!" will appear above the damaged transformer in his cab on the Game Over screen as a spotlight falls on it.
Unlimited Coins and Gems
Coins
You will accumulate cash for each pig that popped during the levels. You need these coins to enhance your unlocked transformers or to recharge them after defeat. Coins can be found in unique golden blocks. These blocks appear in levels in groups of one to five but are difficult to eliminate entirely, especially when flying Pigbots or missiles are present.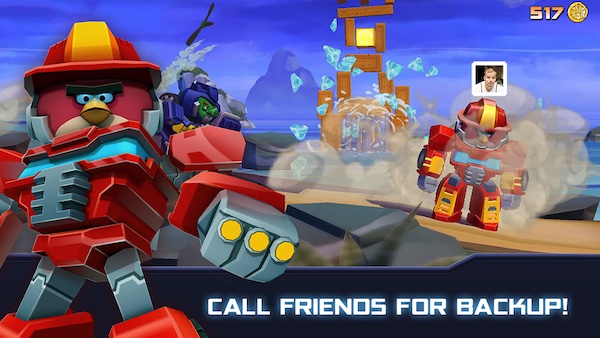 For 10 gems, you can play a bonus level that occasionally appears and is shielded by a red-and-blue glass shield. This level has a random difficulty level where coins drop more frequently than usual. These levels only exist for 24 hours until they turn into ordinary levels. These levels allow you to win over 5000 coins by shooting at golden coin blocks, popping pigs, and destroying forts, depending on your transformer and the level's difficulty.
Gems
Gems are a sort of currency in Angry Birds Transformers. Their primary function is to expedite the completion of missions, upgrades, and purchasing accessories to personalize your transformers. You can use it to uncover levels to play extra coin doubler levels or smash challenging levels with the Skywarp attack.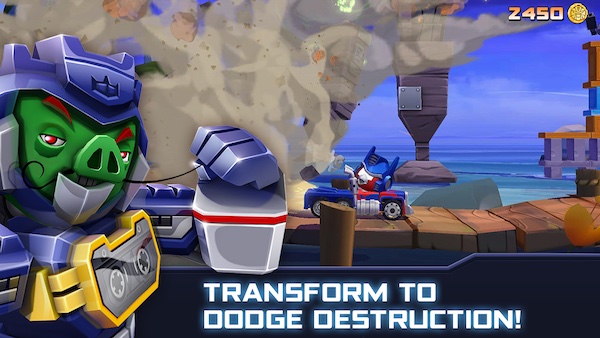 You can earn gems in three ways: by completing an achievement or assignment from a missions portal; by pressing appearing treasure boxes on Piggy Island, which release a random figure of gems between 1 and 10, or by buying them outright with real money.
Angry Bird Transformer all Characters
Depending on who you have saved, each level has a pre-set avatar that you manage. Each character has a unique movement speed, armor rating, and attack style. High scores and simple survival depend on understanding each character's advantages and disadvantages.
There are several ways to expand your cast of characters. One "starting" character in each area is imprisoned in ice blocks on the map throughout the play and must "spend" a certain amount of popping Piggies to free them. If the character survives the brief level, they are yours to keep. If not, they are re-frozen; however, you can try again without using all of your valuable Piggy points. Additional personalities are available through Space Bridge Missions or Challenge Events.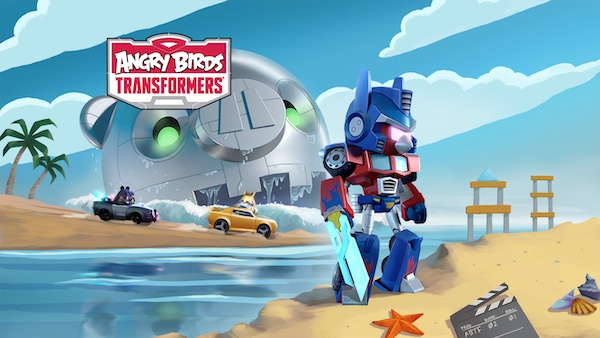 This is where you can spend real money outside of the game on the tie-in toys. The game reads the code on the figure when one of the figures is mounted on a Telepod, which is then placed on your device's camera lens. The figure is then temporarily added to the game. There is no restriction on how often you can scan the figure, and any upgrade progress is saved. However, the characters unlocked in this manner are only temporarily accessible until unlocked via Piggie points. With this technique, you can mend or strengthen characters who have been unlocked.
Conclusion
Like almost all of the games in this franchise, Angry Birds Transformers is a straightforward, entertaining, and addictive action game. This time you can test out a new gaming system, which is clearly liked despite not being inventive.


Join Telegram Group
Download the Angry Birds Transformer APK, an action-packed game. In this video game, the Birds (protagonist) and Pigs (antagonist) band up to fight the Eggbots.