Download Hungry Shark World APK latest version and feast on all ocean creatures! Become bigger, more lethal with time, and the ultimate king of the ocean.
Details about Hungry Shark World APK
Hungry Shark World APK is a casual game developed by Ubisoft Entertainment. The game features a shark that the player controls to eat fish and other creatures in the ocean.
The game's goal is to grow the shark by eating as much as possible and avoiding being eaten by larger sharks or other predators. It requires agility, good timing, and a bit of luck.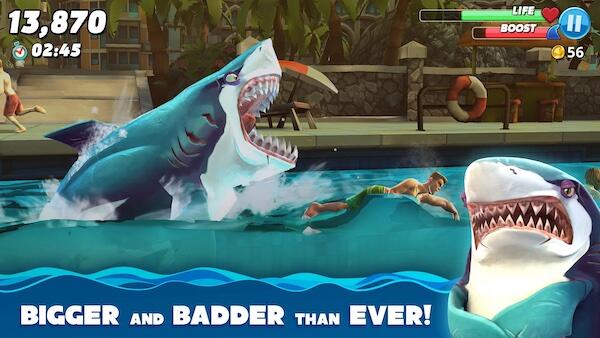 If you're looking for a simple game to pass time, you should download Hungry Shark World APK for Android. The game requires at least Android 5.0 to work optimally.
A Simple yet Fulfilling Gameplay
This game is a sequel to the popular Hungry Shark Evolution. It is more challenging and features even bigger sharks!
Your primary role will be to guide the shark in its feeding frenzy. You will explore the sea and hunt for all manner of food.
However, this journey will be complex and risky since other predators in the sea may want to take you down. You must be very agile and quick to avoid being eaten yourself!
Additionally, you should not waste time since you must complete your missions with unmatched agility. Overall, you will have a refreshing experience with this game.
Eat Everything You Can Find!
You will be in control of a hungry and unforgiving shark. The only thing on your mind should be to eat anything that comes your way!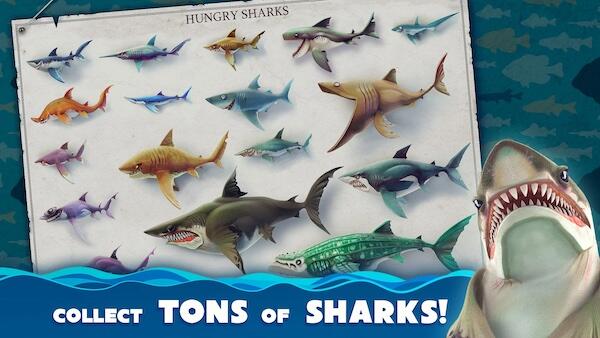 You will devour smaller fish and sea creatures to gain size and strength. Additionally, you can eat humans that come in your way!
The game becomes more challenging as you progress since the bigger sharks will be on your case. Ensure you taste birds, whales, and squid for an ultimate experience.
Features of Hungry Shark World APK
Diverse Shark Species.

This game features up to 38 species of sharks to control, each unique in every way. You will have a chance to play as the most dangerous predator in the ocean.
Differently-Sized Sharks.

This game features 8 size-tier sharks. You will have the chance to control tiny sharks that can only eat small fish. As you progress, you will get to the Great White shark that can swallow anything in its path, including other sharks!

Massive Open World.

The game opens an opportunity to explore many oceans and seas. Each area presents a unique challenge to the player. You will have to be careful not to get stranded in an area with no food! Some of the sea/oceans available for exploration include the Arabian Sea, Arctic Ocean, and the South China Sea.

Stroll Out of the Sea!

On the beaches of the Pacific Islands, you will find people having a good time. They do not know what is lurking in the waters! You can come out of the water and eat them for an extra score.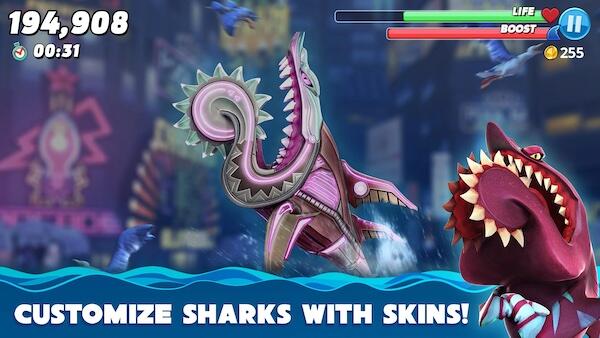 Endless Missions.

The game provides multiple and diverse missions to complete. The missions keep you engaged as you play since they are very rewarding. You will have to put your agility and timing to the test to complete them.

Collectibles.

The game provides different collectibles that you can get as you play. The collectibles provide an opportunity to get more points and progress in the game faster.
Leadership Boards.

The game features online leaderboards that you can use to compare your progress with other players globally. The leaderboards are a great motivation to keep playing and improving your skills.
Superior Graphics & Superior Animations
Nothing beats the sight of a real shark in the ocean! The game comes with realistic 3D graphics that make the experience even more thrilling.
The animations are also fluid and natural, complimenting the great graphics perfectly. You will have a lifelike experience as you play this game.
You will also see realistic submarines, people, fish, and other sea creatures. This high-degree authenticity makes the game even more enjoyable.
Level Up Your Shark
This game offers diverse features that make it memorable. For example, you can unlock jawsome gadgets to enhance the shark's bite.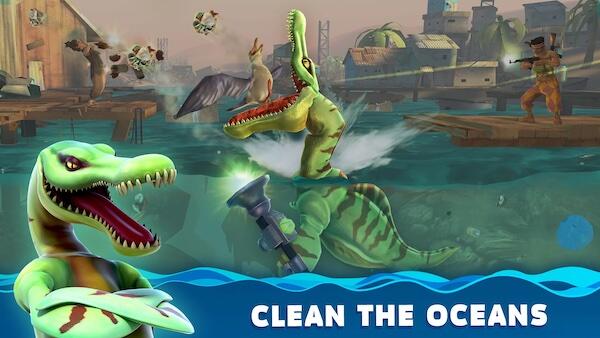 Additionally, you can unlock extraordinary features that can make your shark swim faster, become hungrier, and live longer. You can acquire umbrellas, headphones, and a jetpack to have a cool & stylish shark.
You will also have an opportunity to level up your shark by completing missions and progressing in the game. Leveling up is essential since it provides access to more challenging tasks and areas.
Other unique features to unlock include:
Superior skins

Better missions and badass bosses

Helpful pets such as octopuses, whales, and bald eagle

Extinction mode
Hungry Shark World APK Download
The version of this game is, by far, the best way to play it. The Hungry Shark World APK comes with extraordinary features for superior gameplay. They include:
Hungry Shark World APK unlimited coins and diamond.

The game is restriction-free. You will have all the resources you need to progress quickly in the game.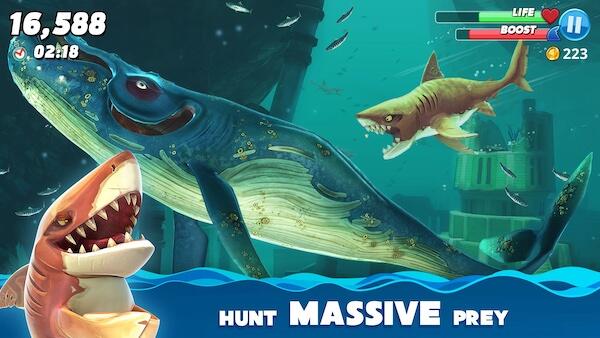 Simplified UI.

The Hungry Shark Evolution Menu APK is super easy to use. The controls have been to make them more user-friendly.

No Ads.

The Hungry Shark World APK Unlimited Coin and Diamond version do not feature third-party advertisements. This way, you can focus on the game without any distractions.
Conclusion
The Hungry Shark World APK tests your agility and skills as you play. It is an action-packed game that provides a chance to get more points and progress quickly.
You can also download the Hungry Shark World Evolution APK to enjoy an even better experience. The version comes with own features that make the game more enjoyable.