Download Paper.io 2 APK for a smooth drawing experience. If you loved the first game, you will fall in love with this one – conquer the most territory possible!
An In-Depth Description of Paper.io 2
Paper.io 2 was published and developed by Voodoo, the sequel to the popular game, Paper.IO. In this online multiplayer IO game, players have to conquer as much territory as possible. The more space you can capture, the higher your score will be. The major goal of the game is for you to be able to extend your area as much as possible, and you can use paper blocks to take areas from your online opponents to do so.
This online arcade action game is about destroying and conquering weaker opponents to develop your character. As you do this, your strength will increase, and as the game progresses, you will meet more advanced rivals. As stated above, this game is all about conquering the most territory. But you should know that your online opponents will be trying to do the same and can destroy you if you let your guard down. So you must strategize and make the right moves because one wrong move can lead to a game over.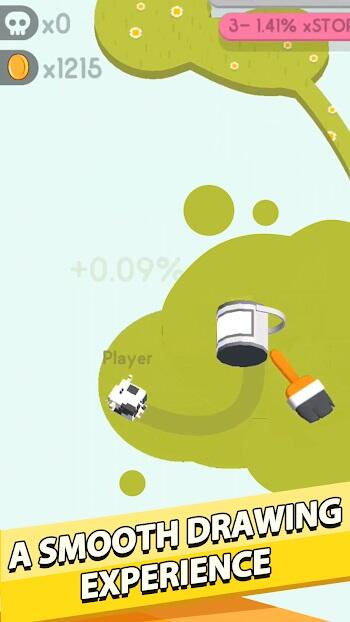 The good thing about Paper.io 2 Android is that players can steal territory from their opponents. To establish your spot on the map, you have to surround an area of land. That is all you need to do, and it does not matter if the land you have chosen to cover belongs to an opponent or is neutral. You have to surround the area so it can become a part of your empire. Your online opponents can also take part of your territory and make it their own, so you have to be on alert at all times.
In the Paper.io 2 latest version, players become extremely vulnerable to their online opponents when conquering new territories. This is because their tail becomes exposed when they move outside their color. If any of your opponents manage to cross your boundaries or catch your tail, you will be eliminated. To avoid this, you will need to risk expanding your colored area; if you are not careful, you may end up destroying yourself with your moves.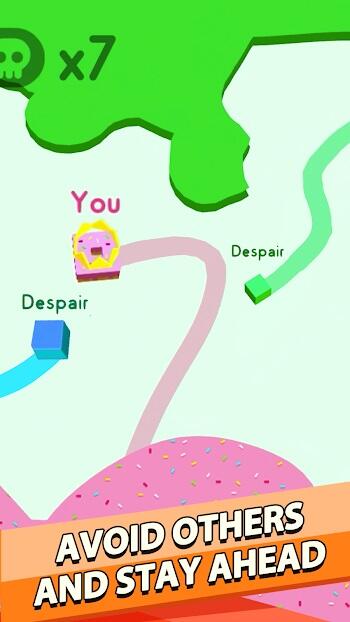 Paper.io 2 2022 may seem extremely complicated, but you will surely get the hang of it after a few tries. This popular game has addictive gameplay and beautiful graphics, so you should look forward to it. Dive into the Paper.IO 2 game to conquer the most territory possible, expand your area, and battle other colors (opponents). Our site offers a straightforward Paper.IO 2 free download process so that you can get right to it.
How To Play Paper.io 2
In Paper.io 2, you can challenge different players from around the world to see who would win the ultimate battle for territory. The significant change in this game is that players will be representing their country – conquer the most territory the usual way; the better you play for your country, the higher your scores will be on the leaderboards.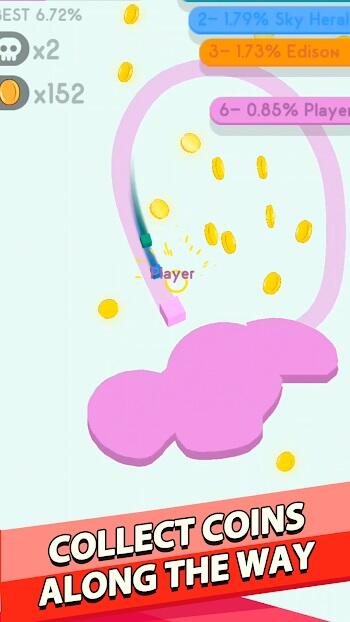 It is quite easy to play this game; all you need to do is move in the right direction. You can capture territories by making a shape – it could be a circle or a square – by making a shape with the colored trail, your character leaves behind. You should ensure to use the shape to close the line you started. If an opponent cuts into your path while drawing your line, that is equal to a game over for you. But, you can also cut into an opponent's trail as payback, but be careful because you might get outsmarted.
Features of Paper.io 2
With Paper.io 2, you can capture and conquer as many territories as possible, defend your land from online opponents and cut into their trails. Now that you know all about Paper.IO 2, let us look at some of the exciting features this game offers.
Grow and Defend Your Territory
Paper.io 2 game is about growing and expanding your territory and protecting it from opponents. You must conquer as much territory as possible to avoid getting eaten up by your enemies. The best way to conquer the most territories and defend yourself is by cutting into your opponent's trail when they are trying to expand their land on the board. The gameplay is similar to Paper.IO but with better graphics.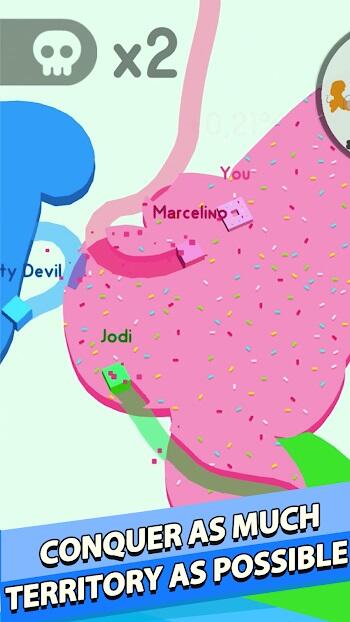 Since your opponents can also do this to you, you should try your best to keep your guard up whenever you expand your territory. The slightest mistake can lead to you being eliminated from the game. The only place in this game where you are safe is your home, but unfortunately, that could also get gobbled up.
Free to Play
One great feature about Paper.io 2 is that it is free to play. Players get to enjoy their game experience to the fullest without having to pay a fee. Although there are some in-app purchases, they are not compulsory. Besides, if you decide not to make any in-app purchases, you can still win amazing prizes by completing tough challenges.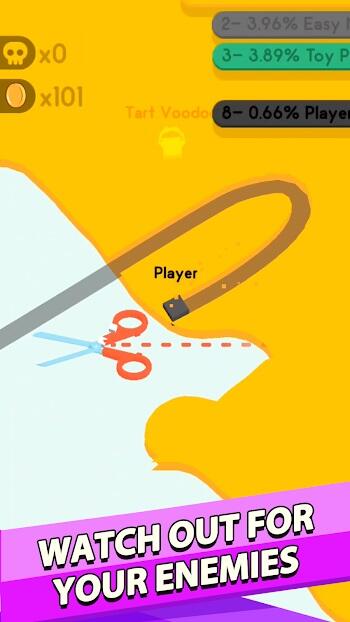 Various Game Modes
Paper.io 2 features a wide variety of game modes that players can participate in to put their skills to the test. If you are tired of the same coloring, expanding your territory, and taking over as much land as possible, you can try out any of these game modes for a different gaming experience. These game modes are fun and guaranteed to give you a different feel other than the usual game rules. But, the winning deciding factor remains the same for every game mode.
A Friendly Game Filled With Colors
Paper.io 2 is a fun and relaxing game that you can play whenever you want to do something fun. It has simple gameplay mixed with a bit of competition, so you cannot let your guard down. Every player's task is to cover as many areas on the board as possible. Paper.IO 2 is a mix of multiple colors, making the game more attractive.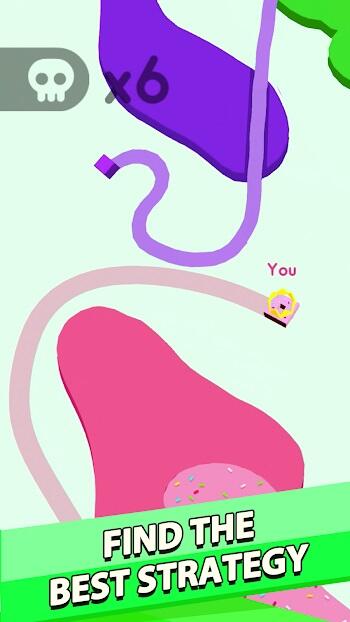 It is not as easy as it seems because it requires you to strategize and plan, so you do not end up eliminating yourself or being destroyed by other players.
Conclusion
We can all agree, due to all that is written above, that Paper.io 2 is a fantastic, fun, and relaxing game. Its outstanding graphics and addictive gameplay keep you on your toes and have you playing for hours. Our Paper.io 2 download process is straightforward – so, what are you waiting for? Hit that download button now!


Join Telegram Group
Download Paper.io 2 APK for a smooth drawing experience. If you loved the first game, you will fall in love with this one – conquer the most territory possible!