Download Stickman Hook APK for a unique gameplay experience. Explore a unique stickman game concept by swinging the Stickman to reach the finish line.
About Stickman Hook
Stickman Hook is an exciting and fun game that allows you to take the role of a stick figure and project yourself across various surfaces. The Stickman is buoyant, and your task is to ensure it can fly through all levels in the game without falling. There are numerous obstacles and platforms to land on in the game, and you'll be able to decide which platform you should aim towards.
The game stands out for its minimalist graphics and screen content approach. Since there isn't much to take in about the game and the action lies in the jumping spree, the game focuses all its energy on these parts. So, it is pretty easy to keep track of every step in the game and see where to land and where to avoid before you even make your first move.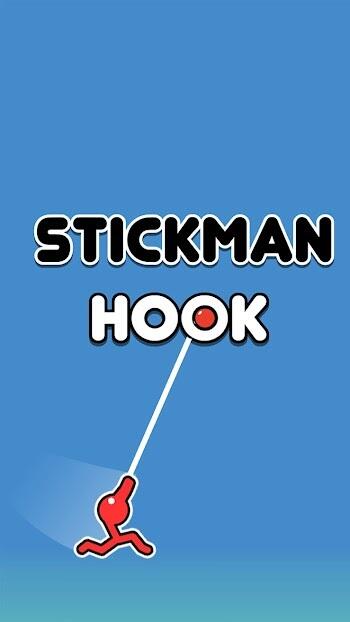 The game also has impressive controls, which does make it more comfortable jumping from one point to the other. The control system is just a series of taps, holding and releasing on the screen to play, though you'll need to apply son logic to use the control effectively. The screen details also include all your progress so far. You'll see how far you've gone and how long you still have to go before winning the level.
The game's a brainchild of Maddox Games, a free arcade game with a unique concept. It's available for most android devices and can be played by all ages. The game has over 46 languages supported, and many players already exist in its database. It has over 100 million downloads on Playstore, and about half a million players have left an impressive rating of 4.3 for the game.
Gameplay
If you've ever played any stickman series, you'll understand that the game thrives in its unique features and not on graphics or minigames. So, your task is to ensure that the Stickman can manage to pass through various hurdles and get to the finish line. There aren't many upgrades here, so the game adds variety and fun by changing the environment and increasing the difficulty of each level you play.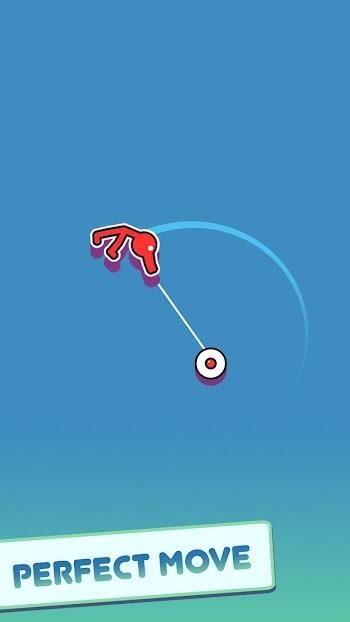 The Stickman is buoyant, and you gave to ensure it remains buoyant by using the hook. You have to find a way to ensure that the Stickman manages to stick the hook in the suitable holes while jumping. You can do this by varying the time spent on each jump and regulating the oscillations caused by each leap. The patience and planning you need to master before being able to play the game are what make it so engaging for players.
Game Features
There are lots of exciting features to enjoy on Stickman Hook; check out some of them below:
Simple Gameplay
The game has a basic logic behind its gameplay, although you still have to be strategic for a successful game. The only and essential task is to ensure you get to the finish line, which is a simple objective. However, the components of this plan include various daring jumps and attempts to progress through each obstacle until you reach the finish line.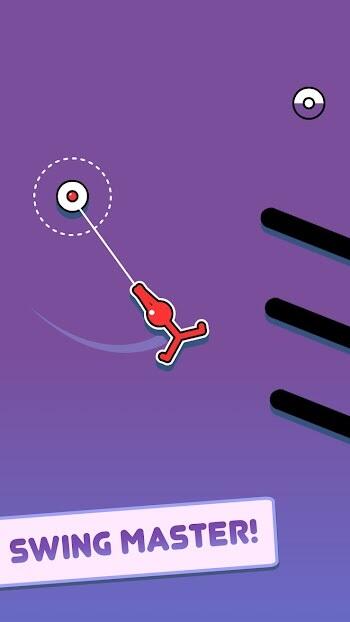 The game positions various hooks, and once you can hook your Stickman onto one successfully, you'll be able to leap into the air and move forward. It's like controlling a spider, so you must be strategic with each jump or risk falling and losing. The control system makes it easy to complete all these tasks, so you don't have to worry too much about moving or controlling the Stickman.
2D Graphics
Although this might not meet most people's standards, the game uses 2D graphics to create the whole game. This quality means you'll not get any 3D view at any point in the game. But thanks to this, too, you'll not only be able to enjoy a simple game but also have less to look at and focus on the gameplay.
The game uses impressive colors and changes in the background to create some variety. This means you'll be experiencing different landscapes, obstacles, and platforms to land on, depending on your level. Summarily, the game uses a minimalistic design that turns the Stickman into a ball when flying through the air. It can also transform it into Batman or Superman or perform a funny dance when you reach the finish line.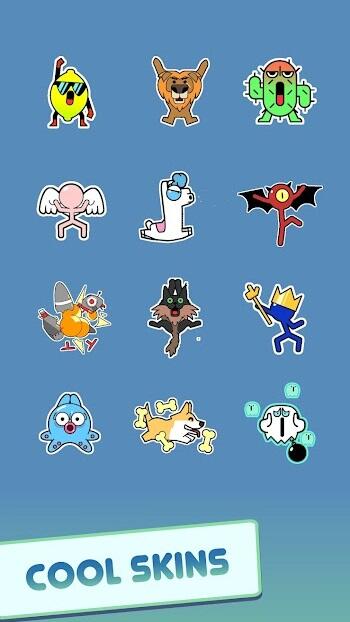 Controls
The game also has intuitive controls, making it relatively easy to switch between the various state of the Stickman. Rather than use arrows or sophisticated buttons to control the Stickman, you'll be able to have better control when you use a series of taps and releases. For example, the Stickman will throw its hook or jump when you tap on the screen.
You can also press and hold the screen to allow the Stickman to move back and forth on the hook and gather enough momentum to hurl itself to the next hook it lands safely on another platform.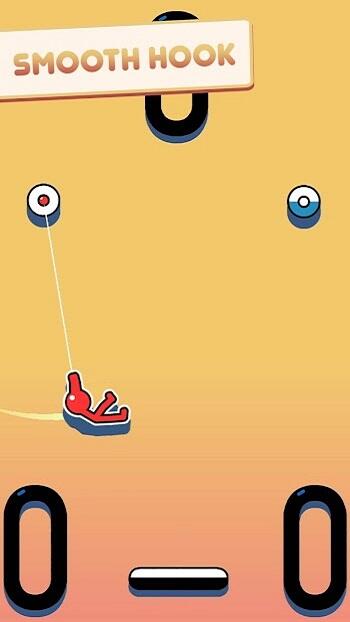 Game Levels
The game has several levels so that you won't get bored quickly. Each level has different obstacles and landscapes, so you'll face a new experience every time you play. You'll start from Level 1, which is very basic and more about learning the control and gameplay than actually playing the game. As you continue to play, you'll face more obstacles and gain more points. You'll need to adapt and master the game to win at higher levels. The higher the levels, the more rewards, and points you'll be able to get.
Conclusion
Stickman Hook is one of the best and easiest Stickman Adventure Games you can play. The game challenges you to control a stickman through various obstacles and hurdles. You'll be rewarded pretty well, depending on your level and how well you play. Although the game doesn't offer the most outstanding graphics, you'll still have a jolly time playing in Stickman Hook.