Download Angry Birds Evolution APK to go on exciting adventures against wacky piggies. Protect your birds from invasion and secure the eggs from the pigs.
About Angry Birds Evolution
Angry Birds Evolution is a fast-paced action RPG game. The game is another beautiful version of the Angry Birds franchise. It's gained much popularity online thanks to its stunning graphics and affiliation with the original Angry Birds movie. Thanks to the 3D charms, the game increases the fun and excitement you'd get from the saga. It combines many features of other versions and creates a beautiful and entertaining fusion that's stunning for any fan to play.
Even though the game might seem technical and challenging, it's easy to learn and play, though it takes much time to master the gameplay. Like in the movie, you'll shoot at pigs until you knock them all out. But, of course, the piggies are also out for your head, so you have to ensure you make the first moves and knock them out before they take down your birds. Once you knock down all the piggies, you'll win the current level and progress to the next one.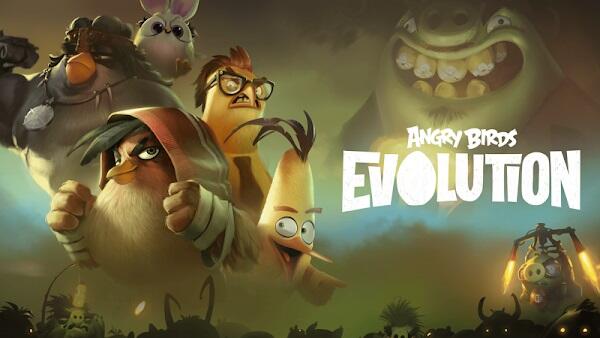 The game has beautiful graphics with vibrant colours. There is a lot of effort put into the characters and game colours. The animations are also excellent with their cartoon appearances. Another peculiar feature of the app is the various characters available to unlock. You'll be able to unlock new characters when you trade with the eggs you pick up during your games. There are you to 100 of these characters to choose from, each with different shapes, sizes, speed, weight, etc.
The game is an RPG game that Rovio Entertainment Ltd developed. It's a unique version of the Angry Birds game series and free to install. The game supports multiple languages, so you can interact with up to 47 languages depending on your preference. The content rating is +7, so you must be over seven years old to play the game. Angry Birds Evolution has over 10 million downloads and a 4.5 rating on the same platform, thanks to the unique game elements.
Gameplay
Sometimes in the Angry Birds movie, the birds were forced to attack piggies, and a catapult aided them here. This movie scene is what this game is based on and what you should expect in its gameplay. The game will provide you with a strong catapult and many birds for your projection. However, there will be limited birds to shoot, so you must be accurate enough if you want to win the game. Failure to destabilize the piggies means you lose the game.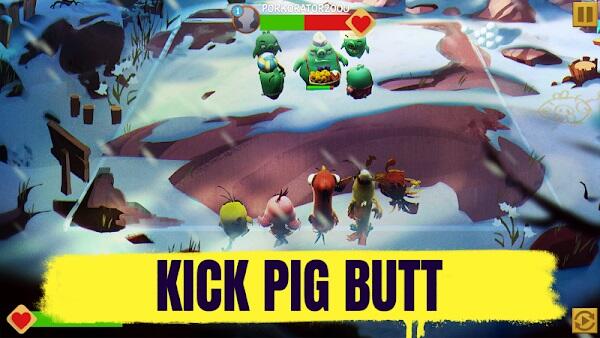 There aren't well-defined missions on the game, but you can complete a few of them while playing. The game has many levels to play, and each has a sole mission: to eliminate the pigs in the enemy line. Once you hit the targets with your shot, you can earn bonuses and pick up eggs. The eggs are useful for unlocking more bird characters. The more bird characters you have, the easier it is to play and use different birds for different shots.
Game Features
As a casting shot RPG, Angry Birds Evolution gained much popularity in gaming. It has some remarkable features that make you its impressive gameplay. Check them out below: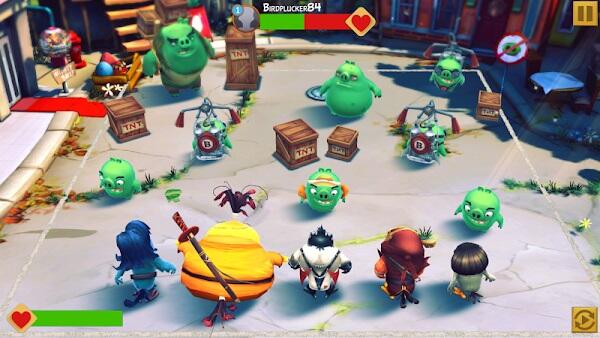 Graphics
The graphics on the game is nothing short of stunning. The interface is colourful, with lots of attention paid to the game environment. Rather than sporadically shoot birds at the enemies, you'll be able to have an interactive game where you control the birds and wage war against the invading pigs. So, this unique gameplay is realized thanks to the fantastic graphics with excellent quality. The bright animation includes all the details of the original movie and gives a cartoony vibe to the environment.
Game Modes
There are various modes to play here, ranging from two main modes to several complicated sub-games. You can either go solo in the game and find your way to a successful mission or play and share the responsibility with friends.
As a solo player, you'll challenge yourself to complex missions such as preventing the evil pigs from stealing the eggs, and there are various terrains and difficulty levels in each. In addition, each bird has different skills, so knowing their powers can help you create formidable tactics and win the game.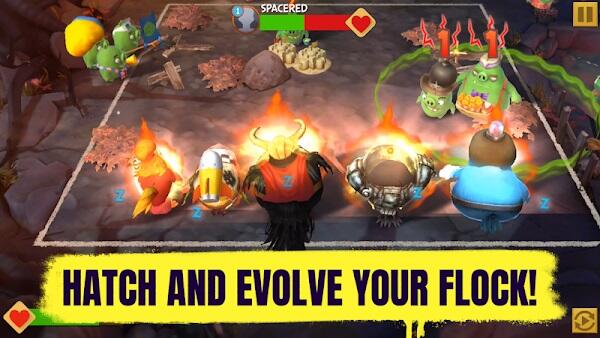 You can also play multiplayer mode. This offers you the chance to play a PVP game with online players. Challenge your friends to various multiplayer missions and set your achievements in the global list of weekly rankings. Players who make the top list can get bonuses based on their ranking.
Bird Characters
Compared to the other versions, you have more birds to interact with on Angry Birds Evolution. Over 100 birds in the game have different appearances and abilities. They all have skills and effects; some species can even transform or use special skills. There is also a hatching feature which allows you to create unique birds based on the type of environment and material you get them from. For example, you'll be able to hatch yellow birds when you collect the eggs from the desert.
Guild
As you continue playing, you'll get various rewards and bonuses and unlock more birds to use on your missions. So, you'll eventually be able to create a guild mode at a certain level with few perks. Once you have your guild, other players can apply to join, and you can join other guilds to learn more and exchange resources.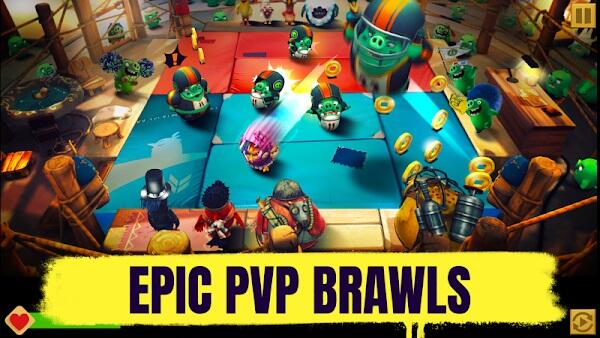 Oinktagons
This is a feature of the game that allows you to battle other players. You and another player will join the game, but only one of you will leave victorious. You can also choose locations for your battle, such as Bird Island pastime, Pinball, etc. Select your most skilled birds and join the Oinktagons for huge rewards when you win.
Conclusion
The game offers stunning graphics with beautiful characters and colours. Many exciting moments and experiences are awaiting you when you download the game.