Download Zombieland AFK Survival APK to blow out zombie brains until you wear yourself out. Play your favourite zombie shooter and begin your zombie hunting adventure!
About Zombieland AFK Survival
Zombieland AFK Survival is a colourful mobile game based on the Zombieland series. You play a survivor in the middle of a zombie epidemic fighting countless zombies with the help of your companions. Sony Pictures Television released it in October 2019.
Zombieland AFK Survival takes place in an Earthlike setting, a representation of earth after an Apocalypse caused by the zombie pandemic. Your duties include finding other survivors and working with them to reduce the zombie population.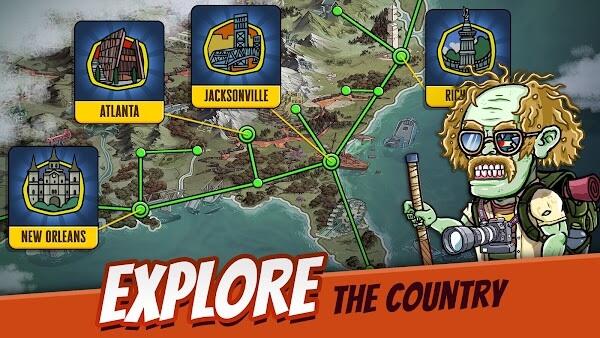 In this game, you fight the zombie invasion in an attempt to destroy the zombies completely. This Zombieland game lets you see how good you are at zombie killing by allowing you to participate in endless battles, quests, and challenges. Team up with other skilled characters to increase your chances of victory.
The Gameplay In Zombieland AFK Survival
The controls are simple. You just touch and keep touching. Zombieland AFK Survival takes away the hassle of cramped space, cluttered buttons, and all the other problems that accompany playing mobile games. The touch controls are advantageous because you have lots of free space on your phone's small screen.
You touch your screen to select options, shoot at zombies, and do everything and anything. The game itself is also simple. You're just shooting as many zombies as possible and trying to stay alive. The map shows areas with survivors, and you can just touch them to move there.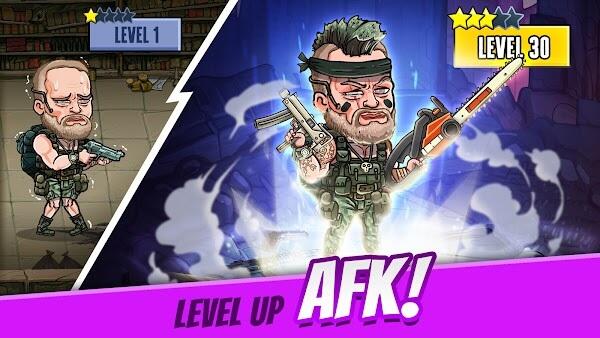 You have to find out the strengths and weaknesses of your team members to decide how to lead them to victory. Your first weapon is a pistol, but it is upgradeable. Every time you kill a zombie, you get rewarded with money that can be used to upgrade your weapon, character, or team members.
You can also use this money to purchase better weapons, including grenades. In addition, Zombieland AFK Survival features special Easter eggs hidden among the zombies. They hold surprising rewards for you if you can get to them.
Zombieland AFK Survival features a character system with characters ranging from baseball players to firefighters and astronauts. The character collection is large, and the arsenal of weapons is the same. Your Arsenal has options that include sniper rifles, machine guns, and even unusual ones like guitars and tennis rackets.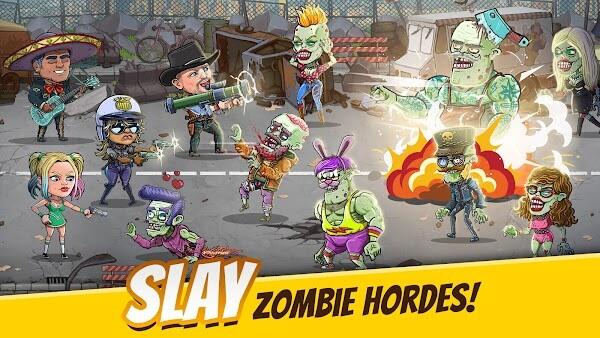 The game rounds are consecutive, with each level being harder than the last. As you progress, the zombies increase in number and persistence. Upgrade your weapons and characters accordingly if you want to survive the difficulties.
What To Do In Zombieland AFK Survival
There's so much to do in this game. Here's a summary of what you must do to survive and play successfully.
Develop A Team: Your first task is choosing heroes who are essentially survivors and making the team out of them. Under your supervision, different characters will come together to form a squad capable of fighting the zombies. You are responsible for protecting your chosen heroes by equipping them with state-of-the-art weapons and defending them.
Start Fighting Immediately: Download, open, and play! Don't waste time thinking about technicalities you can resolve later on. Starting early helps you learn adaptation early to climb up the ranks of heroes.
Kill The Zombies: The zombie's attack in waves of varying degrees. Some are small, while others are fiercer. The zombies are led by bosses that require stronger weapons to deal with them. This Zombieland game brings fun challenges and game modes in which one thing is consistent: killing zombies. To fare better in the battles, you must continue to upgrade your battle techniques and your team.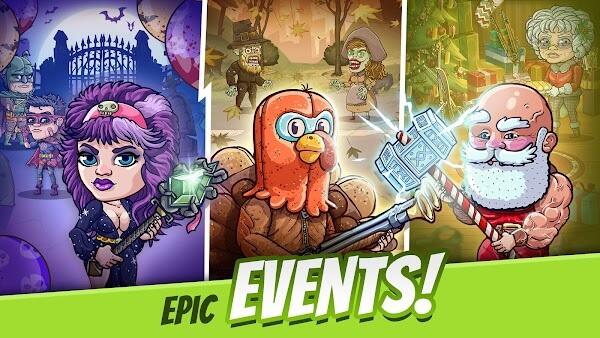 The key to finishing a round quickly is continuously shooting at the zombies. Ensure your aim is precise and create paths to move into their territory as you shoot. Don't give up! Keep unlocking new skills and upgrading your characters and weapons to stay ahead of the zombies.
Key Features Of The Game
Understanding Zombieland AFK Survival's features is a necessity to survive while playing. The most important ones include:
Zombieland Characters: You get to meet your favourite Zombieland characters when you play this game. There are other characters, but these are handy when you're getting chased by too many zombies. Keep them for emergencies because using them too often will drain your inventory.
Endless Content: Zombieland AFK Survival feels like a journey with no end. The game has so much content. The map consists of many locations worldwide, including cities already taken by the zombies. Each new location has new characters with peculiar stories to tell you.
Unique Zombies: When you think of zombies, you probably have a picture of aggressive, bloody scenes full of gore. The zombies here are a bit different. They come in creative colours, shapes, sizes, mannerisms, and identities. Have you ever seen a zombie with a six-pack and admirable biceps? You'll see that and other interesting appearances here.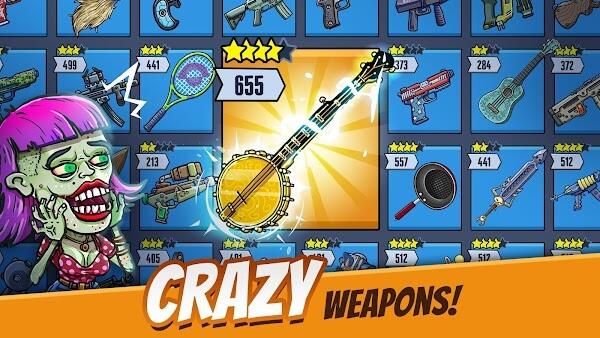 Hip Graphics: Zombieland AFK Survival is a colourful game, and the colors here are not just blood-red and pale bodies. The characters and zombies are full of attractive colors. Every part of this game has hip-hop/rock flourish. It even makes you feel like you're playing an 80s sport.
Zombieland AFK Survival also features a Tower of Babylon game mode where you must climb the tower to win. The zombies here are harder to kill or get past. You'll need to fight as expertly as possible to win and use all the special skills you've acquired.
Conclusion
The graphics in Zombieland AFK Survival are exceptional and worth several mentioning. They are of high quality, and optimized for every mobile device. The layout is also designed with you in mind. It aims to give you a relaxing experience. The sharp visuals help your fight by helping you see every part of the battlefield. Zombieland AFK Survival is a fun way to learn how zombies come about and prepare for what will happen if your world ever goes through an apocalypse. Hopefully, that never happens, but a lesson or two can't hurt! So get your post-apocalyptic lessons in this game.