Download Wobble Man APK now and enjoy endless levels of gaming with loads of fun challenges. Play as Agent Wobble and secretly infiltrate several floors in the game!
Game Overview
Wobble Man is an addictive casual game released by Ohayoo. In the game, you play as Agent Wooble- a funny-looking character with no arms or feet- and aim to successfully infiltrate a building without getting noticed. While that might seem challenging, items are carefully placed within the building to make the game easier for you.
The game primarily tests your reasoning ability as you have to navigate each floor in the building without getting caught by the guards found at different locations on the floor.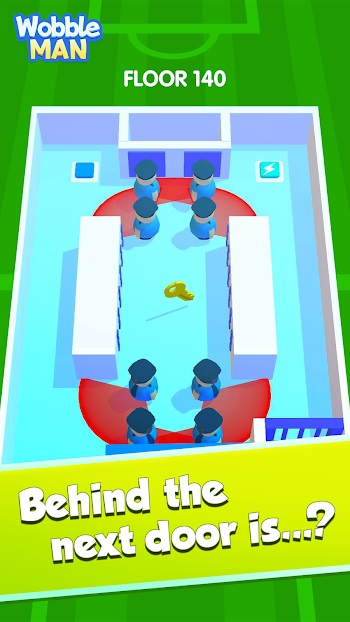 The game has a wide receiver with over 10 million downloads on the play store. However, this is not a surprise with the game's compelling gameplay and colorful graphics.
Gameplay
The Wobble Man gameplay is relatively easy. You have to find your way around each floor and avoid detection. Once you are detected, you immediately lose the game. Avoiding the guards is not so difficult as you can identify their field of vision marked by the red in front of them. You must avoid reaching the red color at all costs to bypass the building's security. Sometimes, avoiding their field of vision is not enough, and you may need to knock the guards out or take them out with a gun (with limited usage).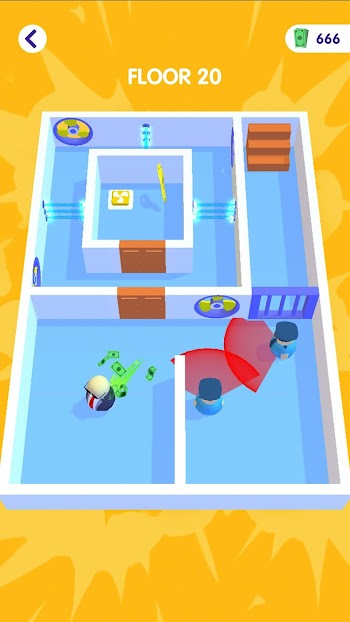 Each floor comes with its unique puzzles and challenges. The game starts with less complicated challenges, but the higher you go, escaping might start to seem more complex. Wobble Man's gameplay is quite humorous, enjoyable, and easy to grasp. You will notice that the game starts without a proper tutorial. To be fair, one is not required based on how easy it is to play.
Agent Wooble
The Agent Wooble character is a ball with a head. Imagine how funny it would be to play with a ball dressed in a suit and spy glasses!
At first, controlling Agent Wobble might not be easy to master because of how clumsy he might initially seem, but you will get the hang of it as you play.
The guards are also shaped in the same hilarious way making the game both light and challenging simultaneously.
Fun Items
As already mentioned, fun items are placed around each floor, making escaping undetected easier. Some of the items you will find in the game include: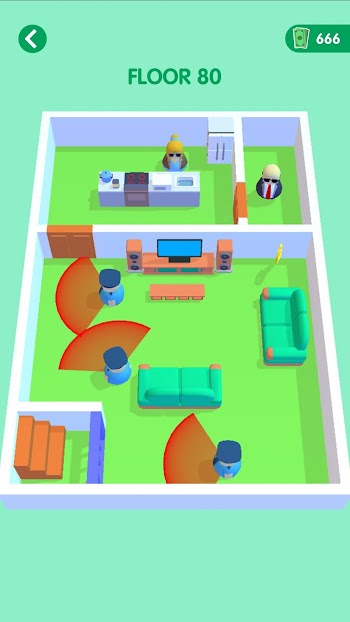 Keys: They help you unlock some locked parts of the room. Without getting a hold of these keys, escaping will be practically impossible.
Disguise: Sometimes, you get to disguise your character as one of the guards and pass them without getting detected.
Golden Cards: You will find gold cards as you reach certain floors in the game. These cards are essential in getting new skins, so it is important to watch them.
Coins: For making in-game purchases.
Countless Levels/Floors
One of the reasons Wobble Man is so addictive is the fact that it has a seemingly endless floor. You are met with new colors, structures, and designs as you progress from floor to floor. Each floor is packed with more exciting challenges than the last, and the fun never seems to end!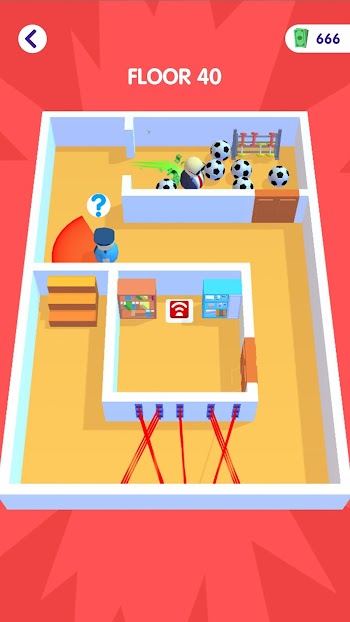 You may find yourself in a standard living apartment or even the guard's sleeping area. On some floors, you may be required to find your way around rooms lined with lasers or even different traps that you can use to bring down guards in the game and disarm.
Unlock New Skins and Trails
Wobble Man gets more fun with many thrilling skins and trails. Choose your favorite skins based on your preferred themes. The game features skins like Halloween-themed skins, cowboy skins, and many other skins based on popular fictional skins.
There are also loads of trails to choose from to make the game more colorful. As you navigate each floor, you can leave trails as you go. With enough cash, you can unlock as many skins and trails as you want and enjoy the game better.
Controls
You can control Agent Wobble by tapping on the direction you want him to move and holding it. Although the character might be unsafe, you can easily master the controls if you are patient enough. It is important to move carefully, so you don't get killed by the traps set on the different floors in the game.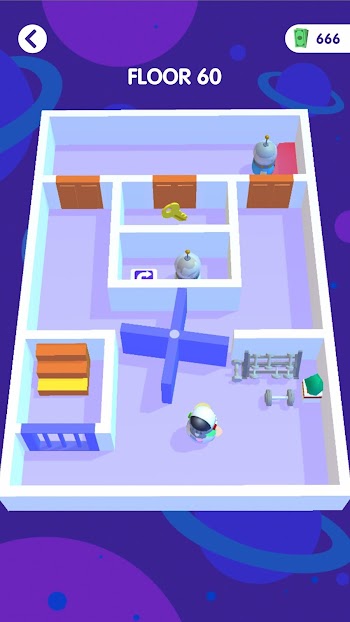 The control is basic enough; all you need to do to play is to tap on your screen and guide the character in whatever direction you need to go.
Graphics and Sound
Wobble Man is designed with amazing 3D graphics that instantly appeal to any gamer and an amusing soundtrack that allows the game to be as thrilling as possible. It is easy to tell that the game's graphics were skilfully created when you examine the well-detailed floors, characters, and other items in the game.
You can enjoy a unique gaming experience with the game's colorful design and an upbeat soundtrack.
Wobble Man's Offline Play Feature
An amazing aspect of the Wobble Man game is the offline play feature. To play the game, you are not required to connect to the internet. You can freely play the game wherever and whenever you need to. This makes the game easier to access and better to play, especially for gamers who are not into online games.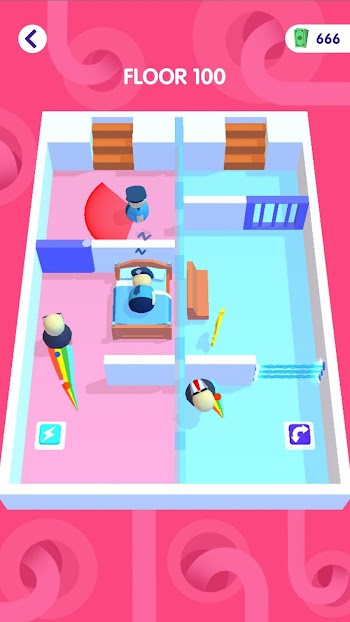 Final Thoughts
Wobble Man is designed to keep you deeply immersed in its original gameplay. You get goofy characters, fun challenges, amazing graphics, and seemingly endless levels, all in one game!
It is also important to remember that the game is a puzzle game. Thus, it requires patience and a carefully thought-out strategy to pass each level. However, there is no pressure to make hurried decisions, so take your time and enjoy the fun game.