Download Angry Birds 2 APK latest version free for android for an exhilarating gaming experience. You will bring down piggies using angry birds!
Conclusive Analysis of Angry Birds 2
Angry Birds 2 is a casual game by Rovio Entertainment Corporation. It allows you to team up with friends, challenge other players, and compete in tournaments.
This game is a great way to relieve stress and have some fun. The graphics are colorful and vibrant, and the gameplay is challenging yet simple.
The controls are straightforward, and the game is easy to learn. There are plenty of levels to keep you entertained, and new levels are added regularly.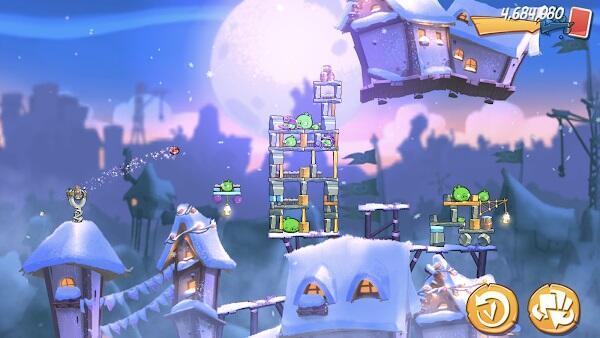 The power-ups and boosters give you an edge over the pigs, and the daily challenges provide some variety.
If you're looking for a casual game that's enjoyable and challenging, then Angry Birds 2 is the perfect game for you! It is only 75M and works with Android 5.0+ devices.
A Highly Exciting Gameplay
Angry Birds 2 is one of the most dynamic games you'll ever come across. The game is set in a world where birds and piggies are fighting. You must stop the piggies from stealing the bird's eggs.
To do this, you'll need to use your slingshot and aim carefully. You should destroy structures and defeat piggies by flinging Angry Birds at them.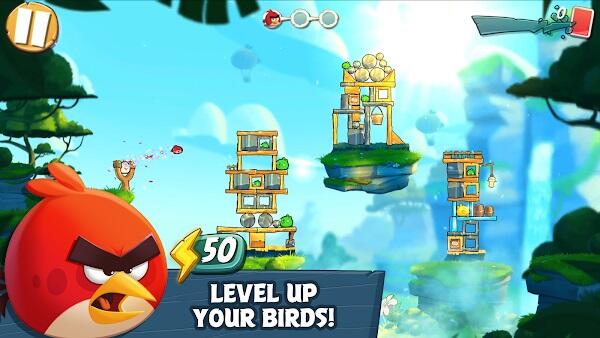 There are also many power-ups to help you along the way. Use them wisely to defeat the boss piggies and progress through the game.
Level Up Your Fashion Game!
This game has many silly hats. You can dress up your bird in all sorts of hats to show off to your friends.
As you continue with the gameplay, you'll unlock different hats that you can use. Each hat has its unique ability. Use them effectively and they will give you an advantage in the game.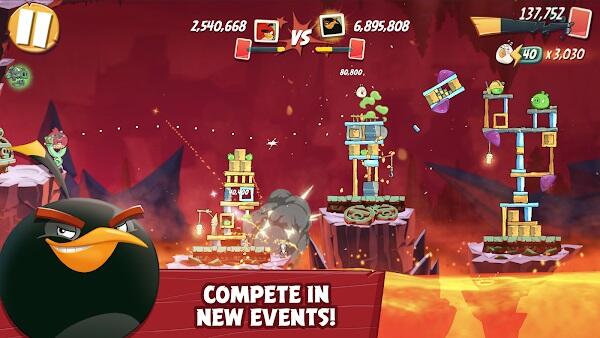 It also helps to strengthen your birds, making it easy to defeat the mighty eagle in the unique challenges offered in the Mighty Eagle Bootcamp. This way, you can earn the coins necessary for leveling up your characters.
Outstanding Features of Angry Birds APK
Daily Challenges. This game offers you to complete the daily challenges and receive awesome rewards. These activities are critical since they will help you evolve your team.
Upgrade Your Characters. As any other game, leveling up your gameplay is essential for survival. You should take the time to improve your skills and strategies by upgrading your angry birds. You can unlock new feathers and abilities that can help you take down the piggies even easier.
Build the Ultimate Flock! You must have a formidable team of birds if you want to progress in the game. It is best to focus on creating a powerful and well-balanced flock so you can take down the enemy more efficiently.
Strategize and Plan Your Attacks. You must plan your attacks carefully and consider the strengths and weaknesses of your birds. This way, you can maximize the damage you inflicted on your adversaries while minimizing the losses of your flock.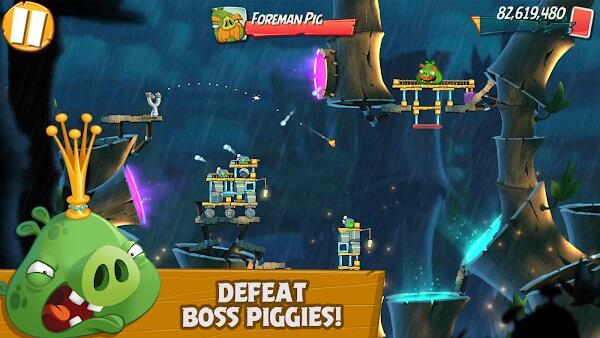 Join a Clan!
This game allows you to cooperate with other players in clans. You can join forces with them to take down the common enemy more efficiently. When you join forces, it will be easier to defeat the boss pigs and get access to exclusive rewards.
Additionally, you can participate in a lot of exciting events. These events will keep you coming back for more since they offer unique challenges that will test your skills.
For example, you can compete in arenas to show off your skills. Here, you will compete against other players from all over the world.
You can also join tournaments and climb the leaderboards. There are a lot of things you can do in this game, and it will surely keep you entertained for hours on end.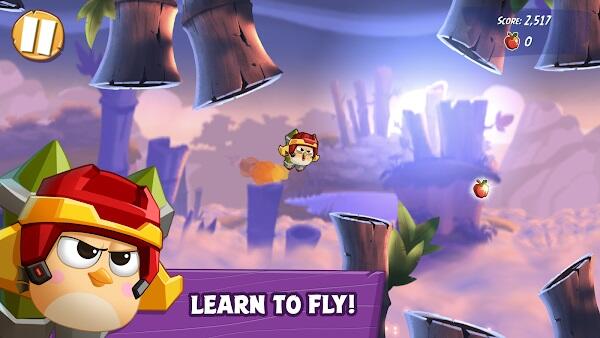 Multiple Gaming Levels
This game will also not bore you since it offers hundreds of different levels. The developers are also constantly adding new levels to keep the game fresh and exciting.
You can replay the old levels to improve your score and try out new strategies. It also includes time-limited levels that will put your skills to the test. The boss pigs are also getting smarter, so you must come up with new strategies to take them down.
Angry Birds 2 APK Unlimited everything
The Angry Birds 2 APK 2022 is the improved version of the original game. It has extraordinary features that make it uniquely refreshing. They include:
Angry Birds 2 APK unlimited gems and coins. The original game only allowed you to earn a limited number of gems. In this version, you can get as many gems as you want. This way, you can quickly progress through the game without spending hours grinding for resources.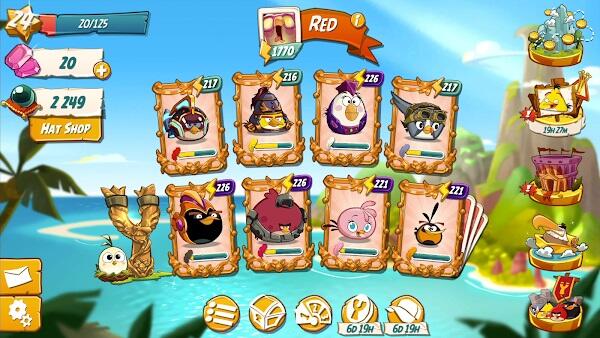 No Ads. The Angry Birds 2 APK unlimited everything is optimized for distraction-free gaming. It doesn't have any ads and you can focus on the task at hand.
Angry Birds 2 APK No Ban. The Angry Birds 2 APK unlimited all to prevent you from getting banned.
Angry Birds 2 APK unlimited all. You can access all the levels in the game without having to grind for hours. This way, you can quickly progress and achieve your goals.
If you want to download the Angry Birds 2 APK offline version, you can get it from a reputable third-party provider. In this case, you will be required to enable Unknown Sources in your device's settings. You can then proceed with the installation.
Conclusion
The Angry Birds 2 APK is the ultimate version of the game. It has everything you need to progress quickly and efficiently. With its unlimited gems and coins, you can buy anything you need in the game. You can also unlock all the levels, allowing you to explore them at your own pace.
The no ads feature is great for those who want to focus on the game. Additionally, the no-ban feature will prevent you from getting banned. Overall, this is the best version of the game, and you should check it out.


Join Telegram Group
Download Angry Birds 2 APK latest version free for android for an exhilarating gaming experience. You will bring down piggies using angry birds!