Download and install Bottle Flip 3D APK and be a part of the trendy game Bottle Flip Challenge – a game that has trended on the internet for a long time.
Description of Bottle Flip 3D
This app was created after the trend of the Bottle Flip Challenge that circulated the world. This app will help you improve your agility skills.
A few years ago, a sensational internet trend called the Bottle Flip Challenge. This challenge requires participants to flip a bottle filled with water and make it stand on a table or flat surface. It was a fun and pretty interesting challenge indeed. When this was still a very active trend, a lot of people all over the world had to join in and participate. So there were several interesting clips of the challenge of various social media platforms, such as YouTube, Twitter, Instagram, Facebook, etc.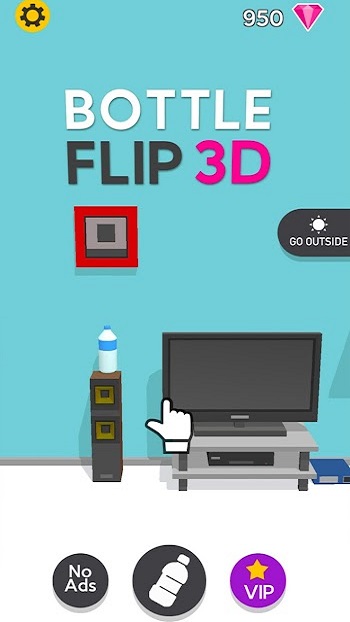 With the realization and recognition of the potential brought by the trend, the developer and publisher Tastypill decided to create a new game inspired by this challenge – that idea was what brought about the app Bottle Flip 3D. But, unfortunately, the game was first released on the iOS platform a while before it was now made available for Android users, too. So now you can have a chance to experience the fun, particularly if you didn't participate in the challenge when it was viral and trending.
The Gameplay
Even if you have participated in the challenge before, or you are very good with standing still and throwing water bottles in the air with the expectation of having them stand erect on a flat surface, then you might probably think that this game is just as simple – or even simpler; but you would be greatly mistaking. Do not expect Bottle Flip 3D to turn your phone into a water bottle you can just throw in the air. You won't want to risk shattering your beloved mobile device, will you? While the game does not simulate your phone into a bottle of any kind, you can still enjoy the game's fun with this app. The game will require you to hurl the bottle displayed on your device's screen from a certain position to another so that the object will have to stand still on any chosen surface without falling to the ground. This may seem like a pretty simple task, but it is not. Have you once considered shooting a bottle and making it stay balanced on an ultra-thin TV or a slanted wall painting?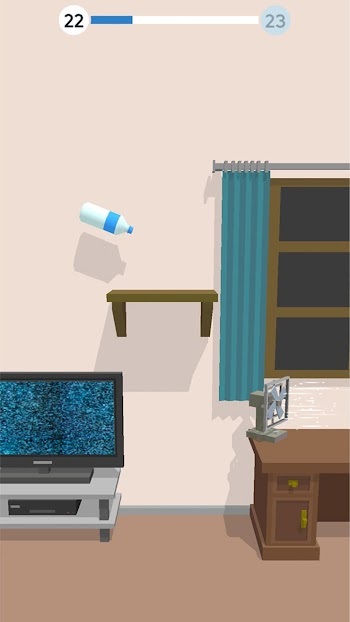 Your task is to navigate the water bottle to achieve your aim even though you are performing the task in a relatively small room in the app, and there is lot of furniture that may impede the success of the action. By swiping or touching, you can control the bottle to flip around in the air while you move a specific distance. While you still have the bottle in the air, you can make a double jump simply by double-tapping your device's screen. Whenever you throw any water bottle, you should expect it to land on any object. However, that is never the issue. The issue is to make the bottle land on a specified object and to remain in a standing position after landing. If the bottle accidentally drops anywhere besides the specified location, such as the floor, you will lose the game – it does not matter if the object is erect or lying on its side.
This game demands that you master your space and calculate the distance and time that it will take you to excel in the game.
New Rooms with New Difficulty
After flipping your bottle right in the initial room, the game does not end. There are still several rooms you have to play in. So when you win the first room, another room shall be unlocked for you to play in. This second room will have a different arrangement with another set of furniture. If you think getting past the first room is easy, then you may not find the second room as easy. The difficulty increases as you play across rooms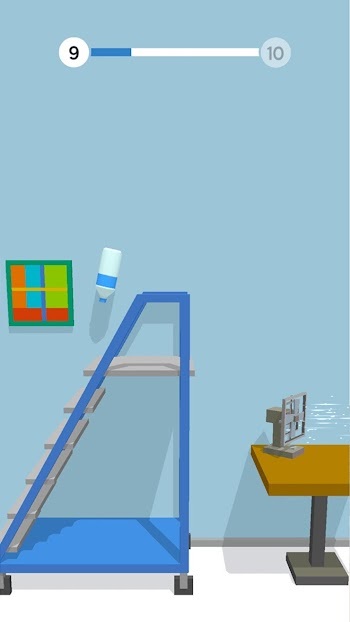 As you climb the level, the app increases the space between the object and its destination. You will discover that nothing is simple anymore; there is a strong fragility concerning the limit between standing and falling; the object's possibility of falling is much higher than that of its standing. Therefore, you must be very careful and aware as you play the game at this difficult level. A loose hand or a slightly strong hand can ruin the entire game.
Also, difficult objects constantly show as you conquer the levels. For example, if you are not very careful, a turning fan can simply disallow the bottle from standing, or a loose nail from a bookshelf might also affect it.
New Bottles
The upside of this game is that you won't only encounter more difficult rooms, but you can gain access to better bottles with better standing potential than the initial one you are using. In addition, as you win each stage of the game, you will be rewarded with gems you can use to purchase special skin for your bottle. Finally, it is worth mentioning that there are several bottles you can use in this game, such as a fish sauce bottle, a gym bottle, or a wine bottle.
The Graphics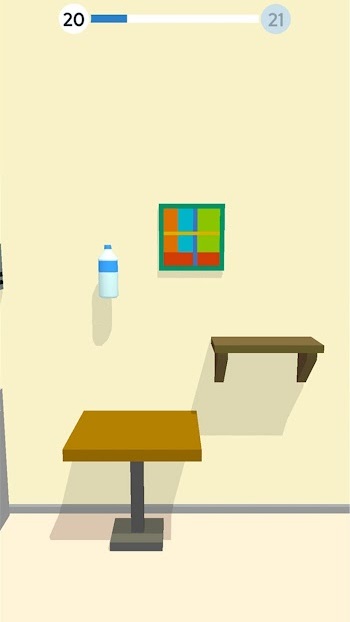 This game's graphics are not too detailed for adventure or car racing games. If you are expecting something like that, then you will be disappointed. Besides, what is the use of overly sharp graphics when they won't do any justice to the gameplay? The graphics of this game is at a pretty acceptable level. It is close to that of the games produced by Voodoo, such as Helix Jump or Hole.io. Even with its average level of graphics, this game will provide an awesome gaming experience.
Last Take
This game's simple gameplay attracts several players worldwide, including that it is modelled after the popular Bottle Flip Challenge. This game is also a highly addictive one. It is recommended that you don't start it if you have something important. Playing Bottle Flip 3D requires great concentration, sophistication and intelligence that will give you a series of fun moments.