Download Plants Vs Zombies 2 APK to create winning strategies and fight off zombies. This is not your everyday battle game. Instead, it's a one-of-a-kind experience!
About Plants Vs Zombies 2
Plants Vs Zombies 2 is a horticultural theme battle game where plants fight zombies. That's similar to pitting an army against children. It's a weird game concept, but it works. This is an action/strategy/adventure game in which your role is to ensure your plants are powerful enough to defeat the zombies.
Plants Vs Zombies 2 was developed by PopCap Games. It is a worthy sequel to the award-winning Plants Vs Zombies game. It was released for gameplay on iOS devices on August 15, 2013, and for Android devices on October 23, 2013.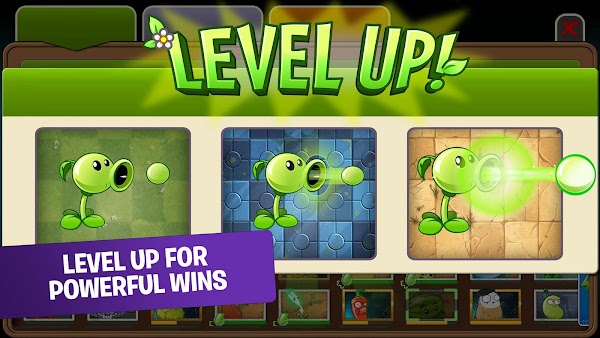 The game features fun travels across the world, gardening time, and quests that fulfill your need to explore. Battle with a unique variety of zombies at every turn using your well-curated fighter plants, and try to win!
Game Features
Plants Vs Zombies 2 features an interesting set of game characters and features. Despite being a battle game, it is a board game, so the strategy is important. With the aid of the game features, you can battle zombies across the board. The best place to start is with the main characters of this game, the plants.
Plant Characters: These are the protagonists of the game. Peashooter is the first plant available to you for defense. It shoots one pea every 1.5 seconds. Each shot results in 20 damage to the zombie attacked. Sunflower is the second plant you receive. It can generate sun, allowing you to plant more plants easily. Lava Guava attacks by splashing lava around a zombie, dealing 200 damage to all zombies in a 3x3 surrounding area. It also forms a lava puddle that hurts zombies that step on it and makes the area unsuitable for planting for a while. Laser Bean attacks multiple enemy targets using lasers. The other plants include Wall-nut, Squash Potato Mine, Cabbage-pult, and many others. There's a lot.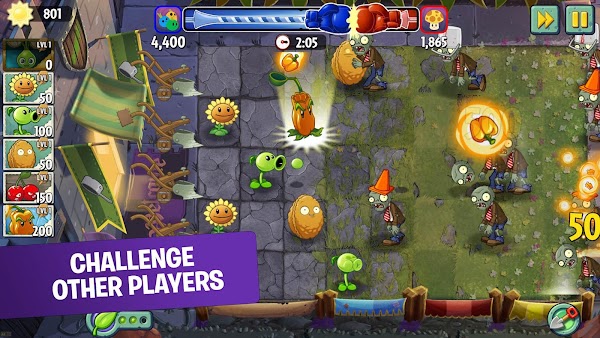 Zombie Characters: These are the enemies. Jetpack Zombie can fly over all plants except the tall ones. It wears a blue and orange jetpack with an orange and gold antenna and orange fire at its base. It can absorb no more than 320 damage per shot. After this, it dies. Imps are small, fast zombies. They can't take too much damage. The game worlds have different variations of the Imps. Frostbite Caves has the Yeti Imp, Big Wave Beach has the Imp Mermaid, and the Pirate Seas has the Imp Pirate Zombie. Zombie Chickens move in swarms and have low health levels.
Crazy Dave: Crazetopher David Blazing III or Crazy Dave serves as the game's narrator. He introduces you to levels and explains some of the games. Unfortunately, he later gets abducted in the game.
Plant Food: The Plant Food feature is a plant steroid that grants a special plant upgrade. When given Plant Food, Peashooter becomes a Gatling Pea. It upgrades to shooting three giant peas per shot, dealing a total of 1200 damage to the zombie. Plant Food causes Sunflower to produce 150 suns at any level below level 5, 180 suns at level 5, and 225 suns at level 10. With Plant Food, Lava Guava creates holes in all the tiles in front of it, dealing 900 damage to all zombies on the path.
Travel Log: The travel log contains quests curated just for you. Scheduled WQuests have to be completed before the given deadline. You can also go on Epic Quests and earn amazing rewards.
Time Travel: With a collection of 11 worlds, Plants Vs Zombies 2 offers you the option of traveling across time zones to worlds of more serious difficulty, more levels, mini-games, and more.
Seed Packets: Seed Packets are planted to grow and strengthen your plant army.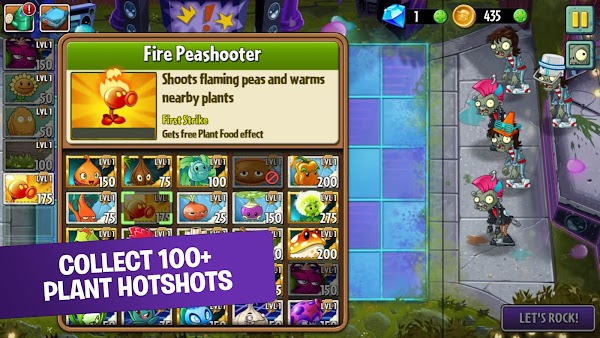 These features are useless if you don't understand how the game works. Discover the Plants Vs Zombies 2 gameplay in the next section.
Unique Gameplay
The game starts with an introduction from Crazy Dave, the pam-wearing narrator. The gameplay is simple. Zombies advance from the screen's right on the five rows of the board. The board/lawn has five rows and nine columns.
The goal is to ensure the zombies do not make it across the board and past the plant at the end because that ends your game. To do this, you must place your plants strategically and defeat the zombies before they make it across.
Plants Vs Zombies 2's gameplay takes place in nine modes and eleven crazy worlds. This variety offers several games, so there's no time to entertain boredom.
Game Modes
In Plants Vs Zombies 2, the game modes are mostly similar, but they have minor differences. Brain Busters mode features colorful gameplay with unique objectives and conditions added to your games.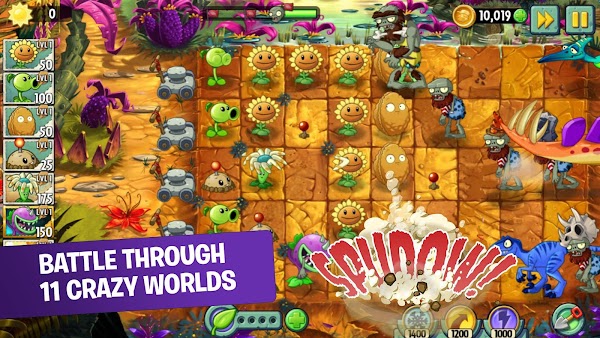 Endless Zone has a set of endless levels in which difficulties increase as you progress. The other game modes are Adventure, Pinata Party, Vasebreaker, Arena, Zen Garden, Penny's Pursuit, and Thymed Events. Some are accessible in all the game worlds, while others are only available in select worlds.
Game Worlds
In order of increasing difficulty, Plants Vs Zombies 2's worlds are Ancient Egypt, Pirate Seas, Wild West, Frostbite Caves, Lost City, Far Future, Dark Ages, Neon Mixtape Tour, Jurassic Marsh, Big Wave Beach, and Modern Day.
These worlds have varying numbers of game levels and zombie characters peculiar to them. For example, plants Vs Zombies 2's default world is Player's House. There are five game levels here, and the games are easy to play.
Conclusion
Although PopCap Games did a good job with this game, the in-app payments, unlike its predecessor, the game is free on app stores, but the hidden payments are not a good look. Too much of the game's content is locked behind payment walls.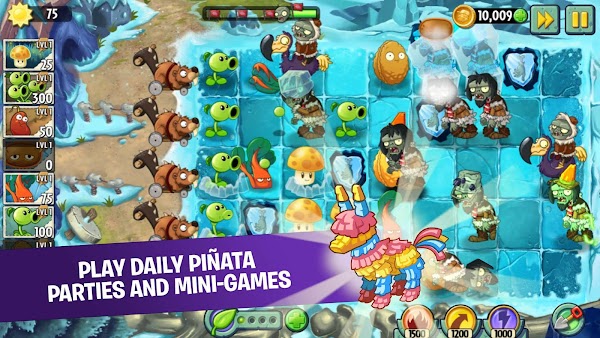 Plants Vs Zombies 2 poses an interesting challenge to players who are used to battle games with powerful antagonists and protagonists. It's up to you to figure out how mere plants can stand a chance against zombies!