Download Food Truck Chef APK and go on a cooking adventure with Chef Emily. Cook delicious sushi, tacos, pizza, asmr food, falafel, and other wonderful meals.
Introduction to Food Truck Chef
Food Truck Chef is a mobile application game that takes you on a cooking adventure. Play as Chef Emily and make wonderful meals for your customers. Beat deadlines and cook different meals such as pizza, tacos, falafel, and other meals.
Food Truck Chef allows you to own your restaurant and manage it as you see fit. You will have to cook meals fast to beat the clock and manage your time amidst playing different managerial roles to keep your restaurant functional and productive.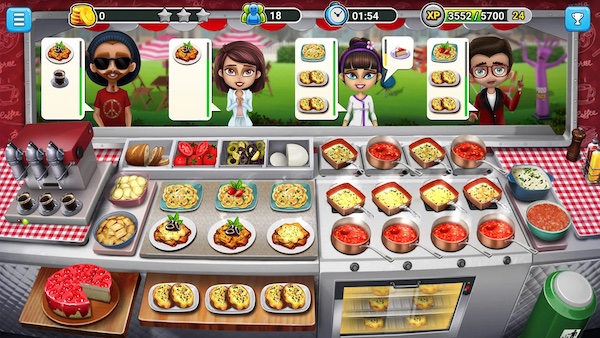 You also get to decorate your restaurant and food truck. Making renovations was necessary and improving your cooking and dining environment as you progress in the game. As Chef Emily you not only cook meals but also bake and fry different types of food.
Join the race to become the master chef and outclass opponents at the Krusty Cook-off. Go on an amazing adventure touring different locations and making different types of meals from several continents of the world.
Cook up to 700 different types of delicious dishes from across the globe. Play through 17 locations and 680 levels of fun and fast-paced cooking. Show your skills in locations like pizza Street, BBQ Street, Falafel Street, Oriental Street, Waffel Street, Tacos Street, Sushi Street, Bacon Street, Tasty Town, and many other locations.
Food Truck Chef has a reward system that allows you to get better at your cooking as you make progress in the game. Get new supplies and tools for your kitchen or pimp up your food truck to make it more alluring for your customers.
Food Truck Chef also comes with a tournament mode known as the Food games. Battle it out with other chefs at the food street carnival to collect stars, earn gems and improve your character. Get as many stars as possible in the weekly star haul events with new themes every week.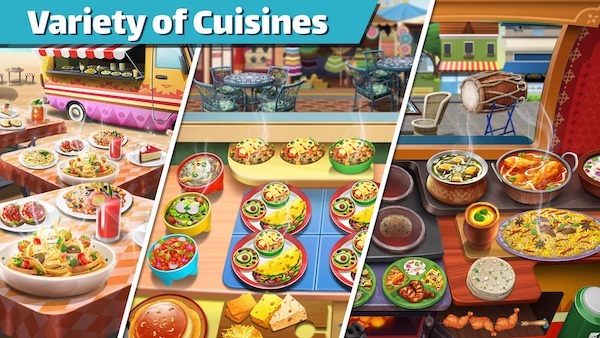 Spread the cooking fever with Emily, Flo, and Victoria. With your characters, cook the main course and delicious desserts with simple ingredients and recipes from different parts of the globe.
Food Truck Chef is a fascinating game, and you are bound to enjoy every bit of it. Especially if you are the type that loves cooking games. Create your masterpiece in the kitchen and blend different tastes to produce culinary excellence in your way.
Features of Food Truck Chef
Food Truck Chef is a unique game in a class of its own and the fun in this classic game owes more to its collection of brilliant features and in-game attributes. Some of these features include:
1. Cook and Explore
In Food Truck Chef, you not only get to cook amazing dishes, but you get to do them on the road. Foods and ingredients available, change as you move from one location to another. As a result, restaurant owners must understand the need of their prospective customers.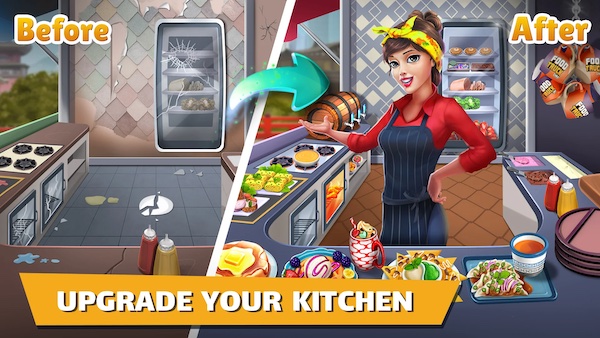 In the same way in Food Truck Chef, the type of meals you prepare will differ. Beat the clock to make different meals to satisfy the desire of hungry and impatient customers who can't wait to get their hands on your wonderful delicacies.
You get to make delicacies like shish kebabs, street food, eggcellent tacos, spicy noodles, crunchy nachos, and many other palatable and yummy meals.
2. Become the best
Grow your character and improve your gaming skills as you progress in the Food Truck Chef universe. Included in the new version is the Super Truck Chef, where you get to experience fully designed kitchens, with state-of-the-art equipment.
To meet up with the demands of your customers, you also get three new boosters for superfast cooking and on-time delivery. You can bake, cook and fry it as you desire, just always ensure your customers are satisfied and coming for more.
3. Customize your Truck
In Food Truck Chef, you can also pimp up your Truck and make it look brand new. Make it look super cool and increase your patronage. Paint it in any color you desire and add other available design items to make your Truck unique and elegant.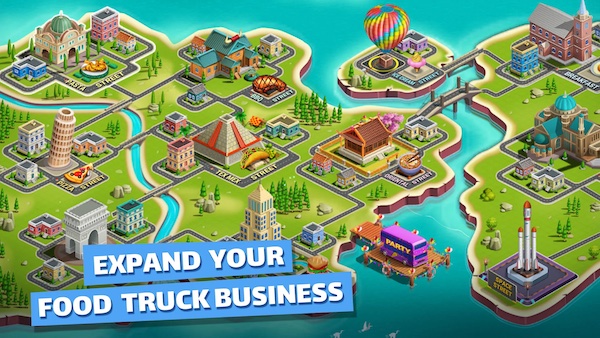 You don't want your Food Truck looking basic and unattractive, so earn enough and enjoy customizing your Truck.
4. Upgrade and Level up
Upgrade and level up your character and gameplay in Food Truck Chef. Unlock new and flashy items to better serve your customers and improve your food cart. A new and better-equipped kitchen with modern kitchen wares is also attainable.
To become the best, you need to have access to the best pieces of equipment in the business. This will help improve your service delivery and increase your chances of becoming a master chef in no time.
5. Compete In the Food Games
Competitions have a special way of spicing things up and in Food Truck Chef, you get to participate in exciting food games. Compete against other chefs to serve up delicacies that will wow the judges and audience.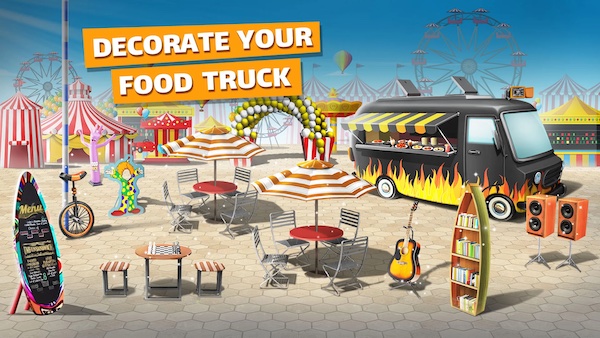 Show the world you are the best and indeed the master chef by winning these competitions to make yourself and your restaurant a household name at the food street carnivals. Help Emily, Flo, and Victoria and reach for the stars in the Food Truck Chef universe.
6. Earn Stars
Food Truck Chef comes with a mechanism for character development and all-around improvement of your gaming experience as you make progress in the game. Improve your chances of becoming the best by chasing achievements and earning stars in the weekly star Haul events.
Cement your super chef status by accumulating as many stars as possible. Switch up your game and enhance your skills and status with gems and precious stones.
Conclusion
Food Truck Chef takes you on a fun ride as you serve up awesome dishes from all parts of the world. Show the world your culinary skills and become a master chef. Download today and have fun.


Join Telegram Group
Download Food Truck Chef APK and go on a cooking adventure with Chef Emily. Cook delicious sushi, tacos, pizza, asmr food, falafel, and other wonderful meals.