Download Virtual Families 3 APK for an epic experience in the countryside. It lets you experience real-world scenarios on your mobile device.
About Virtual Families 3
Virtual Families 3 is a family simulation game developed by Last Day of Work LLC. The game is one of the Virtual Families Series, a sequel to Virtual Families 2. Hence, anyone who has played Virtual Families 2 will be familiar with Virtual Families 3, and only experience a few changes to the interface. The game was announced in 2015 and featured a world of husbands, wives and children living as a happy family.
Last Day of Work is one of the most popular virtual family game developers, with Virtual Villagers and Fish Tycoon being some of their most popular releases. The developers have millions of fans worldwide, and they came up with Virtual Families 3 after a period of silence after Virtual Families 2 was released. Hence, this version has many remarkable features you won't find in the previous one.
Unlike the previous version where you have to put up with the hustles and bustles of the city, you'll be spending much of your family time in the countryside and open space here. Therefore, you'll be experiencing an exciting storyline whereby the people in the town have noticed bizarre signs, and you might be the only one who can help them find answers.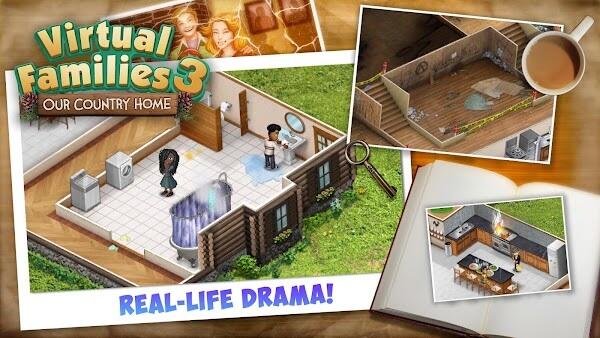 This game provides all the features available in the previous versions except for a change in the storyline. In addition, of course, there are also new features such as same-gender marriage, improved animations, various levels of renovations around the house, new currency and many others.
Design a Beautiful Home, Lead a Prosperous Life
Virtual Families 3: Our Country Home has an exciting storyline that doesn't deflect from the original objective. You're still required to build a family and ensure they are happy. But this time, you might have to sacrifice more to achieve this. The game takes you to the countryside to build a home.
However, the townspeople believe mysterious things happen, and even though they try to find answers, they aren't able to. So the game offers you the chance to help them. This mystery series doesn't really get to show up as a side mission during the game, though, so you can always skip it or do it later.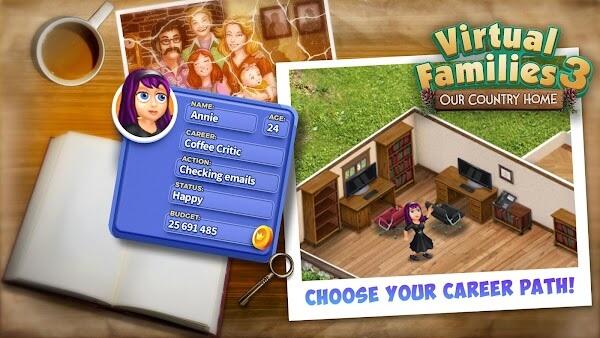 At the beginning of the game, you'll have to create a character and start creating elements to support your virtual life. The player starts with menial jobs to make ends meet. Then you can begin working, meeting people, creating connections, and starting a relationship which leads to your building your own family.
The game has an exciting interface, with a detailed control panel designed with simplicity. When you touch them, you can check object information, and some interactive actions will follow. You can then choose a response to the object's interactive move.
Features
Virtual Families is an exciting game to play in the long run. It has many life elements that keep the game as realistic as possible. Check out some of its unique features below: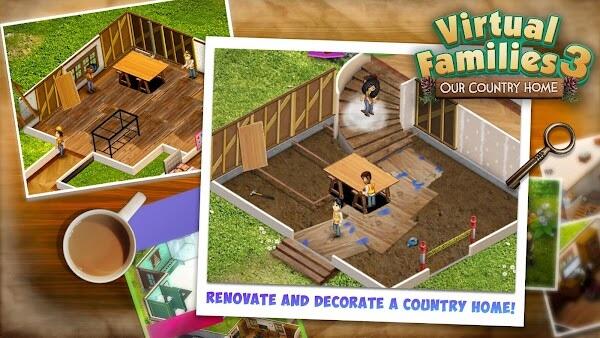 Excellent Graphics and Animations
The game does an excellent job of creating a virtual world in which players can completely immerse. The graphics quality is not as complex and realistic as in action games, but it covers every vital detail anyone would expect to see.
The rooms are well furnished with the necessary appliances, and working at different workshops means you'll experience different environments. You'll also notice how detailed the renovations are; any changes added every time will be seen when you work next.
Great Storyline
As great as the previous versions were, this version is super cool with an impressive storyline. You just got into a new environment, and growing up means you'll have to start taking responsibility by doing menial jobs and building your reputation. You'll also get to fatten your purse enough to start a relationship and think about making your own house.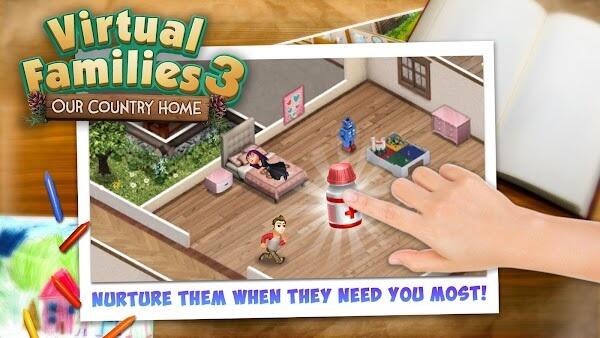 The game gets close to its peak when you marry and have your children. Then you'll shoulder the responsibility of bringing up your kids correctly till they are old enough to make their own decisions.
Control Panel
It's pretty easy to move around in the game since you won't be directly controlling the character with the controls. Instead, you can use taps and swipes to manage the game. For example, tap on locations you want to visit, check the home screen to access all the available areas you can visit and use onscreen buttons to complete any other task.
Upgrades
There are many elements in this game, as earlier mentioned. Like in the real world, you'll have to go quite slowly because changes take time, and you can't go at a fast pace or else you'll finish the game too soon. However, game upgrades are available so you can play faster and experience a quicker change in the environment. There are many items to upgrade; for example, you can purchase the 'Time Warp' item to skip parts of the game or generate random events with the "Roll the Dice". You can even adopt a baby with the "Adoption Services" in the item store.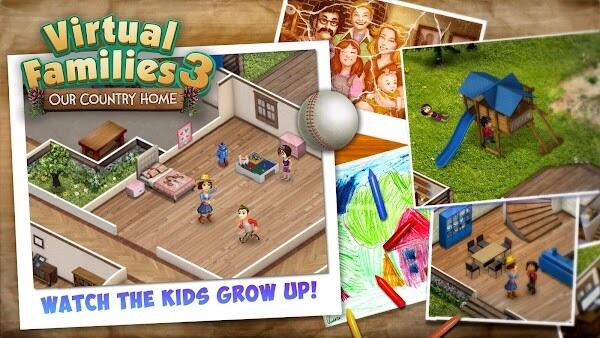 Marriage and Family
Most players are here for this, and you can be a part of it by falling in love and marrying someone you'll love together within the virtual world. The game offers scenarios of what life before and after marriage could look like, so it's a great game to test your relationship skills. It also teaches you how to properly look after your children and ensure they don't get in trouble as they grow.
When marrying, you can choose to marry someone of the same gender, which is part of the new features. You can also select your preferred candidate and access more candidates through email.
Conclusion
Virtual Families is a calming and intuitive game that allows you to glimpse life from a new perspective. You get to grow up, build a family and experience certain parts of life you've been through or yet to experience, which gives you more insights into life while bringing fun into the setting.