Download Trial Xtreme 4 APK, great racing and stunt driving game where players show their racing skills. Join the adventure and overcome many in this game.
Trial Xtreme 4 Bike Racing
Trial Xtreme 4 Bike Racing is a mobile game that is free to install. The game was developed by Deemedya INC and released in January 2015. The thrilling game takes players to the road, where they play the role of a skillful driver. The adventurous game offers players a chance at exciting experiences. Trial Xtreme 4 Bike Racing got its inspiration from similar games in its popular genre. It is available to Android and Apple users and has gotten great ratings since its release.
Game Description
Trial Xtreme 4 Bike Racing is an extreme driving simulation game with unique gameplay. Players are expected to drive a large displacement motorcycle through difficult terrain and many obstacles. The game is accompanied by over a hundred levels ranging from difficult to extremely difficult. Trial Xtreme 4 is an addictive game where you have to compete with top racers in an epic hill-climbing challenge for rewards.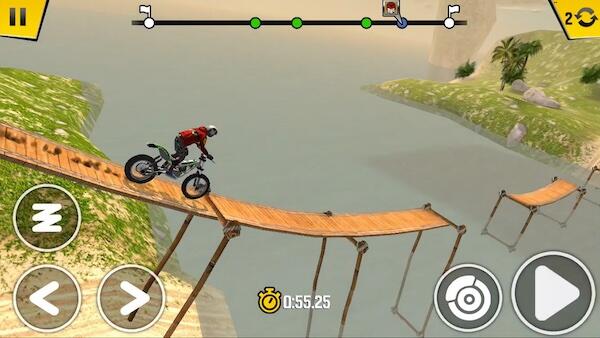 Unlike other racing games, there are no beginning levels for novices to practice with. To succeed on Trial Xtreme 4 Bike Racing, you must possess basic off-road driving skills and be at an intermediate level. If you do not have this basic skill, you will be discouraged by the continuous horizontal flips. If you are scared of heights or you feel dizzy at the slightest, you should avoid this game.
Each level of this game comes with several obstacles that require great skills to overcome. This fun game has realistic racing physics and funky ragdoll characters that you can customize. Pick your favorite vehicle from the options available and upgrade them as you proceed in the game. Money used for the upgrade is gotten when you unlock the Trial Xtreme 4 unlimited money.
Features of Trial Xtreme 4 Bike Racing
Several exciting features lie within this racing game. Here are the fascinating features of the Trial Xtreme 4 game:
Trial Xtreme 4 Bike Racing Gameplay
Trial Xtreme 4 gameplay is straightforward, exciting, and simple. Obstacles in the game are called Inception; get ready to encounter obstacles of a different kind. Trial Xtreme 4 is a game with a 3D scene designed for players to pass and see. Your motorbike will ride through various places, from the countryside to the mountains. It then goes into the city, passing a canal, a slippery snowy road, and finally ruined buildings with so much huge furniture thrown around.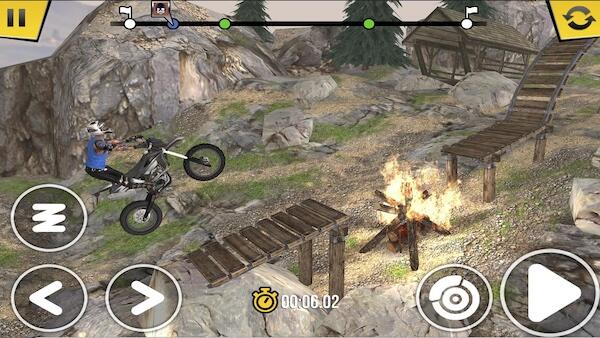 You can only use floating logs on the water when you pass through a canal full of water. While using the floating logs, remember that sliding the wheel into the water means you have failed the mission. The Trial Xtreme 4 game is indeed difficult, and sometimes you have to cross iron bridges that are sharp and broken. Below the bridge is a steep slide with a rough surface to impede movement. Driving through these places is very hard, and you can get dizzy looking at the terrain.
Epic Game Mode
Trial Xtreme 4 free download offers players different game modes where they can show their skills and become a hero. The PvP game mode is featured in this game, allowing players to duel with other players. To defeat every opponent and emerge the winner at each level, you must put your driving skills and strategy to work as many obstacles await you.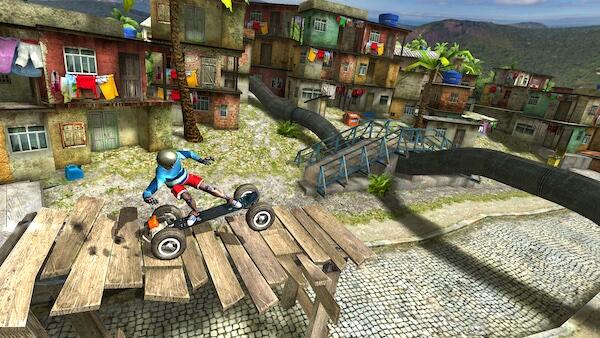 Players are rewarded exciting upgrades and glorious victories for the solo and two-player modes. Accumulate enough points if you wish to upgrade your motorcycle and improve some special parts in the Swag Mode. This mode also allows you to increase the power of your motorbike. As you advance in the game, options for other vehicles like heavy scooters come in handy in places with long slides.
Realistic Physics Simulation
Trial Xtreme 4 Android version is not an ordinary racing game but a game that requires calculation and skill. You can fall into the cliff if you lose concentration even a bit. Being slow on the road is enough for you to trade the attractive road for something else. However, Trial Xtreme 4 has an advantage because it simulates real-life physics in the game.
When you encounter an obstacle, the motorcycle stops. Now, you and the bike must jump high enough to pass unexpected intersections. When you pass through a slippery surface, the bike will screech.
Customize your Characters
Players have the opportunity to create their characters in the awesome gameplay. Your character or racer can come with any trait you desire. Pick up different customization for your character while enjoying your challenges.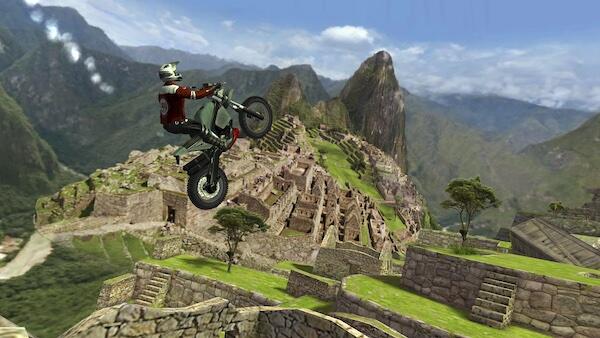 Change your look with many available options and get new boots, torso, pants, and helmets.
Multiple Locations and Fantastic Rides
Download Trial Xtreme 4 for multiple racing challenges through about 200 exciting levels. You are allowed access to several maps across the world so you can explore interesting locations. Get used to many environments by racing through the levels over again.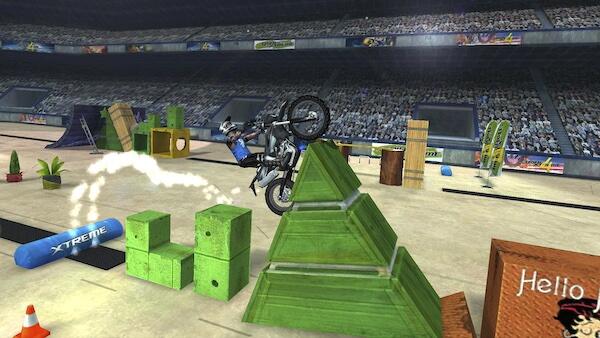 The game comes with multiple rides that players will find interesting. Every bike comes with its traits and capabilities. The top vehicles and bikes have great horsepower to help players climb the steep hills easily. You can choose any ride that matches your challenges and job type.
Final Thoughts
The Trial Xtreme 4 unblocked version comes with many interesting features. Players can comfortably touch and control the game for accurate and easy decisions. Challenge players worldwide into a duel and emerge victorious with some fascinating rewards. Win challenges to get access to Trial Xtreme 4 for unlimited money and enjoy the exciting sound effects as you go.