Download Tiny Archers APK and save your kingdom! Fight many enemies, discover new characters, and explore the fantasy world in this adventure game.
Brief Description of Tiny Archers
Tiny Archers is an action and fantasy-themed game where you play as an archer. You must protect the king when his kingdom is invaded by an army of orcs and goblins using your archer skills from a wall tower. You can easily target and kill the enemies trying to attack.
Tiny Archers were released on the 14th of July, 2016, by 1DER Entertainment. It is rated 17+ because of violence, blood, and gore themes. The game has seamless gameplay and easy controls that anyone can use. Touch the screen and move your finger slowly to see the trajectory of your arrow. Once you get your aim, you can target your arrow at your enemy.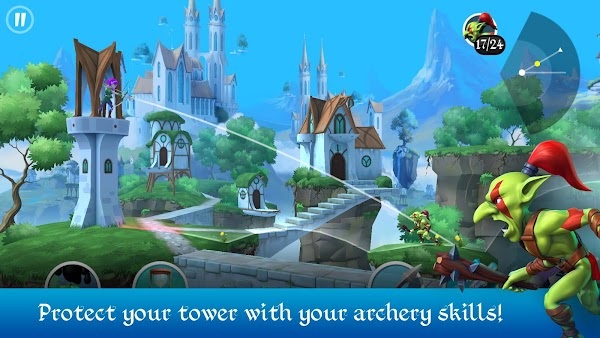 You can beat levels and move up in the game as you play. As you do that, you get new bows and arrows. Remember that these come in limited quantities, so you'll have to buy more if you run out constantly.
Tiny Archers is a fun action game with many levels, so you'll have a long way ahead. The dynamic game offers different weapons and characters that keep you engaged as you complete the many levels. The game also has vivid graphics.
Fun Gameplay and Concept
Tiny Archers is a tower defense game where you are a sole sniper, and your only job is to keep the army of goblins at bay. It starts at a decent pace, with about a dozen enemies. The good news is that they won't all rush at you but will wait their turn while charging at the tower.
This gentle attack strategy only occurs at the beginning of the game, and as time goes on, you'll start dealing with enemies firing their missiles and a non-stop attack that you'll have to keep up with.
Tiny Archers also offers a variety of enemies you have to defeat, each with its strengths and weaknesses. Knowing their weaknesses will make it easier to defeat them. For instance, some goblins with shields can block your arrow, so the only way to defeat them is to snipe them with your armor-piercing missiles. Or, you can aim for their feet and make them hop so you can defeat them.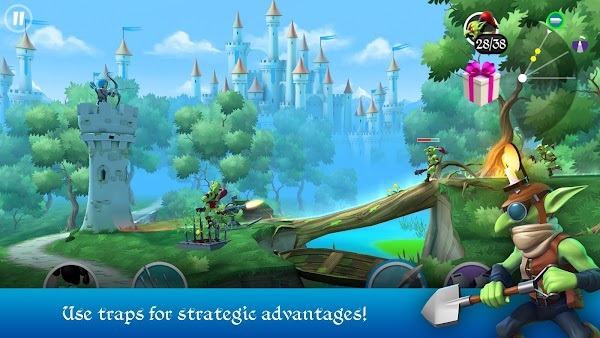 There is also the option of turning on the 18+ game mode which will turn on blood. This adds a splash of gore whenever your arrows strike. You can also easily notice the area damage, like shooting a goblin in one other part of his body so that you can get a clear headshot. It's about getting the right strategy to win as you play Tiny Archers.
Tiny Archers also allows you to watch ads and get gems as a reward. You can swap the gems for more arrows and coins to upgrade your bow. Aside from this, there are other ways to get gems, like completing missions or clearing a level with a three-star score.
Game Features to Look Out For
As you play Tiny Archers, you can look out for different fun features that will enhance your gaming experience.
Choose from four characters: human, elf, dwarf, and beastmaster, and attack your enemies from your tower.

Fight an army of goblins, skeletons, and trolls with special abilities, arrows, and diverse attack layers.

Follow four exciting and surprising storylines designed to match a tower defense game.

Challenge yourself with over 130 different tower defense levels and four different storylines that will keep you engaged.

As you play, you can upgrade your characters and collect resources. These resources help you get new arrows and skills as you play.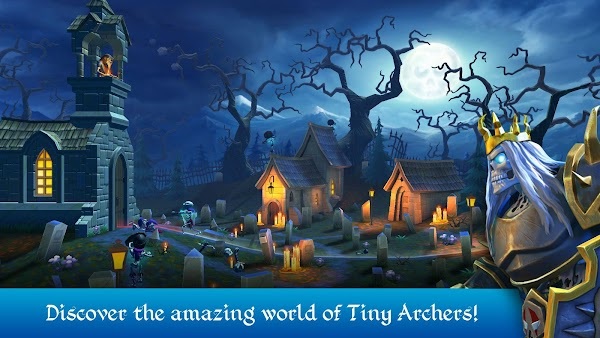 Train your archery skills to aim attacks that don't only kill but will stun and slow down your enemies instantly.

Develop unique strategies and tactics that help you defend the kingdom and survive as you play against goblins and trolls.

Survive in different game modes and try to beat other players on the Leaderboard.
Lay traps for your enemies and use that to get an advantage over these attackers.

Use the social feature to play against other players and see who is better in different game modes. You can chat with other players, share photos, and ask for help to beat your levels.

Use the hard mode levels to challenge yourself.

Play in different locations like elf cities, valleys, hunted graveyards, dwarf mines, and forests.

Turn on the 18+ features to get the full experience: blood mode, kill-cam, and exploding bodies.
Get gems and use that to upgrade characters and weapons.
Tiny Archers Game Tips and Tricks
Before you start playing Tiny Archers, different tips can help you win better. For one, you should focus on timing the whole you play, as that is the easiest way to increase your hit ratio. It might be hard to get the timing when you first start, so you can release the arrow at a particular point that can bounce off and hit the goblin.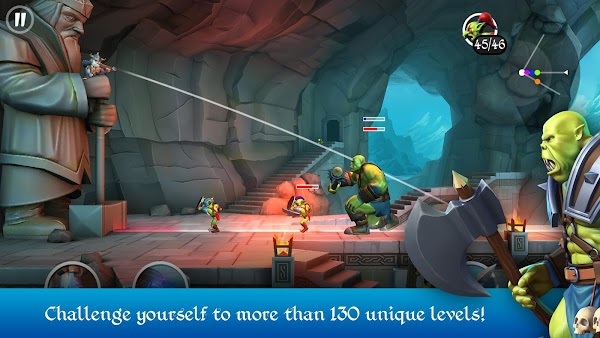 The hits in Tiny Archers also depend on distance and angle. The closer the enemies are, the easier it is to get headshots on your goblins. You should also take advantage of the minimap, which shows you where the enemy will appear before you see them. This makes it easy for you to prepare a shot before they come.
Tiny Archers has different bow upgrades, so you should buy them when available to get better shots and boost your damage. Also, you should try to do more missions to get more gems for getting skills and upgrades.
Conclusion
Tiny Archers is a fun action game that will keep players engaged. Although it has a lot of levels, it does not feel repetitive since there are many types of upgrades, skills, weapons, and characters that you can use to get the most out of the gameplay. You can also do more when you use these upgrades and enjoy over a hundred available levels.