Download Hills of Steel APK latest version and enjoy intense tank battles against fierce adversaries. It boasts advanced game physics and authentic sound systems.
Critical Insights about Hills of Steel APK
Hills of Steel APK is an intense game offered by Superplus Games. It tests your tank driving and shooting skills against fierce adversaries.
The objective is to climb hills and destroy everything that comes your way. It has excellent graphics, immersive sound effects, and realistic game physics.
The game is well-thought-out and offers everything you need in a tank battle game. It works with Android 4.4+ (KitKat) and has in-app purchases ($0.99 – $99.99 per item).
Unforgettable Battles
Fighting using tanks is not an easy thing. The tank controls are not that simple. In addition, the tanks move very slowly, making it quite challenging to hit your targets.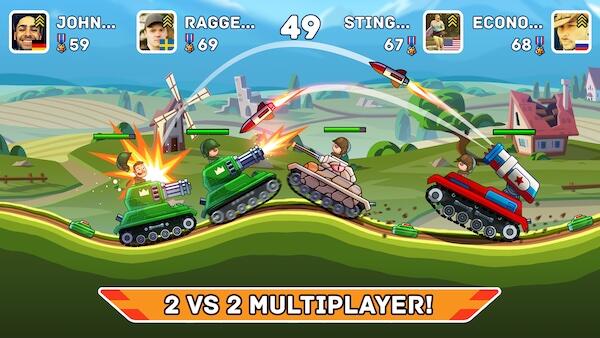 It is even worse when the terrain is uneven and you have to drive uphill. You will have to be very careful not to fall off the cliff.
However, it is these features that make Hills of Steel APK an exciting game. The tank battles are more like puzzles that you have to solve. You must figure out best way to use your tanks to defeat your opponents.
At each level, you will be presented with a different challenge. You will have to use your brainpower and strategies to win the battle.
Advanced Physic-Based Action Game
The game epitomizes advanced physics-based action games. It uses the latest ragdoll technology to provide realistic graphics and sound effects.
You will be impressed by the realistic movements of the tanks on rugged terrain. They slide and skid just like the real thing. The explosions are also so real that you will feel like you are in the middle of a battlefield.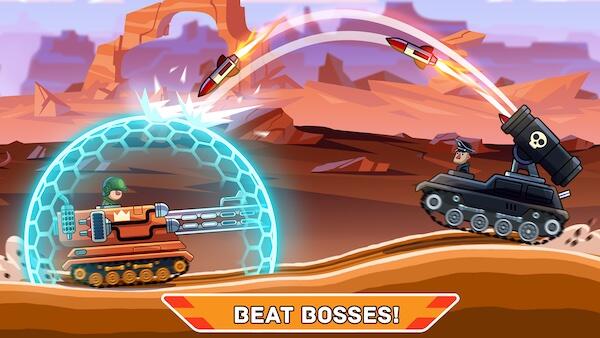 In addition, you will have diverse tanks to use during your missions. Some of the most advanced ones include:
Cobra.

This is a powerful tank with fang-like protrusions on the sides. It is agile and can climb hills easily.

Titan.

This is one of the biggest tanks in the game. It is slow but quite powerful. It can cause a lot of damage to enemy tanks.

Phoenix.

This is ideal when you want to throw flames at your opponents. It has a special ability to regenerate health quickly.

Ballista.

This tank can fill the skies with bombs. It is perfect for taking out groups of enemies.

Barracuda.

This is a rocket-launching tank. It is perfect for taking out enemy bunkers.
Other tanks you can explore include joker, reaper, tower, siege, dune, Atlas, tesla, mammoth, and scorpion. All these tanks have distinctive abilities that you can use to your advantage.
Collect Loot & Treasures
As you fight your enemies, they will drop their treasures. Ensure that you pick them up to get more points. You can use these resources to upgrade your tanks.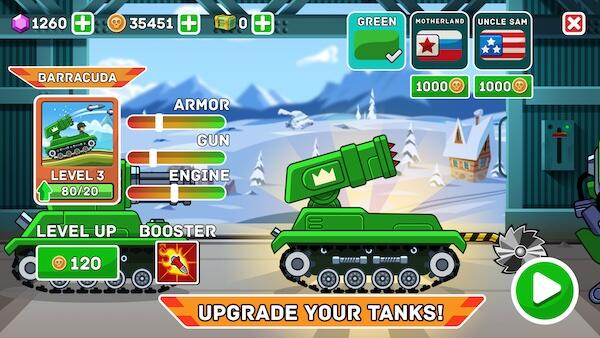 The game also has a loot system where you can get new tanks by looting them from your opponents. The higher the level, the better tanks you loot.
Customize and Unlock New Tanks
Having a sophisticated tank is not enough. You should ensure that it is fully customized to fit your playing style.
Hills of Steel APK allows you to do just that. You can upgrade your gun, engine, armor, and tracks of your tanks. You can also add special abilities such as fire breath and invincibility.
As you progress in the game, you will unlock new tanks. Each new tank will have different capabilities. You can use these tanks to create the ultimate battle machine.
Unique Features of Hills of Steel APK
Highly Adventurous Maps.

This game has a variety of maps that you can explore. You will have to use your tanks wisely to navigate the different terrain. They may include many hills, valleys, rivers, and forests.

Realistic Physics.

In this game, destruction and collisions are based on realistic physics. This makes the game more exciting and challenging. You will see projectiles rebound when they hit a wall.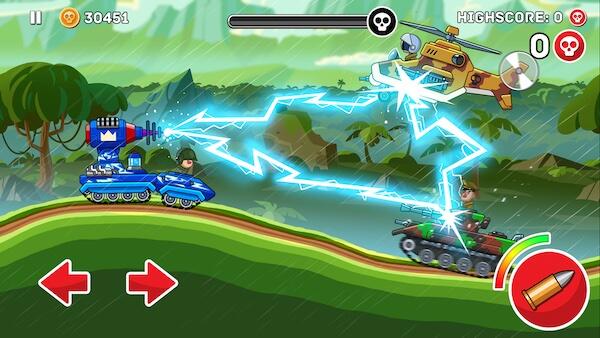 Real-Time Multiplayer Battles.

You can engage in online multiplayer battles with players globally, including intense 2 vs. 2 duels. You can also form clans to outwit other clans and earn rewards.

Different Modes.

This game has arcade, survival, and campaign modes. In the arcade mode, you will have to complete different objectives within a time limit. The survival mode is all about staying alive for as long as possible. The campaign mode has a story that you need to follow.

Multiple Events.

This game has regular events where you can earn rewards. These include daily challenges, tournaments, and ladders.

A Dynamic Leaderboard.

The game has a dynamic leaderboard that is regularly updated. This allows you to see how you rank globally.

Regular Updates.

The developers of this game are always working on new updates. These updates include new tanks, maps, modes, events, and features.
Hills of Steel APK Download
 If you want a more adrenaline-packed experience, you can download the Hills of Steel APK 2022. This version has these special features:
Hills of Steel APK unlimited coins and gems.

This game will not restrict you in any way. You will have all the resources you need to fully upgrade your tanks. You can also use these resources to buy new tanks.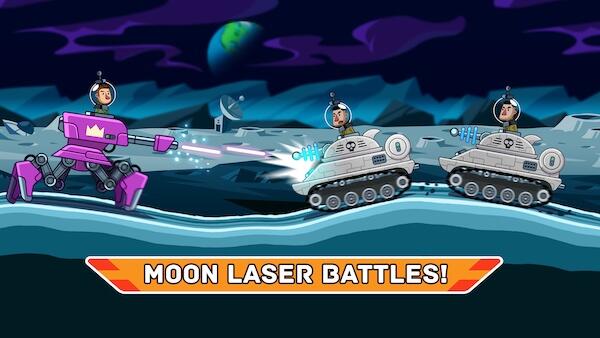 Unlimited Ammo.

The Hill of Steel APK game will give you an unlimited supply of ammunition. You can use this ammo to your advantage and exterminate as many enemies as possible.

No Ads.

The Hills of Steel APK (unlimited diamonds) will not display ads. This will give you a better gaming experience.
Conclusion
Hills of Steel is an exciting game that features many tanks. You will take down your opponents by using different tanks. You can also upgrade your tanks to increase your chances of winning.


Join Telegram Group
Download Hills of Steel APK latest version and enjoy intense tank battles against fierce adversaries. It boasts advanced game physics and authentic sound systems.