Download Snowball.io APK to play around with snow from the comfort of your mobile device's screen. Here, you also get to take part in snow battles!
What Is Snowball.io?
Snowball.io is a fun game developed and published by Geisha Tokyo Inc. it features cute characters and simple controls that excite you to play the game. The exciting gameplay makes it an addictive one to play. Once you start, it's hard to stop because of how the game captures and keeps your attention.
Players engage in snowball fights in a snow arena. The winner is the last player standing. The aim is to push the other competitors off the ice. You have weapons to help you with this, but your greatest weapons are the snowballs. Roll massive snowballs to have the upper hand against your opponents and win the game.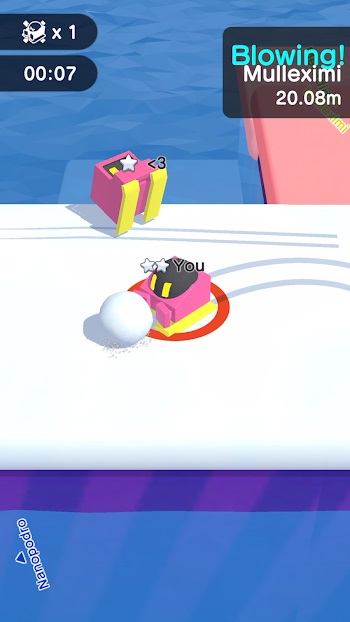 Snowball.io is suitable for prospective players of all ages. The content is not overly violent and is safe enough for anyone to engage with. The game is designed to include cartoon-style graphics, right down the alley of young players. Since the gameplay is still healthy competition, it attracts adults too.
How To Play Snowball.io
Snowball.io is easy to play. All you have to do is follow these simple steps:
Launch The Game: To do this, you need to have the game installed. You can download this game from your Android device's App Store or the official Snowball.io website. After installing, open the game and give it time to load the content. The game then has you choose a name and a skin. You can type in whatever name you want or ignore the prompt, so it registers you with a default name. Be careful not to release your personal information unintentionally. You can change the color and design of your character by clicking the pink icon on your screen. Next, select the skin of your choice by clicking the Select button. Click Start to begin playing and wait for the game to find other players for you to play with.
Create Snowballs: Tap your screen, and move around the snow arena to make your snowball. The size increases as you move.
Launch The Snowball: To do this, let go of your screen. You can also launch your attack by crashing into your opponent with the snowball. To hit an opponent with more force, you can spin as you let go of your snowball. This move also helps you avoid their snowball. Getting hit with one snowball does not get some opponents out of the game. You may have to hit them several times.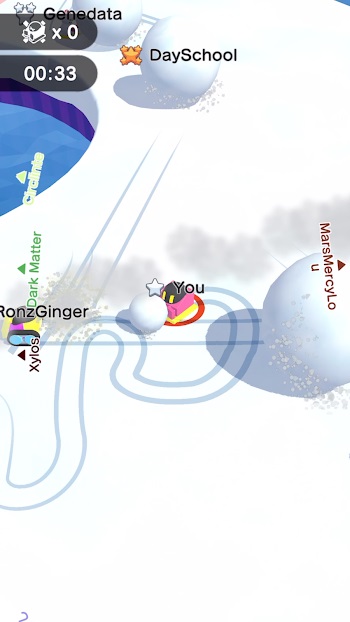 That's all there is to playing Snowball.io. You need to ensure you avoid getting hit by snowballs. Staying close to the center of the snow arena helps with this. Try to avoid bigger players too. The game ends when you get knocked out or knock out all the players.
You have the option of starting a new game and changing your skin before you start playing. Sometimes, the game gives you power-ups before you start the new round. Snowball.io has a level system. As you play, you get to climb up the levels based on your performances. The first three levels are bronze, silver, and gold.
In Snowball.io, you can also collect new skins when you reach certain ranks. In summary, the gameplay is a combination of snowball sizes and strategy.
Key Features
Snowball.io's features include:
Snow Arena: io takes place in a place called the snow arena. It is a big iceberg surrounded by water. Players who fall into the water are the losers. At the beginning of the game, the arena is usually full of players like yourself. As the game progresses, many fall out, and the number gets narrowed down.
Ranking System: The amount of experience points earned determines your ranking and level. The higher your level, the tougher the opponents you get to play against. Every match is recorded and placed on the leaderboard. Other players try to beat the score to get to a higher level.
Costume System: io features a rich costume system. The skin designs are unique and well-designed. They come in different colours and characters, such as ninja, snowman, and penguin. The skins also have different vehicles they come with.
Graphics: The game's visuals are cute and attractive. There's a certain appeal as the players roll their snowballs. The movement of each character is well-animated too.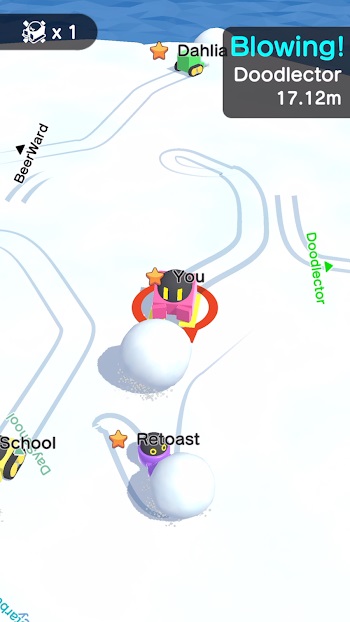 Snowball.io is also a key feature, although it's already been explained. The bigger your ball, the better your chances of making a solid hit when you clash with your opponent.
Games Similar To Snowball.io
Some games that have some semblance with Snowball.io's gameplay include Energy Blast, Traffic Run, and Penguin Isle.
Energy Blast is a Tokyo Smart Games product where you have to tap your screen to shoot energy blasts. The goal is to take down as many planets and meteorites as possible with the aid of the blasts. This game also has a nice selection of skins and upgrades.
Traffic Run is a Geisha Tokyo Inc. game. It was released in May 2019. The control system involves moving your finger around the screen to dodge traffic. It features bonus levels that appear after every five levels. The controls are simple and make it an easy game to play.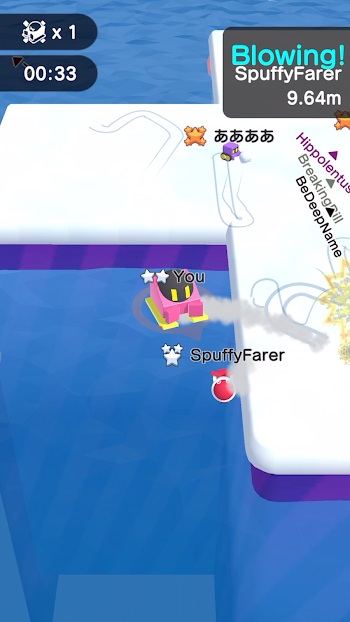 Penguin Isle is a cute video game in a snowy setting just like Snowball.io. The gameplay involves building an island of penguins that are loyal to you. You get them habitats where they work to earn you money. You can spend the money on expansions, hatching new penguins and maintaining or improving the habitats.
Conclusion
If you love simple games that manage to have great game content and guarantee a fun gaming experience, you'll love this one. The beauty of the game is in its simplicity and style. The multiplayer element lets you interact with other players in every round of gameplay.
Snowball.io's graphic quality is good for a game of just 64MB. The developers put a lot of effort into making this game, and it's obvious. It paid off because now, the game has several downloads.