Download Real Steel Boxing Champions APK for an exciting fight against robots. Create your powerful robot and defeat other robots in battles and tournaments.
Overview of Real Steel Boxing Champions
Real Steel Boxing Champions is a fighting game with similar gameplay as you'll see in Tekken or Dead or Alive. However, players can control robots instead of humans, a concept from the Real Steel movie. It makes the idea more exciting and ideal for better gameplay because the robots are open to infinite upgrades as deemed fit by the developers. Players can continue to add more features and parts to improve their robots throughout their time in the game.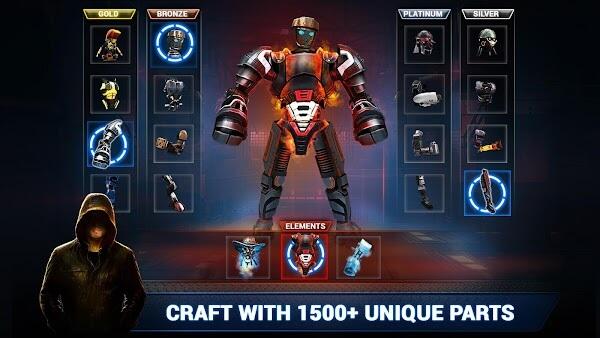 The basic gameplay pattern is to build an ideal robot that anyone would be scared to fight. You'll be able to access three buttons when you go to battle: the strong hit, normal hit, and block. In addition, a fourth button is not included because it's a combination of all three buttons, so players can shuffle their attack options and create critical hits that the opponent will find hard to predict and defend.
You will unlock special hits when you hit your opponent multiple times, which lands them an intense and devastating knock. There are hundreds of robots in Reel Steel Boxing Champions, so you have a rich list of opponents to defeat, many of which will be familiar if you've seen the movie. You can also choose who to play with, whether an AI or a human.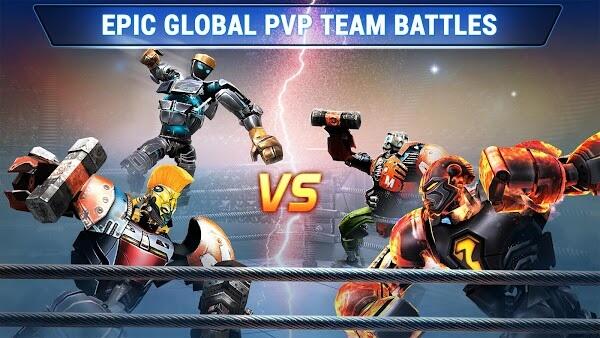 Playing with humans adds variety to the game because you'll play uniquely customized robots with different skillsets. There are up to 100 other parts to customize your robot, and you have access to many robots as you unlock more when you play. The game was designed by Reliance Big Entertainment and is available in over 47 languages.
Fight and Become the Champion
The game has a simplistic approach to boxing; create your unique robots, and win fights. You'll be given a basic robot when you start playing, and you can customize this robot however you want. However, you won't have access to many upgrades and parts for your robot. So you have to compete against the AI in free sparring fights to gain more gameplay experience, upgrade, and boost your overall robot strength.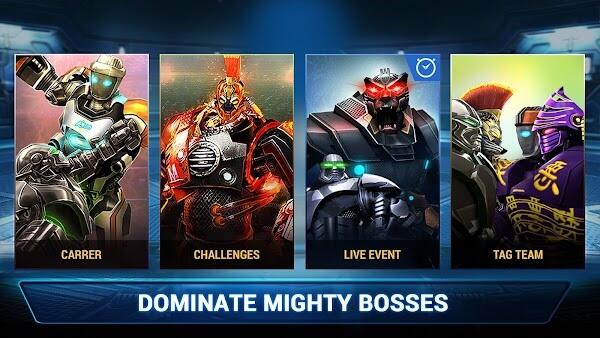 There are hundreds of giant robots to fight, with only 32 special ones. You can also paint your robot to your tasteب replace any part. Although this is a robot boxing game, it has the same gameplay as a typical boxing game. You can attack, defend, and use special skills when your fury is full. The game also has many modes, which is the most exciting feature, as will be discussed in the latter part of this guide.
Game Features
Real Steel Boxing Champions is an exciting game with many features that keep players excited and entertained. Check out some of these features below:
Graphics and Animations
There is an impressive level of graphics in the game, which makes Real Steel Champions quite interesting to watch and play. The 3D graphics are neat and extremely beautiful. The game's action, colour, movements and realistic blows add to its remarkable visuals and remind players of the Transformers movie.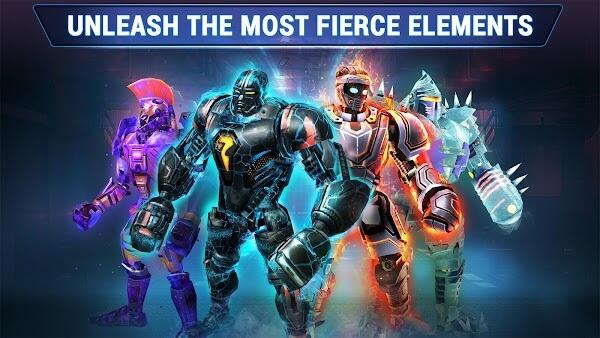 Game Modes
There are over 140 epic fights in this game with endless Free Sparring fights t improve your experience and gameplay. The more you fight, the better you become, and the more experienced your opponents become. So you'll continue to fight against more vigorous opponents while you gather upgrades to boost your robot power and improve it
You can create a collection of 1000s of unique Champions to become the game's Ultimate Collector. You can play the game in three modes: Free Sparring, Tournament, and Time Attack. All three options depend on your current level and how daring you want to be with your fights.
Free Sparring: Here, you'll fight against four levels of robots from each of the regions, which are practice, rookie, amateur and pro.
Tournament: You have to defeat 5 robots here, and the last one is the boss. You'll progress to the next when you beat the boss in the first region.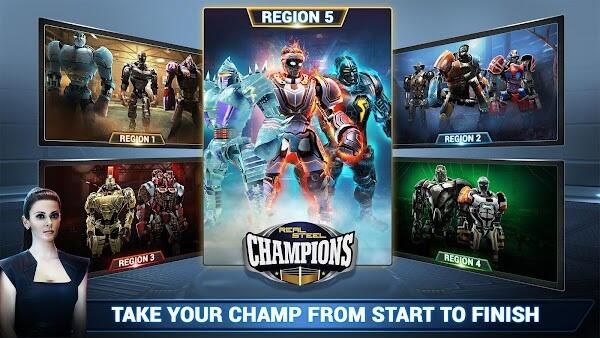 Time Attack: There 5 attacks here, one from each of the regions, and each of the time attacks will consist of 24 battles against various robots. You'll progress along the rank when you win against the robots. The higher you go, the more challenging your opponents are and the less time allowed to fight.
Robot Characters
There are many robots on Real Steel Boxing Champions. Although players can create their version with different body parts they've obtained, special robots are predesigned that you'll have to fight against when you play. Some are as seen in the movie, while others are additional characters. These robots include Ambush, Fat Boy, Bio War, Bluebot, Atom, Maids, Blacktop, Aquabot, Gridlock, Shogun, Zeus, and others.
Upgrades
Even though the game's main attraction is in the fight arena, the store is where players get most excited. Here, players can change their robot and add parts that boost its strength, resilience, and agility. The more powerful and devastating a part is, the more critical the hits will become when you play.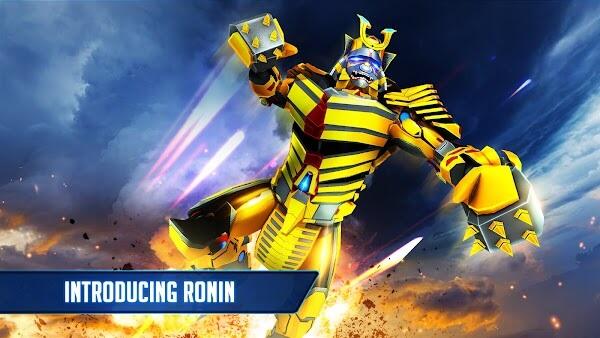 In addition, you'll have access to special moves and power-ups when you upgrade to certain parts. Generally, the game upgrades allow you to unlock moves, special attacks, devastating hits and critical finishers for your robot.
Multiplayer
You can choose to play against AI as a beginner, so you can learn the basics of attacking and defending your robot. Then, as soon as you are good enough, you'll be able to play with the boss robots or advance to playing with your friends. In this PvP mode, you'll fight against your friend's robot, and the winner doesn't always depend ok the upgrades but on the skills and strategy used by each side.
Conclusion
This fun and entertaining game give players the role of a mighty robot. The game has excellent graphics and animations, the gameplay experience is also commendable, and you will indeed have a good time fighting on Real Steel Champions.


Join Telegram Group
Download Real Steel Boxing Champions APK for an exciting fight against robots. Create your powerful robot and defeat other robots in battles and tournaments.