Download Swamp Attack APK for thrilling game actions. Swamp Attack lets you defend your swamp home from monster attacks with access to a large arsenal of weapons.
Introducing Swamp Attack
Swamp Attack is a game designed and released by Outfit7 Limited, and even though there's an unusual air surrounding it, over 100 million players have downloaded it on Google Playstore. It's a fantastic game that shows how engaging a game can be with few tweaks to existing game content.
The game is a model of Tower Defense, but the unique gameplay sets it apart from these types of strategic games. Instead of defending a tower or kingdom, you'll be defending a house. Also, rather than arm against invading army, you'd be going against endless mobs of animals. So, the player's sole aim is to keep the house standing after each level as the attacking animals get bigger and stronger.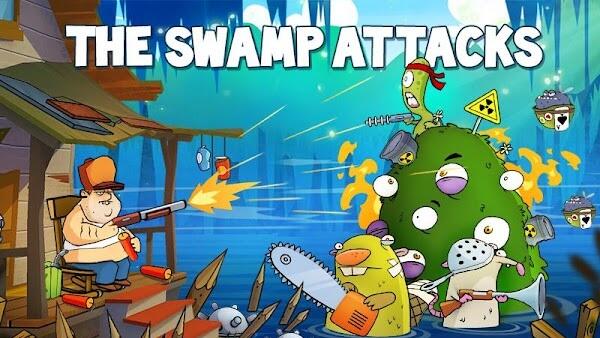 When you begin playing, you'll come across hungry crocodiles that are hell-bent on having a bite of your game character. The more games you play, the more animals you'll come across; some include giant mosquitos, piranhas, raccoons, and beavers. Like every other tower defense game, you have access to a weapon to defend yourself and your territory.
A large arsenal of weapons keeps the swamp house free of all the invading animals. Although it's relatively slow buying weapons with the in-game currency, you'll eventually be able to buy everything from shotguns to machine guns and flamethrowers. You will also be able to play mins, dynamites, and throw Molotov cocktails.
Have a Blast
Swamp Attack is an entertaining game that allows you to pass the time without being conscious of the time loss. There are many game levels, which makes the game a never-ending streak of shooting and blasting through different animals. With the beautiful graphics and fantastic content, the game is designed to give players the ultimate freedom to go as violent as their weapons allow.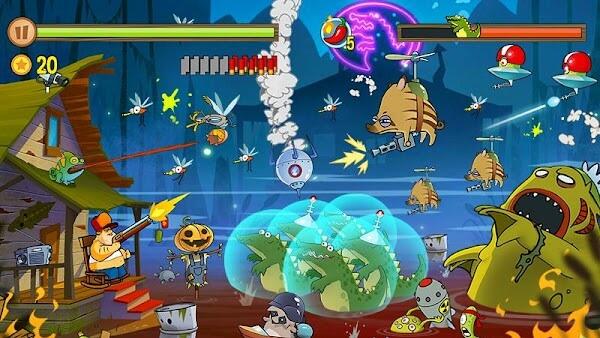 The game combines the thrills of shooting games with the carefree nature of basic ones. It also combines the two with strategic thinking, making the unique combo every player loves. Once you're ready for the best strategy to beat the monsters, you should prepare for an action-packed, thrilling gaming experience as you defend your home and swamp.
Features
Weapon System
Swamp Attack has a rich arsenal of weapons to assist you in your goal of defending the swamp. Although there is a limit to which of these weapons you can access in the early stage, you'll eventually be able to unlock deadly weapons the more you play. Players will have to start with a shotgun, which means there's a limited firing rate. But many weapons can be unlocked by quickly switching the guns in the store or upgrading your current ones.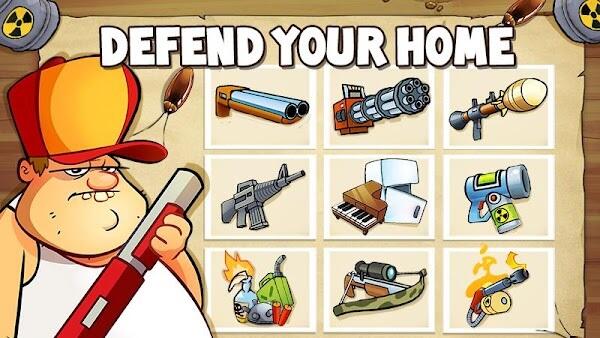 When you upgrade your current gun, you'll notice a considerable increase in the weapon's abilities and strength. For example, you can shoot the guns by tapping on the animal, while auxiliary weapons such as gas tanks, explosives, acid rains, dynamites, etc., are used by simple drag and drop.
Missions
There are majorly two types of missions here; one is to play the main game or opt for quick missions. The quick assignments allow you to randomly play with the main and auxiliary weapons before the game. The more quick tasks you complete, the higher your rewards, which adds to the revenue to get new weapons or upgrade existing ones.
Game Modes
Players can select from many options when they play, so you can decide to play the regular or quick games. There are also options to choose between a single or multiplayer game, which is perhaps the most exciting feature available on the game. The Singleplayer mode lets you have a total blast all by yourself, resting all the responsibilities on your shoulder while the animals attack.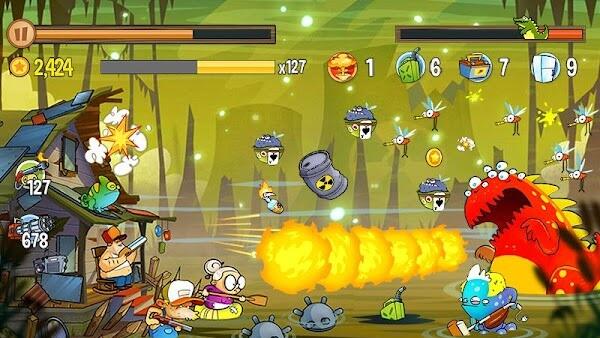 However, Multiplayer lets you connect and play with your friends and relatives. You'll be able to combine your strategies and ensure that more space is covered since the game gets more complicated when you play multiplayer.
Game Levels
This game has more than 300 levels with up to 8 chapters. This is why the game always feels like you're playing a new one. The first few levels are easy, and you can kill the animals with a single shot. However, at higher levels, you'll deal with more powerful animals; the more you play, the more monsters and weapons you unlock.
Game Design
The game has excellent graphics, which is impressive compared to other Tower Defense games. The characters have simple designs that resemble those from Cartoon Network Channel scenes. The game also has remarkable scenery that resembles a marsh to match the game's title, Swamp Attack. Most times, the animals come from the swamp, and since this is a section of the game that doesn't change, it makes it less enticing and likely to cause boredom.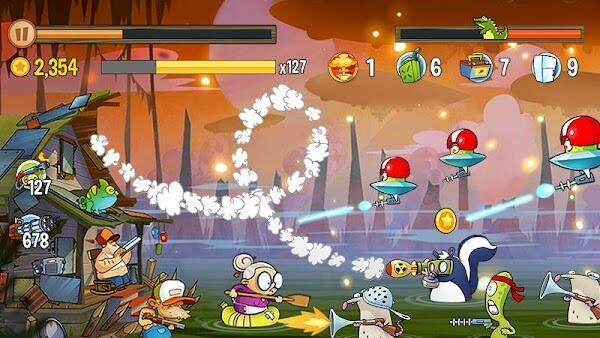 Simple Gameplay
The game has simple gameplay, and even though you need to be strategic to win, it doesn't change its simple gameplay. The storyline places your character in the middle of a house isolated by a swamp and attacking animals. So, you're charged with a single task: ensuring that these animals do not take over the place while you're there. There are no side missions or minigames; you only have to assault the attacking animals and keep the home safe.
Game Control
The game has simple gameplay complimented by simple control gestures. Regardless of the device, you can use the touchscreen and barely any button to play the game. It allows players to flex their reflexes and ability to aim at moving objects.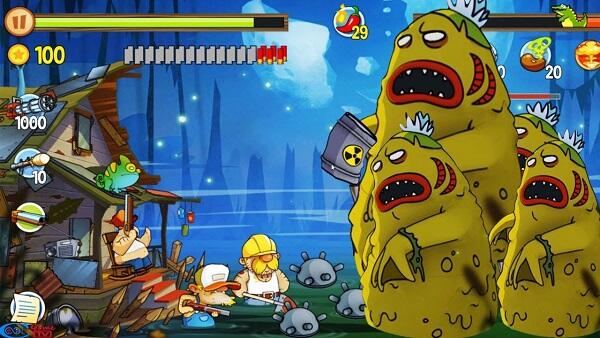 So you have to tap on the moving animals when shooting, eliminating the need to aim or press the fire button. The auxiliary weapons are just as easy to use; you can introduce them to the game by dragging and dropping them anywhere to want them on the screen.
Conclusion
Swamp Attack is an exciting game that combines the actions of tower defense games with the meek and cute graphics of Plants Vs. Zombies. The game has unique content that puts players in the middle of a swamp, armed with weapons against invading monsters. It's a soothing game for anyone who likes shooting and resisting encroaching enemies.


Join Telegram Group
Download Swamp Attack APK for thrilling game actions. Swamp Attack lets you defend your swamp home from monster attacks with access to a large arsenal of weapons.