Download Tasty Town APK, an international cooking game where players will open their restaurant and recruit the greatest international chefs to cook tasty meals.
An In-Depth Description of Tasty Town
Tasty Town is an exciting game that is perfect for anyone who loves to cook and enjoys eating delicious meals. In Tasty Town, you are your boss tasked with managing your restaurant – it is a strategy game where players run their recently opened restaurant. Running and managing a restaurant is not easy, but lucky for you, you will be helped by a friend who is a chef from Rome, and you will work together to ensure the project is successful. In Tasty Town, you will experience the taste of the whole world, and the best part is that it is free to play. Lovers of cooking games surely do not want to miss out on this one.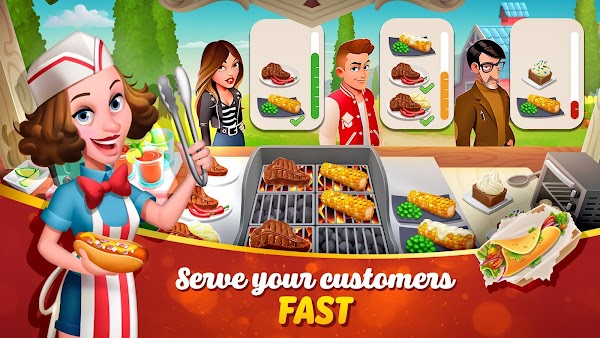 When you first start playing the game, you will be tasked with cleaning a small store that serves as the space where you will open your restaurant. Once you are done with this task, you will have to build tables, the order station, the oven for cooking meals, and lastly, hire employees to work in your restaurant. As you progress in the game, your restaurant will become more known, and your business will be bigger and better. So, you will need to increase the different types of dishes you offer, expand your kitchen and grow your restaurant to become one of the best in the city. Do you think that you have what it takes?
Like every other cooking game, you will need ingredients to make the dishes that you will serve to your customers. The one thing that makes Tasty Town different from almost every other cooking game is that players have to open a farm where they will manage and grow all the ingredients – fruits, vegetables, and even animals – that will be used in the kitchen. You will grow your fresh produce on your farm and take it to your restaurant for international chefs to cook and deliver tasty meals to your customers. It is not easy to handle all tasks on your own – whether working on the farm or in the restaurant – but the good thing about this game is helping and being helped is all part of the gaming experience.
Players can create or join a Chefs Club with friends or other random players so as to help one another, participate in different events, earn special rewards and improve their cooking skills. You should manage your farm efficiently to ensure it constantly produces different ingredients needed to make delicious dishes. In Tasty Town for Android, you will find yourself cooking different dishes, including sushi, burgers, and cakes. The town where your restaurant is located is filled with shakers and movers, so you will have to serve hungry customers on the go.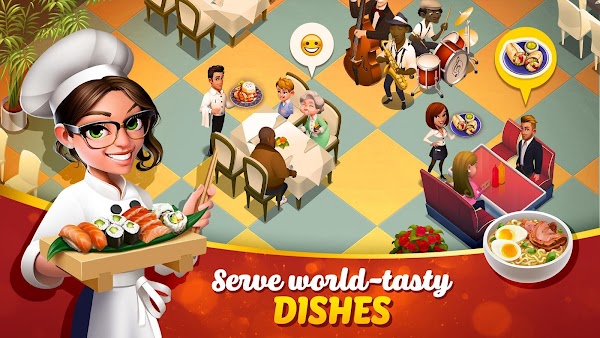 You have to ensure that you are serving customers on the go as fast as possible because there are only there for a limited time in the in-game within Tasty Town called Tasty Dash. Lastly, cooking delicious dishes is one thing, and showing your amazing decoration style is another. Luckily, Tasty Town allows you to do both – decorate your kitchen and restaurant area with different items to show off your unique taste. Tasty Town is a fun and exciting management game perfect for anyone who loves to cook and complete tasks. Our site offers a straightforward Tasty Town download process, so you can get right to it!
Features of Tasty Town
Now that you know about Tasty Town let us look at some of this game's amazing features.
Produce Your Ingredients
One of the reasons why your restaurant in Tasty Town will keep getting trusted customers is because you produce your ingredients yourself. Customers are assured of hygienic quality because you grow your ingredients yourself – you will raise animals and farm fresh fruits and vegetables to make your ingredients.
Due to this feature, Tasty Town is not only a restaurant management game but also a farm game that allows players to grow different crops. Beside the restaurant is your farm, where you can grow fruits and vegetables like wheat, and there is a factory that you will use to process all the necessary ingredients for your dishes.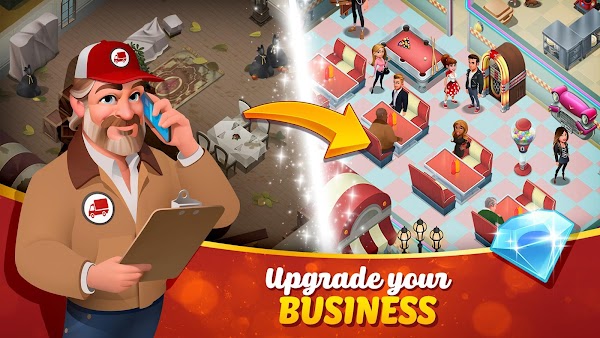 Your gourmet customers will have you cooking all kinds of dishes like pasta and cakes, so whenever you need any ingredients, you can get them from your farm. Note that the best ingredients produce the best dishes, and service quality is essential as a dissatisfied customer will affect your restaurant's reputation. You will need to recruit the greatest international chefs to make the best dishes.
Decorate Your Restaurant and Kitchen
The game allows you to decorate your restaurant and kitchen space with all kinds of decorations to choose from. Players have the opportunity to decorate their kitchen and restaurant area however they want – the way you decorate your space will go a long way to show your unique style. Creativity has no limits as you can even employ a music band to play in your restaurant. It is important to note that expanding your restaurant will cost you a lot of money, so you should only do so when you have enough to spare.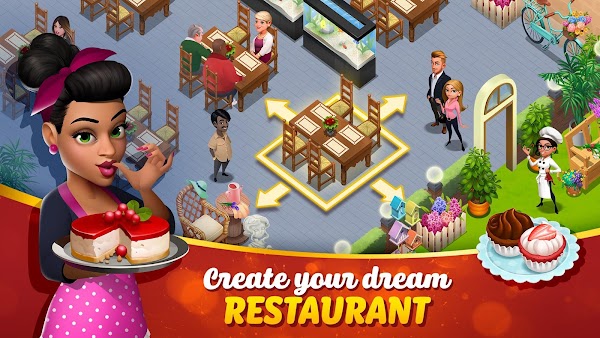 Turn Your Restaurant Into Your Culinary Paradise
Tasty Town is all about managing your restaurant and turning it into one of the most well-known restaurants in your town. As stated above, if your customers are not satisfied, this can affect your restaurant's reputation. The only way to do this is to ensure your customers are never dissatisfied and always leave with happy faces.
Other Features Include:
When you complete orders for your delivery truck, you will earn special items that you can use to expand your restaurant and unlock international chefs.
Not only can you recruit chefs from different cuisines and countries but also level them up in the academy. This way, they can cook even tastier dishes.
You can join or create chef clubs – this is the best way to make friends with other Tasty Town players and improve your business.
You can earn special rewards and items by catering for parties in the Chillout Area.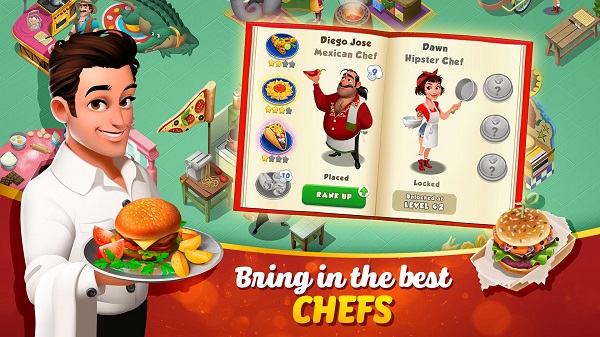 Conclusion
Tasty Town is an exciting game that guarantees to keep you glued to your screen and have you playing for hours. Manage your farm and restaurant, recruit the best chefs to cook tasty dishes, make your kitchen and restaurant area aesthetically pleasing, and always ensure your customers are happy. Our Tasty Town download process is straightforward – so what are you waiting for? Hit that download button now!