Download Sonic Runners Adventure APK and enjoy this fantastic endless running game. Avoid obstacles, grab gold rings and run as far as possible.
Brief Description of Sonic Runners Adventure
Sonic Runners Adventure is an action and fantasy-themed game where you play the famous Sonic the hedgehog and his friends as other characters. Sonic sets out on this endless adventure as he seeks to capture Dr Eggman, who is up to his usual tricks.
You must avoid obstacles, attack enemies and pick up gold rings as you keep running.
Sonic Runners Adventure was released on the 10th of June, 2017, by Gameloft. It is rated E which means that everyone can have fun playing this game. There is little or no form of violence in the game and lack of explicit gory themes that may affect younger players. Playing this game is relatively easy as it has simple controls. It is simply sliding your screen left and right to move and up & down to jump or roll. People barely complain about it being complex cause it is easy to play.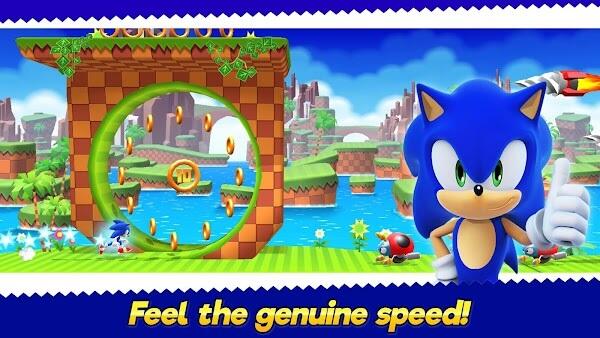 Power-ups and booster items can aid your performance, which can be activated by pressing a button on the screen, while others activate automatically after the level starts.
Sonic Runners Adventure is a fun, action-packed game with endless play, so you have a long way ahead. The dynamic game offers different abilities and characters that keep you engaged as you keep playing. The game also has vivid graphics.
Fun Gameplay and Concept
Sonic Runner Adventure is an endless running game action adventure where you control Sonic the hedgehog or any one of his friends once they are unlocked. His friends include Tails, Knuckles, Espio, Charmy, Shadow, Rouge, Vector and Omega, each with abilities corresponding to their characters and their teams. Your job is to keep running, chasing Dr Eggman, and grabbing as many gold rings as possible.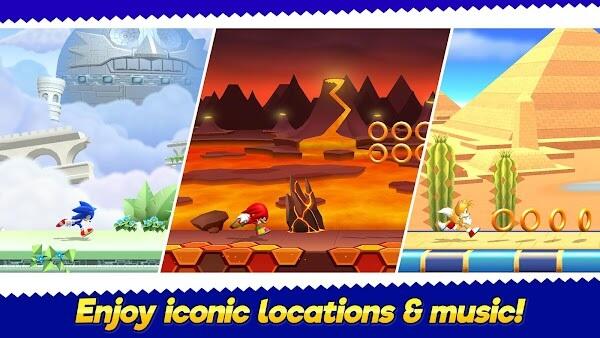 It starts at a decent pace, but as you keep playing, the game's speed increases, and there are more obstacles to dodge and enemies to defeat. The good news is that the more you run, the more gold rings you grab, and they can be used to purchase items and upgrades in the store to develop your character.
Sonic Runners Adventures has a variety of abilities that can be used while playing to make retrieving gold rings, defeat enemies and dodge obstacles. These abilities are called "Booster items ", and each has a unique ability. For one, the magnet is one of the abilities which attracts rings from every angle towards you. As you run, invincibility is another ability that makes you immune to all damage taken for a particular time. Again, one ability that comes in handy is the spring booster which covers pits and stays there until the players fall and bounce on them.
Each level has different goals that players are meant to complete, and the progress of each mission is shown in the goal bar at the top of the screen. When you complete each task, the player receives stars, which are used to unlock new levels and progress in the game.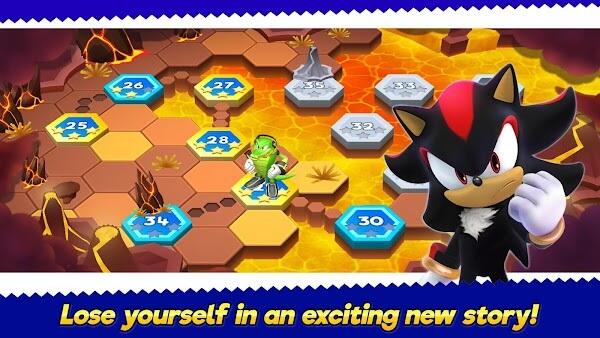 There are different levels in the game, finite, looped and Infinite which have different ways in which they are completed. The finite level is completed as soon as you reach the finish line, and the infinite level is completed once all goals and objectives are achieved or the character in use has been defeated. The looped level is completed once the player has completed several laps before reaching the end. The game also has bonus levels where you grab as many rings as possible without distractions from enemies and obstacles.
The Sonic Runner Adventure game is available for download on any smartphone you use.
Fun Features to Look Out For
As you play Sonic Runners Adventure, you can look for different fun features that will give you a better gaming experience.
As you advance in the game, different characters can be unlocked and available for use. Progression in the game and stars collected after each mission are used to unlock these players, each of which has unique abilities.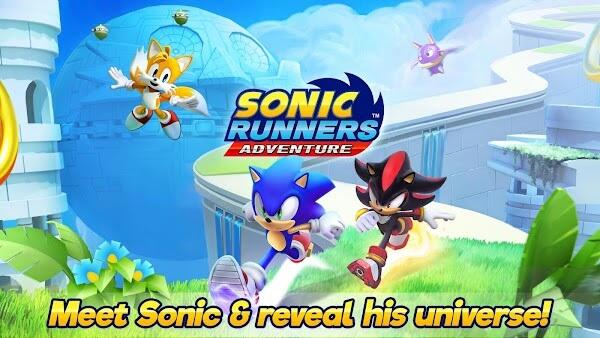 Booster items and special abilities:
Different booster items and abilities make playing this game easier for you. Booster items are used to collect rings and avoid obstacles while each character has unique skills.
Buddies are companions that are equipped with characters that help them while they are running. These buddies have unique abilities and can be used to keep gold rings and fight enemies. These buddies can be purchased in exchange for your gold rings or when you advance to a particular point in the game.
Beautiful landscapes and locations:
You run through four locations during play with beautiful graphics that appeal to the eye.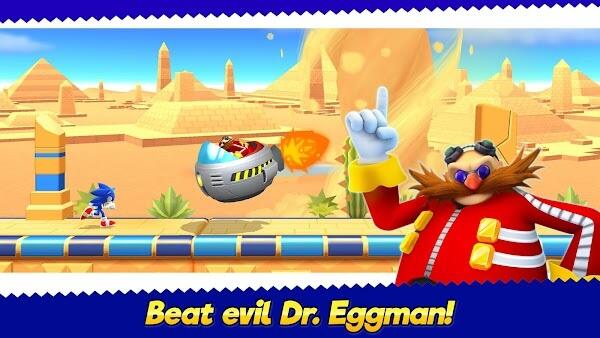 Enjoy a creative and exciting story:
The game offers a beautiful storyline full of different characters from the original sonic the hedgehog story. It comes with twists and new events that keep you interested as long as you keep playing.
Good music tracks and entertainment
As you run, thrilling music is playing in the background, keeping players interested as long as they play.
Conclusion
Sonic Runners Adventure is a fun game that will keep players engaged. Although it's endless, there are lots of upgrades and abilities that you can use to get the most out of your gameplay.