Download Jurassic World Alive APK for a free augmented reality game. Explore, Collect, Create, and Battle Dinosaurs on the epic Jurassic World Alive game.
About Jurassic World Alive
Jurassic World Alive is a brainchild of Ludia, birthed from the Jurassic World movies. Like in the original film, the game features extinct species of animals such as Dinosaurs to life and makes them wreak some havoc on planet Earth. In this game, too, you'll be able to bring them alive and allow them to roam the world under your care.
The game has many dinosaurs, so you can choose any one that appeals to you. You can also select between various breeds with different structures and appearances. You can also set the more terrifying options if you want. The Dinosaurs are brought back to life in the laboratory, so you can create new ones by using new DNAs to level up and create the perfect hybrid.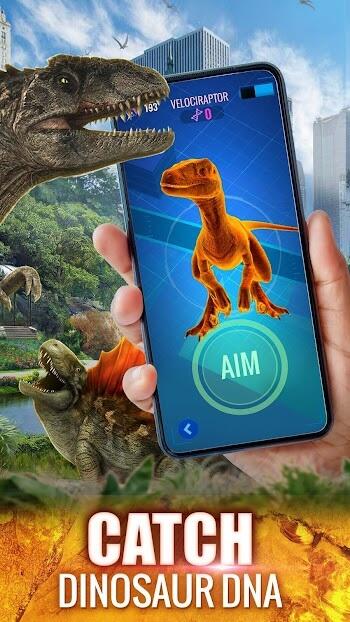 Once you have the perfect team strong enough for battle, you can take them into one and play against other players in real-time. The contest is perhaps the most exciting feature available here. So you can challenge your friends to a game, and once you win, you'll b rewarded with exclusive in-game currency that you use to upgrade, collect new DNA, and create better Dinosaurs.
Bring Dinosaurs To Life, Build Your World
The Jurassic World Alive has two major gameplay plans: reviving the extinct species and testing their abilities. Firstly, as a player, you'll be able to access dinosaur DNAs or find a dinosaur on the map. Then you can mix the DNAs collected with those of other dinosaurs in the lab to create a hybrid. So, for example, if you choose a gigantic and a strong dinosaur, you can build a massive and tall hybrid.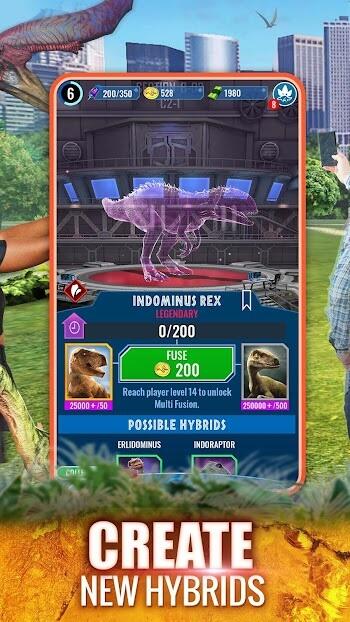 So when you've built the right team of dinosaurs and are ready to face enemies, you'll be able to do that in the second part of the gameplay. It's not enough to create cute-looking dinosaurs; you must ensure they can win fights against others. So, there is a PVP game that you can play online and in real-time with other players. Whoever wins gets impressive rewards, upgrades, and DNAs to build more dinos.
Why Play Jurassic World Alive?
Share your dinosaurs and conquered teams by posting AR images and videos on social media.
Get rewards and power-ups on the game to boost your gameplay experience.
Play against friends, colleagues, and families in the PVP arena.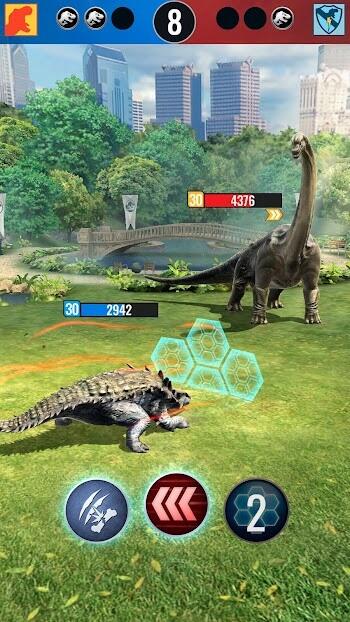 Play Jurassic World Alive free once you've bought the monthly subscription.
You can play on any of your devices since it's compatible with many devices—access realistic and 3D view of the game's features, characters, and objects.
Game Features
Earn Rewards
You can earn incredible rewards in the game when you complete missions. They are in-game currency rewards and battery life for your drones. You'll also get these rewards when you find the supply drops on the map, though there's a limit to the amount of money you can make from supply drops on the map. You also won't get a reduction in supply drops and earnings with the Incubators and Battle rewards.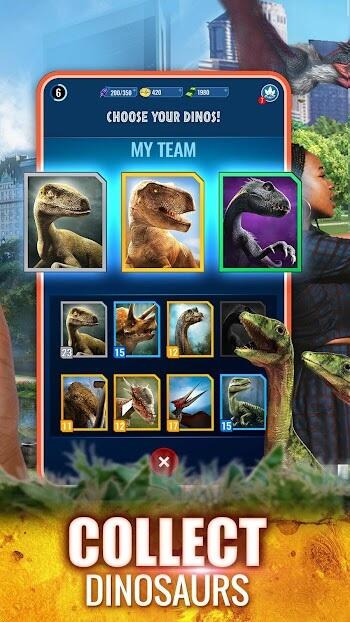 Supply Drops
Supply drops denote the same meaning as thy sound. They are additional packages dropped for you in the jungle to manage your dinosaurs. There are three types of supply drops, each with different prizes and rewards. You can win darts, coins, or cash from the drops and regular players tend to receive two of those since cash rewards are difficult to find.
Finding the supply drops is another in-game mission since they determine how well your dinosaurs will fair. Some of them include Regular Supply Drops which are orange and all over the map. Event Supply Drops are green and found at parks (green, dark areas of the map). Finally, sponsored Supply Drops are yellow and available at sponsored businesses.
Strike Events
These events in the game only appear on the map for a limited time. If you'd be joining the challenge, you must have at least 4 of the best creatures from your strike team for each event level. When you complete all the event stages, you'll get a final prize reward, and the event ends. Failing a couple of times also means the event will end without you getting any compensation.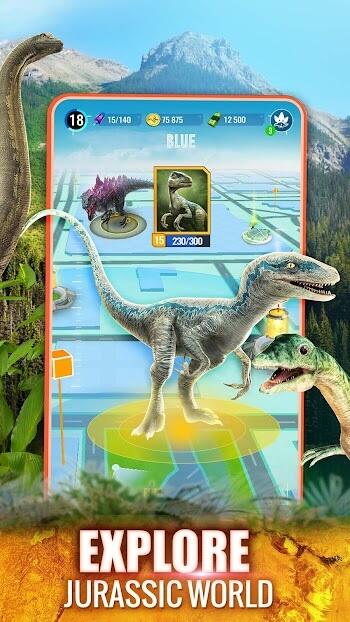 Incubators
There are incubators within your care that help you create DNAs and build hybrid dinosaurs. You'll have to start with a reusable incubator lasting up to six hours. Different types of incubators, such as common, uncommon, rare, and epic, help you create DNAs faster and bonuses.
Game Battles
There is more to the game than building dinosaurs and collecting rewards; you must go into battles against other players. So you not only have to create beautiful but solid and gigantic dinosaurs that can defend and challenge other dinosaurs in a match. There is a real-time player-vs-player arena on the game where you're paired with random players, and you'll be rewarded if you beat them in the battle. In addition, players can come back for new events and rewards.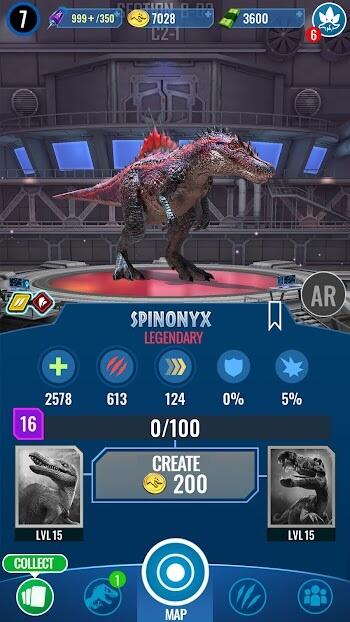 Membership
There is a mandatory membership for players, so this is not an entirely free game. You need to subscribe for $9.99 (which might vary) to access the game, and you'll have to access it via your iTunes account. Only members can access the game features and compete against other members in Jurassic World. Membership features include:
Enhanced batteries that increase drone range and overall battery duration by 33%
Sponsored Supply Drops rewards
Free Epic Incubator
Amazing store offers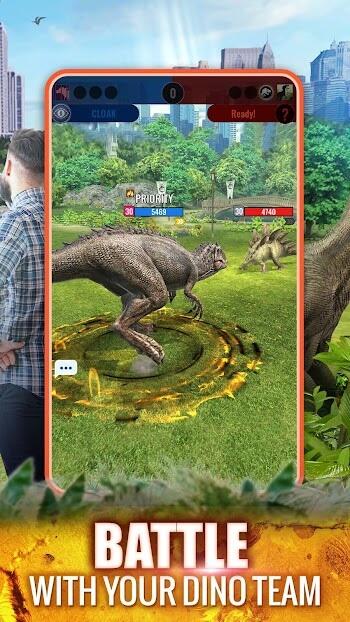 Game Compatibility
Jurassic World Alive is compatible with various devices ranging from iPhone 5 to the latest iPhone band iPads on the market. The game is also available on Playstore for Android devices and tablets.
Bottom Line
Jurassic World Alive is a free, location-based AR game with exceptional and original features that keep players addicted. The game has impressive graphics and animations, which are smooth and responsive on multiple devices. Although there is a membership fee, regular players will still have a good time exploring the world of these extinct creatures.