Download House Designer Fix and Flip APK for a fun and entertaining insight into house renovation and decoration. Build your ideal home from a shabby apartment.
About House Designer: Fix & Flip
Shooting and racing games are fun but can also be boring sometimes. Hence, soothing and calm game alternatives allow you to enjoy an idle gameplay experience without the actions. The game introduces you to cleaning, designing, and fixing your apartment. As a player, you'll enjoy the simulation game from a first-person view, which puts you in charge of managing an apartment like yours.
The gameplay design follows a promising youth who just moved into a new apartment and would have to ensure they settle comfortably into the environment. The apartment has not been used in a long time, and the previous owner didn't think it was a good idea to keep the house rebranded. Since there aren't any interior designers to hire for this, you'll have to do everything by yourself.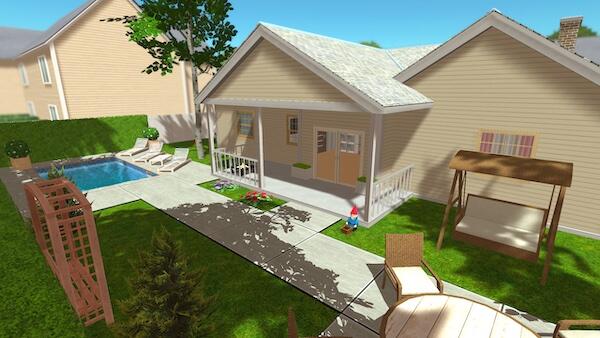 Like most simulation games you've probably been on before, this one also has Impressive controls. You don't have to figure out how to control the game. Instead, you can do most of the activities by just tapping on the screen or dragging anything from one point to another. The first-person view also makes it easier to manage everything in your apartment and get a more realistic feel when you play.
The idea of the House Designer game was conceived, developed and released by Karate Goose Studio. Its exceptional features and game quality have gained much popularity over the years. Over 50 million players have downloaded the game over the years, and many of these players believe in the game by leaving splendid reviews of the app on Playstore.
How To Play
The game gives a first-person view of the environment, which is good because it makes the simulation more realistic. You'll have to control the character with the virtual joystick on the screen's left side. The various actions reside on the right side, so you have buttons like cleaning, use, jump, etc.
The game puts you in a messy apartment when you begin, so you might have to start cleaning the living room, where you'll find a lot of trash and various objects. Players can press the hand icons to dispose of, click on the garbage or object they want to remove, and select Use on the right-hand side.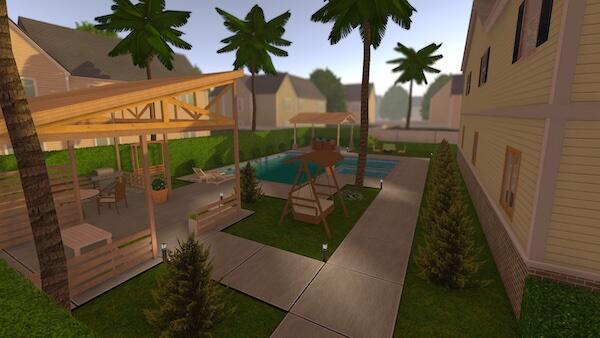 You can also similarly use the Broom icon, though it works for cleaning the floor. There is also a Trimmer which you can take to the garden for a bit of cleaning. These activities and the fact that they are slow-paced make the game time-consuming; however you can always count on it to be calming and ideal for spending your leisure. Like in real life, you can purchase some products that help you clean junk and tidy the room faster and automatically while you focus on something else.
Game Features
This is a peaceful and relaxing game for anyone tired of the fast-paced gameplay in shooting and action games. So, you can play House Designer: Fix & Flip to access all the features below:
Simple Gameplay
The game doesn't require you to do too much strategic thinking. You have to do what you should do when you should do them. It places you in a new environment, and you're tasked with renovating your new home. So you'll be able to find answers in the game if you've been wondering how to repair a house.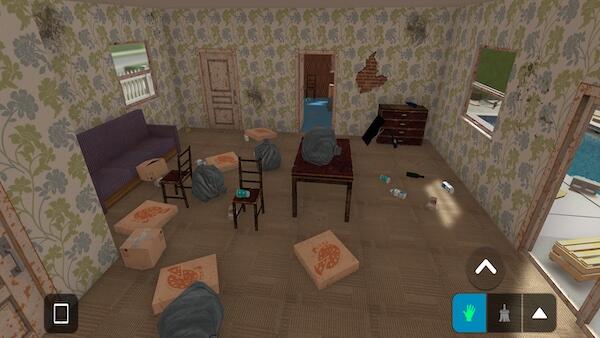 You can redesign your apartment without calling an interior designer and make a hobby of converting a shabby apartment into your dream home.
Graphics
The game has good graphics. It's not exactly what you'd expect from an action game, but it will suffice for this game's purpose. You'll get a realistic view of what is available in your environment, and there is a high level of detail in the objects, designs and decorations you add to your home. The first-person view also gives a surreal experience as it feels like you're in the room in reality.
Soundtrack
In addition to the visuals, you'll be getting impressive sounds while playing. There is detailed and in-depth attention to making the sounds more realistic and relatable.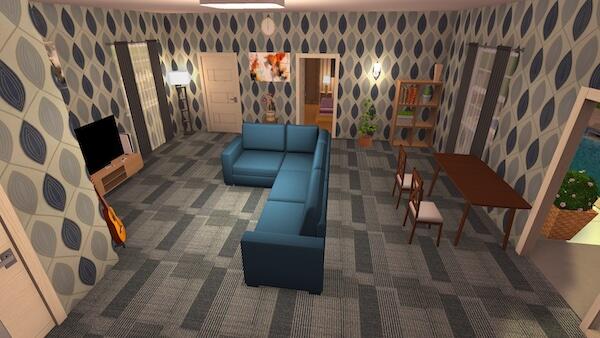 So your feet will make sounds when you move, and you can expect objects to make sounds when you move them too. The game also offers an immersive loss of soundtracks throughout your game period.
Touch Controls
The game's touch control is like every other game that requires movements. However, unlike basic simulation games where you have to click and tap on the screen when you want to do anything, this one gets you to move around and interact with every game element. So the touchscreen controls are functional with the movement buttons on the left-hand side of the screen, while the actions buttons are arranged on the right-hand side. Choose the right tools for different tasks, and select from the control options what to do with the tools.
Online and Offline
To add to the game's Interactiveness, you'll be able to play with or without the internet. So whether you're connected or not, you'll always get access to the game features and enjoy the game anywhere you are.
Designs and Decorations
There are many game elements for the interior design. The game has multiple design features and decorations, allowing you to make unique changes to your apartment however you like.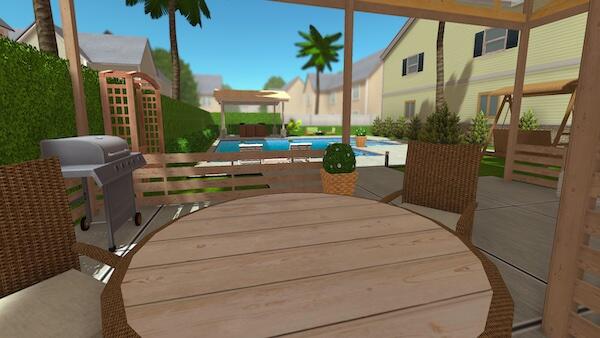 There are also advice and tips when you want to get any item or decorations. So, you have an extensive list of things to get in the game as you accumulate more money. You can also upgrade your existing decorations to make the room better and more luxurious.
Conclusion
House Designer is a fun and relaxing game which is ideal for spending your leisure. The game helps you decorate your environment and organize your home. You can then flip the house and move to another. Start building your dream home when you download the game today.


Join Telegram Group
Download House Designer Fix and Flip APK for a fun and entertaining insight into house renovation and decoration. Build your ideal home from a shabby apartment.