Download Westland Survival APK Game. It is an immersive, post-apocalyptic game. Battle fierce opponents and determine who is the real King of the Westlands!
Westland Survival
Westland Survival game is a recent RPG video game that has captured the interest of smartphone gamers who know quality when they see one. Your avatar is a cowboy bounty hunter who moves around multiple locations in search of adventure, allies, and essential resources like wood, stone, iron, food, and water.
The sci-fi-themed zombie survival games are rapidly becoming a thing of the past because the general narrative of these games is the same. This is what the Westland Survival cowboy game seeks to eliminate - by discarding the overrated zombie apocalypse and introducing a dystopian society populated by outlaws, bandits, and cowboys.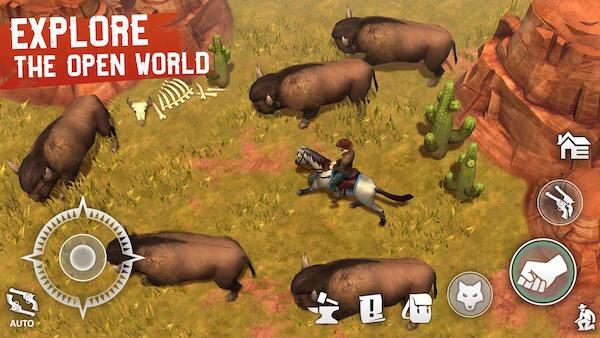 You start the game with your character having the lowest rank (as expected). Thus, making survival an exciting challenge in this cruel and lawless world.
To survive, your chosen avatar must gather relevant supplies and materials, tame and train a wild horse, build a stronghold or Fort from scratch, and get deadly ammunition while dodging or fighting allied enemies before you make alliances of your own.
Venture into ancient spirit caverns, go hunting for food, become a skilled craftsman, and establish a fortress in the unappealing backdrop of this captivating game.
This engaging video game was created for android and iOS devices by Helio Game studios. It has a unique feature that distinguishes it from its competitors - which is the realistically relatable game's background. It exchanges the usual zombie-inspired world with an equally harsh and unsuitable western scenario (American frontier) that any true gamer knows too well or has heard about.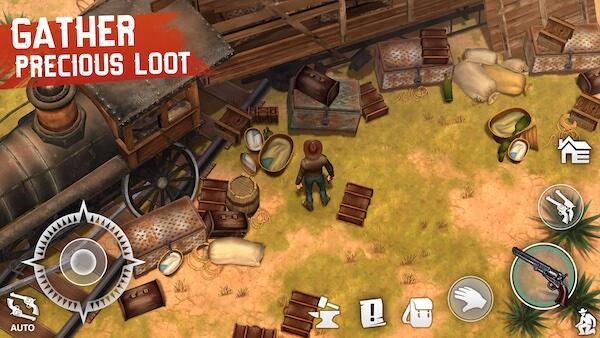 Apart from its western design, the game has all the essential actions and features. These exercises range from hunting, gathering, constructing, forging weapons, exploring uncharted territories, making alliances, breaking some, and rising through the ranks. Your avatar could also go on missions assigned by the local county officer and investigate spirit caverns. In other words, anything and everything is allowed in a lawless society filled with bandits, wanted men, and wranglers.
Westland Survival Gameplay
Westland Survival has a beginner-friendly interface and instructions to guide the player on how to survive in a lawless world. The game interface is furnished with easy-to-locate buttons with clear purposes to ensure the player can give his avatar commands without thinking about: what button does what?
Westland Survival guide allows players to get acquainted with the game's control system and principles. On starting the game, you will be directed to the 'create page' where you select your preferred avatar's gender, looks, physique, clothes, and race. Immediately after you create and approve your chosen avatar, you will be asked to begin the central adventure.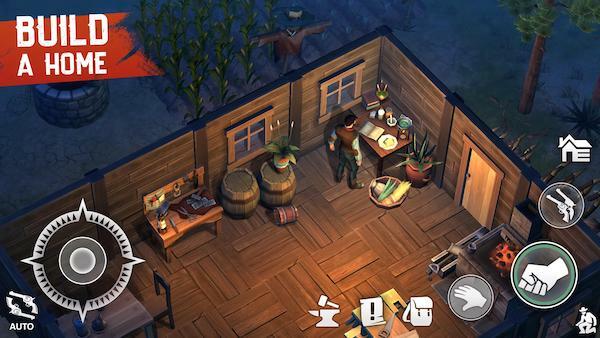 Construction and foraging lessons are given after the game's tutorial has been cleared by the player. As long as you follow the instructions given by the game, you will find your first few minutes enjoyable and live a lot longer than you would "winging" or figuring it out yourself.
Westland Survival offers in-game items to players and continues this practice as you advance through the ranks, complete tasks, and earn rewards. Of course, for players that want to experience smoother gameplay, there are also lots of mind-boggling in-game resources that require payment with real money before being accessed. For players who would not be making use of this feature, just be mindful of your dwindling resources and know how best to use them.
In-Game Features
Boasting a highly detailed wild west environment and characters: with the typical red-hot desert, windy environments, wild animals associated with the wild west, and 1900s cowboy dress style.
Immersive wild west survival gameplay: As earlier stated, there are no civilians, innocents, or law here, everyone is either friend or foe. But attacks from other players aren't the only thing to be wary of; wild animals are also dangerous. A lack of food and water could also kill the player's avatar faster than an attack.
Craft your own tools, hunt your food, scavenge for materials, loot defeated enemies, and perform many survival exercises.
Retrieve bounties after defeating wanted men and completing tasks.
Discover caves and get hidden resources.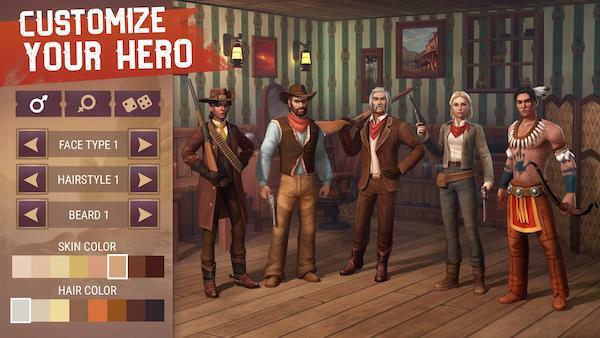 The Westland Survival Guide in the in-game tutorial section answers a lot of questions that beginner players might have trouble with.
Questions like:
How to get a horse in Westland Survival?
How to get a fish in Westland Survival?
How to access the Westland Survival Spirit cave?
How does the Westland Survival alliance work?
The Westland survival, or as some players have opted to call it, Westland Survival Cowboy game, is an online game for individuals of various ages who enjoy good immersive action and graphics.
Before starting the game, you need to know a few practical guides and tips (to give you an edge over other players). So here are nine tips that can improve gameplay in Westland Survival:
After launching the game, go to the storage and see what you have.
Do not delay equipping defensive items as soon as you learn how to craft them.
Secure the home site and make it free of enemies to prevent surprise attacks while building.
Build your Avatars' house first.
Gather as many resources as you can.
Always level up the walls of the house.
Steal and loot goods and materials from weaker players when you can(a high-grade fence can protect you from theft).
Frequently upgrade your home.
Don't forget to look at the character's health status frequently and ward off starvation and weakness.
Before beginning the game, you would also need to know a little about Westland Survival fishing, fruit gathering, farming, and how to get water. Here is how to jump these "hurdles" easily:
Kill scattered wild animals for meat.
Get fruits from plants around.
Build garden beds and plant seeds gotten from fruits.
Purchase water from the store, but don't discard the jar. It can be refilled.
Build a Well and store water in it once you reach level 8.
With these easy steps, you will last longer in a world that is inhabitable to the average man.