Download Last Pirate APK. It is a thrilling, adventurous 3D video game that tests your survival skills - while you fight unsightly creatures.
Last Pirate
What will be your first reaction if you are marooned on a dangerous island with no immediate hope of escape? Well, let's prepare for a day that hopefully never comes!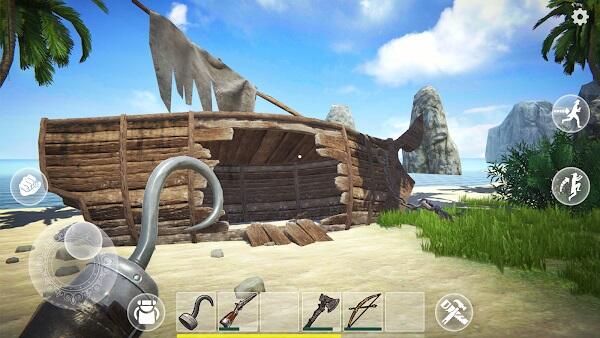 Last Pirate is a free mobile game developed by Retro-style games UA -it is a survival adventure game in a mysterious Island setting. Its developers received inspiration from themes like maroon, survival, and adventure.
Like other survival games, players will use materials to create tools and weapons to fight foes on this strange island. It is a 3D game available to both Android and iOS users. Since its debut in 2019, it has enjoyed acceptance and popularity across gaming platforms.
Last Pirate Description
Last Pirate is an action and survival game that plays without internet access in single-player mode. The lone marooner defends himself against zombie attacks and other threats while still searching for food. It is a good description of when the going gets tough; only the tough survives. Players download last Pirate video game on all mobile devices.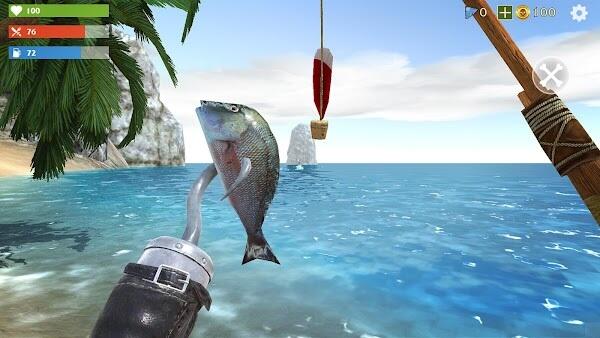 Last Pirate latest version and the previous one load and open to show a lone pirate (your avatar), marooned on the island with no knowledge of how he got there. The scenario explains itself as you see evidence of a shipwreck but no sign of his crew members. The first quest is a tutorial that eases you into the game. Use an in-game currency like coins to obtain a sturdy raft. Another in-game currency is gemstones. Players use these currencies to get weapons and materials their avatar will need.
The raft will help you investigate the size of the island and search for any surviving crew members and fish. Your diet will consist of familiar sea creatures, fruits, and land animals. Your handy bag contains your survival kit comprising food, water, a campfire, and mechanical devices like sharpened knives and axes which you use to split wood and design building materials.
You should create weapons to wade off zombies and other inhumane beasts on the island and sea. On the island, find stones, clothes, and wood. They are the materials you will use to create better equipments and weaponry. As the game advances, your threats become more powerful, and quests are more dangerous. So, you have to upgrade your avatar and his weapons to boost your survival rate.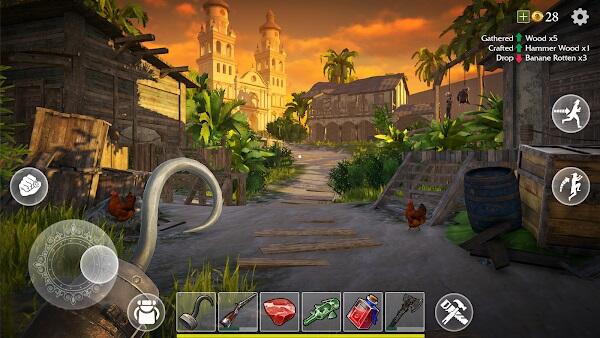 The details involved in the graphics of the last Pirate are impressive - its visual depiction of habitable island life like domestic birds, land animals, and vegetation are top-notch. Accompanying sound effects match the scenery and further hook gamers to it. The picturesque daily cycle also improves the gameplay for players. The consistency of this daily cycle helps players survive effectively: as the day indicates security, the time to search for resources and build, while the fog hints at danger and attacks of unspeakable creatures.
Last Pirate Features
Last Pirate is an action-adventure game with significant features that boost gameplay even in single-player mode.
Control
The controls are very responsive; players use an in-game pad on the left screen to move. To react, tap on the icon that symbolizes it, and you can open your backpack to bring out a tool or weapon matching the challenge in front of you. When you meet any life-threatening monster, you should attack first to reduce any risk of harm or damage. If you want to avoid the enemy or attack (for any reason), tap on the jump and run icons. A fist icon on the game's screen also helps you attack adversaries.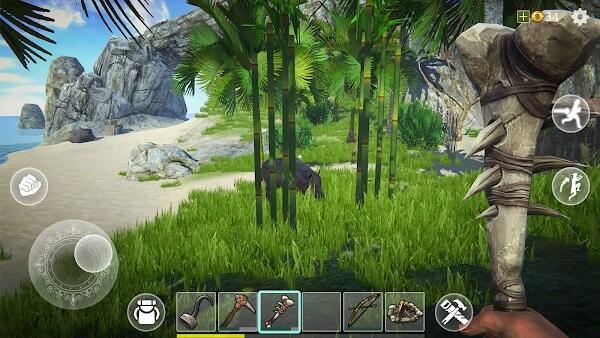 Gameplay
The gameplay of last Pirate is direct and quickly understandable. The mobile version features responsive on-screen control that you use to navigate through each scene. The first mission the game gives you serves as a tutorial of sorts. Still, you will need to practice with the navigation buttons to improve your skill.
There are three (3) bars that signify the health and strength of the Pirate. These bars are health, hunger, and thirst bars. Your health bar reduces if you suffer damage during an attack. Thirst and hunger bar are affected if you do not follow the diet of your avatar.
You need to consciously search for water and food because these two bars will ultimately have an impact on your health bar. If you don't cook the food you have hunted, your hunger bar will still reduce. So, as you hunt for meat and fish, cook them with your stone fire and enjoy a sumptuous meal.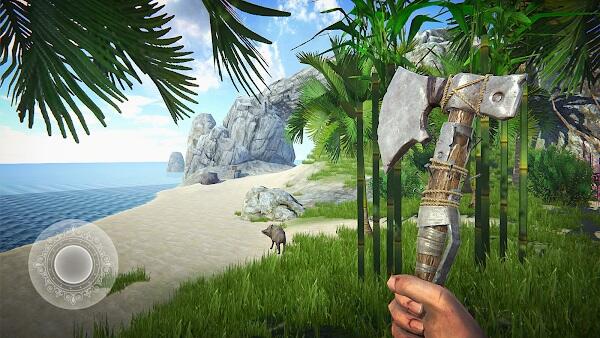 Settings
Due to the popularity of the game among gamers across the world, the developers installed 10+ major languages in Last Pirate. This will help players enjoy their favorite game in their preferred language - The languages available are English, French, German, Russian, Spanish, Korean, Dutch, Turkish, and others. Players should change the language in the game settings. You can adjust some features to your preferred choice in the game settings.
Last Pirate and Items Available
Last Pirate unlimited everything: gives you access to limitless coins, gemstones, wood, stones, and other premium features. So, you can construct better weapons and destroy strange beings. The most recent versions are Last Pirate (unlimited everything) 2022 and last Pirate (unlimited all 2022).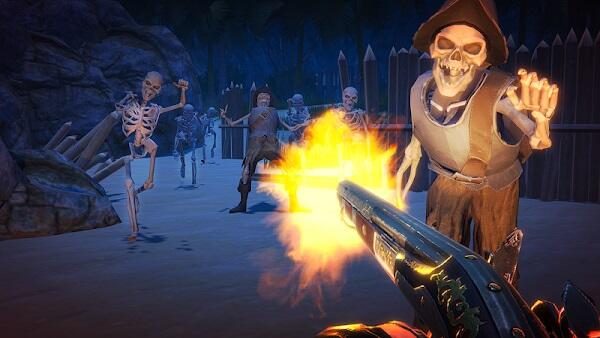 Last Pirate unlimited money and diamond 2022: this is for the in-game currency. With endless money and diamonds: you can obtain the right materials to forge sufficient firepower and tools. Download any version of Last Pirate for unlimited money and gems.
Last Pirate unlocked everything: all locked features and characters are available.
Last Pirate unlimited blueprints: you have limited coins and gems but abundant blueprints.
Last Pirate unlimited money and free craft: as the name implies, you have more money than you need and free crafts - but other items are locked.
Last Pirate free shopping allows you to enjoy items (registered under in-app purchases) for free.
Conclusion
Last Pirate is an interesting game that offers you the thrill, beauty, and fantastic gameplay of 3D survival and adventure games. Get immersed in island life and earnestly fight against a fate that is against you. Last Pirate does not require internet access, and it is available on Android and iOS operating systems. So, sit back, relax, and unwind with this impressive game.