Download Slime Isekai Memories APK now to enter the game world of the popular anime series, That Time I Was Reincarnated As A Slime. Meet your favourite characters too!
About Slime Isekai Memories
Slime Isekai Memories is a 3D battle game that involves roleplaying. It was developed and released by Bandai Namco Entertainment on October 27, 2021. The game is available on the App Store and the Google Play Store. It is also free to play. Bandai Namco is a Japanese video game developer and home to famous anime-adapted games.
Slime Isekai Memories is based on the slime anime in which a man named Satoru Milano gets reincarnated as a slime named Rimuru. This game features a brand new story with some links to the original anime story. It is a dream come true for anime fans because you can enjoy the anime storyline and the battle-action gameplay simultaneously.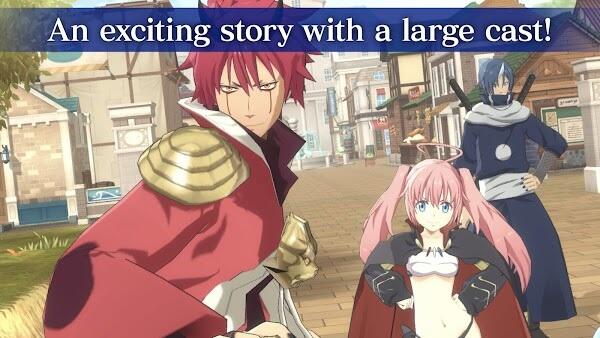 The Slime Isekai Memories story was developed with the help of the original author of the light novel, Fuse. This means all the characters you know from the novel or anime are still here. The game also has new characters for you to interact with or roleplay.
The Slime Isekai Memories Story
The story closely follows that of Slime Isekai's first season. The major difference is the presence of Shinsha and Izis, characters original to the game.
Rimuru has his first encounter with the mirror land the day he looks at his reflection in a puddle and gets transported to another land. He meets evil versions of his subordinates and has to battle them. Finally, he is returned to this original world with no memory of the happenings.
He finds himself in the world again after absorbing Shizu and remembers what happened the last time he was there. He fights more battles and gets transported to the Tempest world again after a while.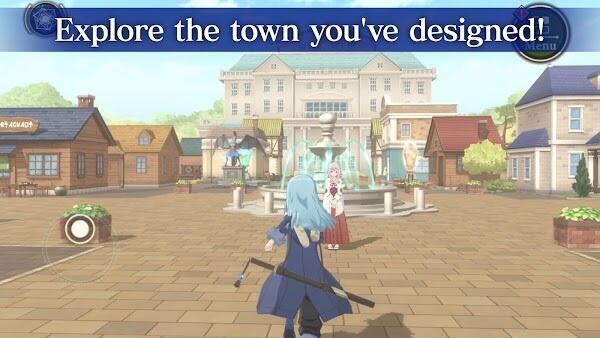 On a different day, he is standing in front of a mirror with his friends, Shion and Shuna, and they all get sucked into the mirror. They meet a witch called Izis, who explains the mirror world to them. They are confronted by more enemies and have to fight again, but this time, they're helped by a pink slime before they get transported to Tempest.
Rimuru is returned to the mirror land again with Shuna and Gobta. They meet Shinsha, the pink slime who calls Rimuru "Daddy". Rimuru's Great Sage system notes similarities between Shinsha and Rimuru's powers and appearance in human and slime forms. Shinsha attacks Rimuru and retreats after some time, telling him she'll be back for him.
Battle-based Gameplay
Slime Isekai Memories' gameplay is mostly tactical. You get to build a town named Tempest and team up with other characters to go on adventures, fight battles and earn rewards. The battles feature 3D animations and simple controls to carry out commands.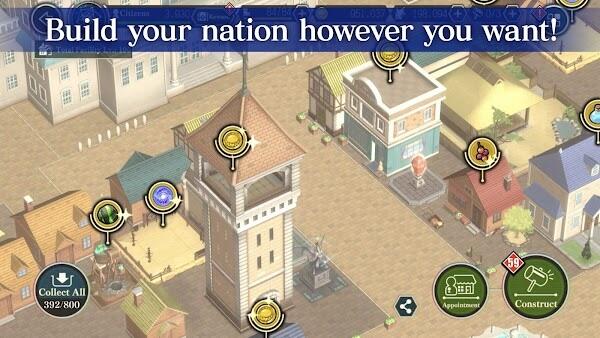 With the aid of the game's construction system, you can transform Tempest from a village to a twin and, eventually, a city. You can also interact with the characters in the area.
Some of the characters you battle or team up with are recreations of the characters in the anime series. Therefore, they have the same abilities, appearances and loyalties.
Your main support system is the Great Sage. Great Sage is a special skill of Rimuru's that aids him in his journey, granting him special abilities and leverage in different situations. You also have the Predation system that lets you absorb and devour characters.
Thanks to the voiceover system, you can have voice conversations with other characters in the game and build relationships with them.
Key Features
Some of the important features of the Slime Isekai Memories game include: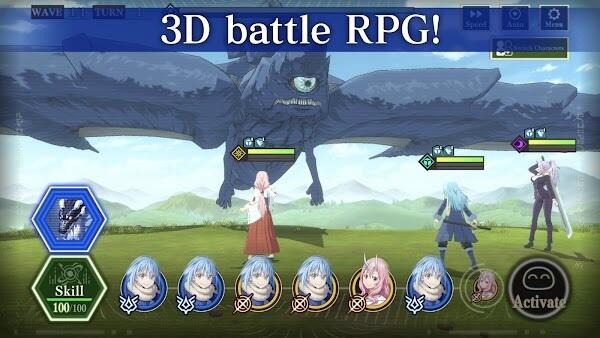 Graphics: This game features beautiful 3D visuals and seamless transitions. Sometimes, the graphics may not look super impressive because the developer has designed it so that the experience is the same no matter the configuration of the device. In addition, the characters move smoothly, and they all have voiceovers.
Sounds: Slime Isekai Memories has animated openings and theme songs. The theme song is Phantom Lights by Takuma Terashima.
3D World: The game also has a vast world you can explore. Your character gets to visit every part of the world as a way to wind down after battles.
Construction Feature: In Slime Isekai Memories, you can build your town. The game integrates a construction theme into the original battle theme of the game. You can also collect materials from the town for character upgrades. Building an impressive town also gives you extra benefits. Note that it takes a while for houses to get built, so try to use that time wisely.
The characters in Slime Isekai Memories play important roles too. They include Rimuru, Ranga, Gobta, Shion, Shuna, Benimaru, Gabiru, Milim, Souei, Veldora, Geld and Gabiru. These are names you'll easily recognize if you've watched the first season of the anime.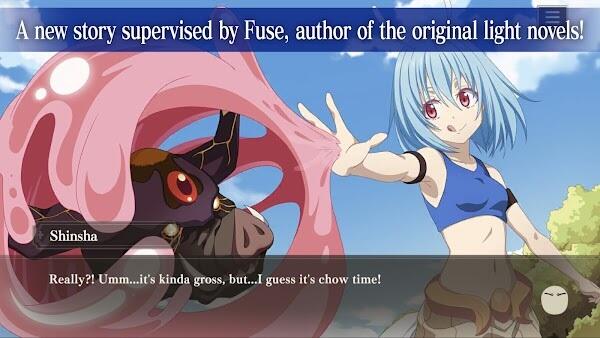 In slime form, Rimuru is a spherical mass of a blue jellylike substance. In human form, he has long silver hair and gold eyes. Ranga is one of Rimuru's earliest and most loyal subordinates. He is also the leader of the Tempest Wolf clan.
Slime Isealai Memories also features two original characters that are new in the story, Shinsha and Izis. Shinsha is a girl who claims to be Rimuru's daughter. She possesses Great Sage and Predation powers just like him. Izis is the witch of the mirror who has a thing for stalking Rimuru.
Conclusion
Slime Isekai Memories might not be the ideal game for people who are not anime lovers or have not seen or read the original series. However, if you give it a chance, it promises to capture your attention with a detailed story and captivating gameplay. However, that's not all there is to it. The 3D graphics make you feel like you're watching an actual movie and not just playing a game.
The construction system is also beginner-friendly. The game guides you through farming, building, and everything you need to construct and maintain your town. It's also a free game, so you don't have to worry about wasting money because you're not paying a dime. If you're an anime fan, this game is targeted at you. So don't throw away a fun time!


Join Telegram Group
Download Slime Isekai Memories APK now to enter the game world of the popular anime series, That Time I Was Reincarnated As A Slime. Meet your favourite characters too!