Download Real Steel APK and experience another form of boxing. Use your grit and sweat to reach the zenith of your career. It promises to be exciting and immersive.
Real steel
Have you ever wanted another form of boxing? Do you want to substitute human boxers for robots? Did you watch the Real steel movie and decide to get more of the action? Then the Real steel game is for you.
Real steel is a video game rendition of its original movie. It was released in 2011 by Reliance Entertainment studios and has been continuously updated to fix bugs and add more features. Its latest release was in June 2022, which featured additional tournaments and improved gameplay. Although real steel is a paid game, its purchasing cost is inconsequential; with less than $1, you can get a real steel download. The game's ratings have been impressive across many reviews and rating platforms.
Description
Real steel has an underdog plot. It is based on the popular American movie where human boxers are no longer operating. Professional boxing now works with robots that make a 6ft+ full-grown man look like a juvenile. Iron is pitted against iron as opposed to the muscles of human boxers. Real steel lets players immerse themselves in the plot, which improves gameplay because players can connect with it. Watch your robot challenge tougher adversaries and come out victorious against all odds. Your victory is a reality because of your wit and resources.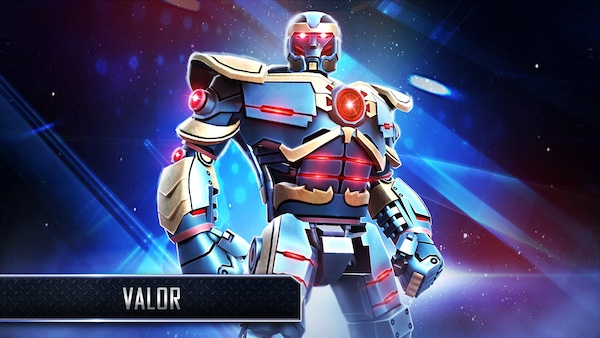 Real steel is an innovative action game inspired by a movie sharing its name and publishing company. It is a 3D fighting video game in single-player mode and can be accessed in multiplayer mode with an internet connection and played against friends or other players worldwide. At the game's launch, it will subject you to tutorials that will only be at the beginning of the game. So, do not 'wing it' by ignoring the tutorials.
As the game proceeds, you will become familiar with the store section for in-app purchases and the mode section for different forms of gameplay. The mode section helps players reduce game staleness or boredom because of no scenery change. Since the real steel game contains mild violence, it is considered a family game and ideal for individuals aged 9 or above. Players can unlock other robot parts, star robots, and good features as they increase their fame and status.
Gameplay
Real steel follows the gaming principles of most action games. Three icons on the screen are responsible for the strong hit, weak hit, and defend options. Creatively use these icons to pull a fast one on the enemy. Since your limbs and head are the only parts of your avatar that can move immediately after the match starts, be in the attacking position and barrage your enemy with blows. Thus causing him to be incapable of attacking you. After the attacks have been consistent for a while, your energy bar gets full. The game will indicate that you can now use your ultimate attack to deliver the finishing blow.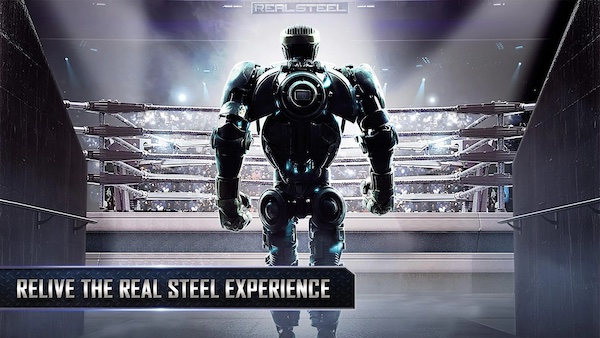 Real steel's all robots are about 65 robot avatars, including the ones featured in the original movie; you can also create your avatar. This section is called the build section, and you can combine robot parts and design a unique robot with all your desired features. You can build a total of 5 robots. By default, your first build slot is free, but you have to unlock the remaining 4 with the in-game currency.
Even if you don't want to build your fighting army, you can buy and unlock them in the store section. When obtaining new iron warriors, study their personality, strength, sustaining power, and other statistics that are on display. Many gamers highly rate real steel's gameplay and heartily recommend it to other action game lovers. One feature that boosted its ratings is how the real steel characters followed the storyline of the original plot.
Game modes
Real steel offers three modes to its players, namely;
Survival mode
Tag team/ tournament mode
Challenge mode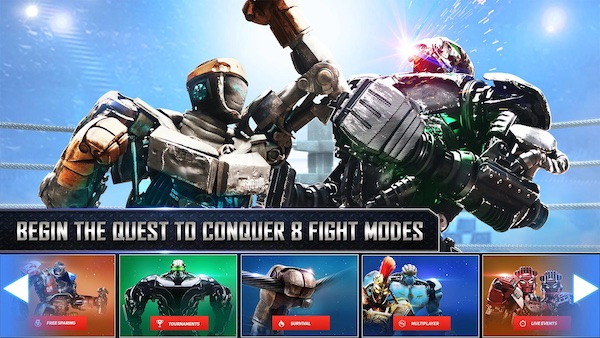 Survival mode wants to know the tenacity of your robot. It is more like a fight to the finish. So your avatar will keep on fighting until it can no longer resist fatigue and failure.
Tournament mode takes you into a large stadium and places you against fearsome opponents. The fun thing about this mode is that there are different stadiums to reduce visual boredom. Tag team mode allows you to play a three against three game. Tag team is more enjoyable among friends because it promotes healthy competition and increases the excitement.
Challenge mode places you in certain conditions and gives you tasks to complete while you fight your opponent. So, if you won the fight but didn't complete your tasks, you have failed that particular challenge and won't be awarded your three stars.
For levels in each mode, you can unlock them when you complete the previous ranks. When you complete each game state, you unlock 10 high-tier robots.
Features
Buff packs and health boosts maintain the robot's life, especially in survival mode, where only the strongest emerge victorious. These items can be acquired in the store. You can also get a free boost by completing challenges and defeating champions.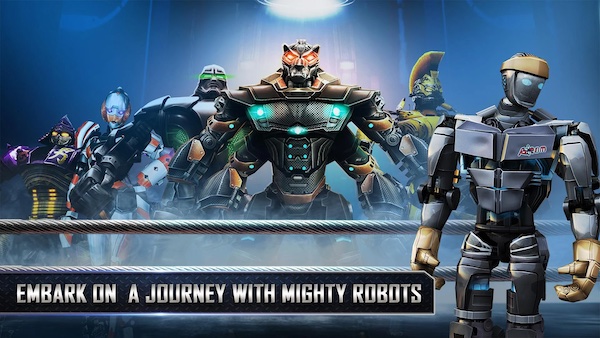 You can get the in-game currency by completing daily tasks and obtaining your three stars in challenge and tournament mode. You cannot buy certain robots like the gold robot; only gradually unlock its parts by participating in activities that also offer in-game currency.
How to download real steel
To download real steel, input search entries like
Red steel unlimited money
Real steel download
Red steel full and,
Red steel free download.
Red steel has a free download version that you can opt for in place of this paid one. However, certain features in the paid version are not available in the free download version.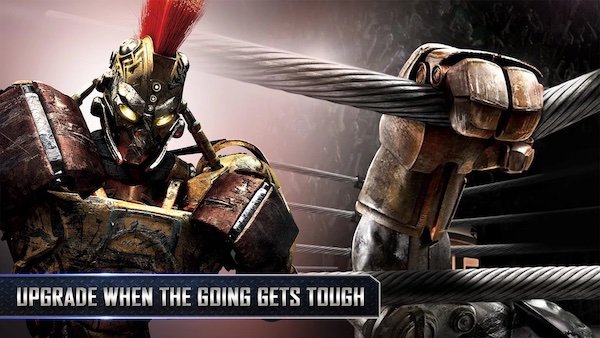 Although the paid version only works on the Android operating system, the free one works with Android, iOS, and Windows operating systems.
Conclusion
Download real steel now and enjoy fantastic gameplay, impressive graphics, and healthy competition. It is an excellent action game that has received good ratings and reviews. If you haven't played this game or watched the movie, then download the game for a perfect introduction to robot boxing!