Download Racing in Car 2 APK and enjoy a unique, first-person driving experience! Race through traffic and get new cars to become the leaderboard king.
About Racing in Car 2
Racing in Car 2 is a never-ending first-person game with just one aim: drive as far as you can without crashing into anything. Unlike most third-person car games, Racing in Car 2 has a much different perspective, with a cockpit view that makes you feel like you're the one driving.
In this game, you can drive as fast as possible without getting into an accident through endless stretches of road. The game features gorgeous landscapes and realistic graphics that offer an immersive experience. Always look for the four lanes filled with other cars rushing towards you.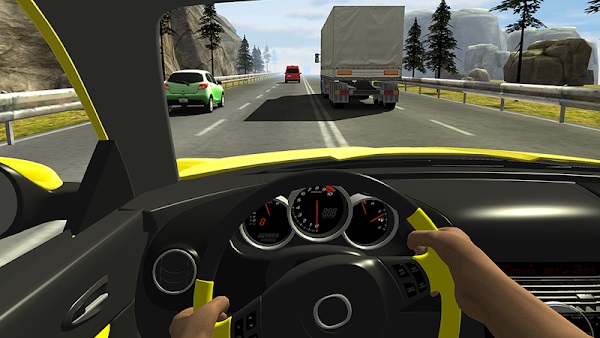 Although Racing in Car 2 sounds like a super easy game, you shouldn't let your guard down just yet. While playing this game, you can't stop. You must keep driving, even if it means changing your lane and going against other cars. Regardless of what you do, you must avoid slowing down and crashing into cars.
In the Racing in Car 2 game, you gain points based on how long you kept on driving before crashing. To get a high score, you must take a few risks like driving against incoming traffic, speeding fast, dangerously navigating traffic, and more.
Playing the game can unlock new vehicles with even better stats and enjoy driving more. The higher you score, the higher you can move up on the leaderboard.
Race Through Traffic in First Person
Rather than a typical car racing game on the track, Racing in Car 2 takes you to the streets, where you will be faced with many other cars and heavy traffic. You need to navigate this traffic to gain rewards and overtake all the many vehicles on the road to avoid hitting them.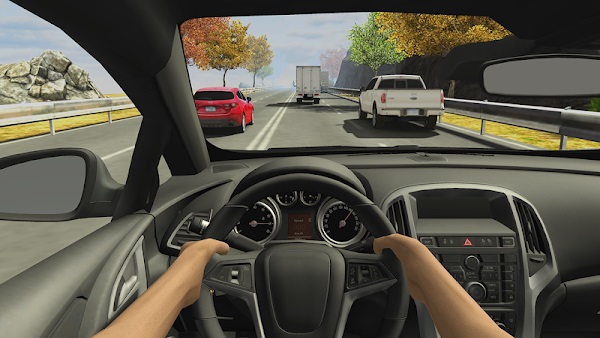 You don't necessarily have to race anyone while playing Racing in Car 2, but it might become important if they are blocking your view or causing you to slow down. The more you play, the more vehicles and locations you can unlock for your gameplay.
Grab the steering wheel and start driving to avoid collisions! In this game, you'll get super good at dodging cars, navigating tight traffic, and driving without slowing down.
Features of Racing in Car 2
Although you can't do in real life what you can do in Racing in Car 2, it gives you the chance to go at maximum speed on highways. With this game, you can enjoy driving for a long time and figure out tricky ways to increase your high score. Here are some of the features of Racing in Car 2.
Go Through Traffic: The main feature of Racing in Car 2 is that you need to drive through traffic. The game has simulated real highways to make it as authentic as possible. This also means seeing all kinds of vehicles, from large trucks to small cars. You must do your best not to move them while retaining your speed. The game has no finish line, so you can keep driving until you get tired and want to stop or until you hit something. The longer the distance, the higher the score.
Lifelike Simulation: The Racing in Car 2 game will fool you with a simulation game. The game offers impressive graphics with attention to detail, ensuring you enjoy an immersive experience in the gameplay. Since you're driving in first-person view, you can see the road from the driver's seat, your steering wheel, radio, gauge clusters, and mirrors. The controls of the game are also realistic, like a real car. The brake is on the left, the accelerator is on the right, and it's up to you to turn the steering. If you choose dark environments, you can even put on the headlights.
Earn Rewards: Players would be pleased to see the exciting rewards and points they can get at Racing in Car 2. The fun game offers you rewards for different reasons, mostly when you overtake cars. If you want to get high points, you should make a close call with the ca and surpass them. You earn more as long as you keep on driving for a long time. This will determine your total score.
Unlock Locations and Cars: Racing in Car 2 is monotonous. You get the chance to unlock even more cars as you continue to increase your high score. The cars come with different mechanics and specs that you can take advantage of, increasing your speed daily. You can also unlock new locations in Racing in Car 2, so you won't get bored driving in the same place repeatedly. You can even purchase these cars if you don't want to wait to unlock them.
How to Play Racing in Car 2
Racing in Car 2 is pretty easy to play, and you're in control of everything. To control the steering wheel, you need to tilt your mobile device. The game is more of a simulator, so you must be careful about how far or sharp your tilting is. If you want to make a sharp turn, you will have to tilt the phone quickly, unlike if you are carefully getting past a curve.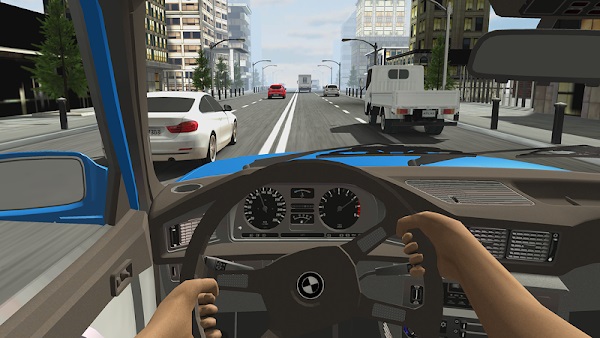 You can easily use your thumbs to click on the brake and accelerator on the screen's left and right. If you've never driven before, you should be able to use Racing in Car 2 after a few tries, as the game is pretty intuitive. And, experienced drivers will be even better at this game, as long as you tilt your device the right way.
Conclusion
Racing in Car 2 is a fun and engaging racing simulation that will keep you hooked, especially if you like driving. Drive as much as you can on these extreme highways and avoid cars as much as you can. Get amazing new cars and drive in challenging locations, even at night. The more you drive, the higher your reward, so don't stop!