Download Pou APK to accept the challenge and care for a cute little alien. Then, take good care of your new pet to unlock more features and play various Minigames.
About Pou
Pou is an interesting game with an exciting concept. The game features an alien, which you'll have to play with throughout, but this is no regular alien. Instead, it's shaped in the form of poop but quite friendly and ready to go on an adventure with you into the world. Your task here is to ensure your little friend, Pou, gets everything needed, so you'll have to pamper it, bathe, and feed it to ensure that it grows and evolves into a happy and satisfied alien.
The game has a bizarre concept but is similar in gameplay to the classic Tamagotchis that were quite popular then. So, just lost owning a dog or cat, you'll have to feed your cute little pet, play with it and ensure it has all the fun necessary to keep it happy. You'll also be the one to tend to its health, hygiene, and various other things that it can't handle on its own.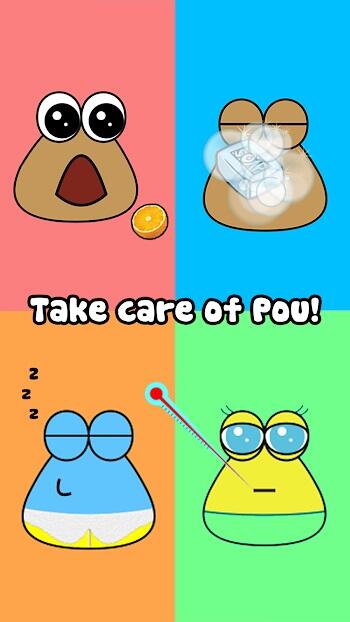 While you protect and care for the little cutie, it will continue to grow and develop into an appreciative being that shows love and affection for you. The alien will continue to grow, too, and the game will reward you with different items to use, such as hats, clothes, changes in the game backgrounds, etc. So you'll always get to make incentives to help Pou when you continue to care for Pou.
Zakeh designed and released the game, and it has grown to become quite a sensation over the years. The game has an impressive list of lovers online, most commending the developer for creating a unique game with a unique concept and gameplay. It has over 500 million downloads on Playstore and an impressive rating of 4.4 from 11 million of its players. Anyone above 3 can play the game, so it's available for kids and adults.
How to Play?
As earlier discussed, you don't need any special skills to play the game. It's pretty easy and direct. All you have to do is ensure the little pet is well taken care of, and you'll get a host of rewards. Pou is a castaway, and as the person who takes it in, you'll be tending to a poor little alien when you start playing. There are a few activities to carry out here, such as bathing, feeding, etc. You'll be rewarded with various things when you complete these essential tasks.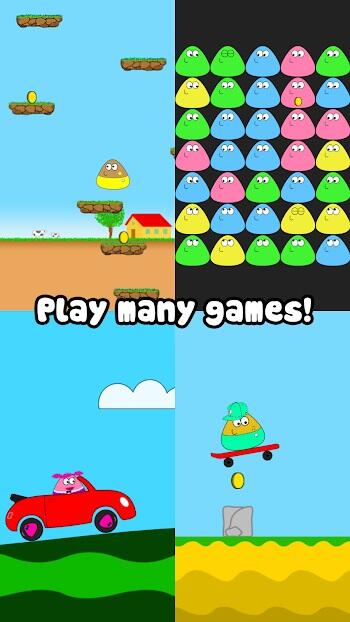 Some rewards are items you can use further for Pou and symbolize growth and development. There are also other rewards, such as minigames for playing well. One of these minigames is Sudoku, which you'll be able to play when Pou is happy and satisfied. So, it's a win-win situation for you and your pet because you'll be able to enjoy exciting minigames while ensuring the pet is well taken care of, which is what makes the game ideal for kids and adults alike.
Game Features
Pou not only offers exciting and unique gameplay, but the game also gathers some of the best features you can hope for in this category. Check out some of the features below: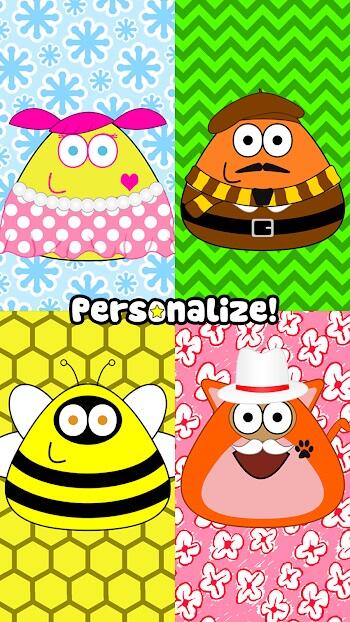 Gameplay
Playing the game is easy since the fun is not in difficulty but in the growth and minigames available. In addition, the game focuses on its Play and Reward system, which means players aren't competing against adverse conditions but are more concerned about seeing growth and getting rewarded.
Like many games where you have to take care of pets, you'll be rewarded every time you complete these tasks, and the rewards on this game include clothes and other items to make things even more beautiful. In addition, the game will also reward the player with a minigame where they can spend the time while not attending to Pou.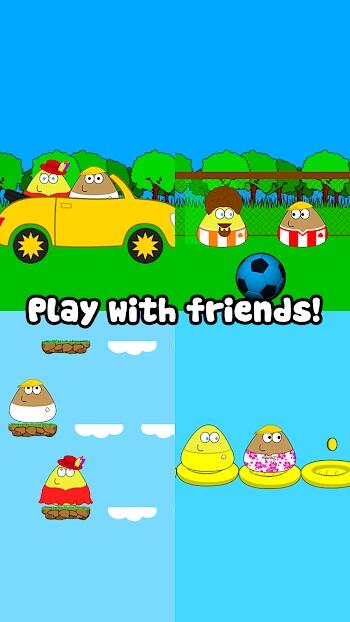 Graphics Details
The graphics details on Pou are pretty impressive. The game does have the cartoonist's approach to its graphics, and since it doesn't require any element of reality, you dont find any here. The beautiful and vibrant colors in the background are excellent, and they add some color and life to the game.
Various other elements such as the game tools, environment, and clothes change occasionally. This helps add more fun to the game since you can get cute clothes for Pou and also get to change its setting the more you take care of it.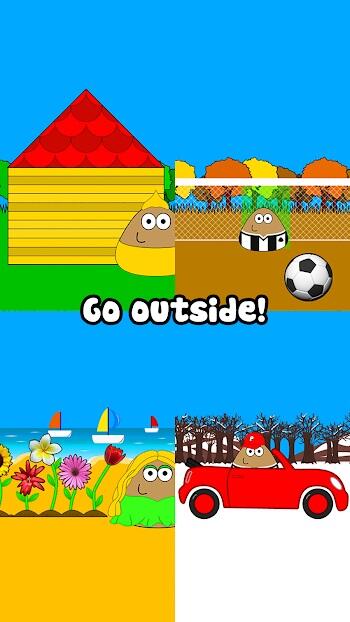 Customizations
You can make different customizations for your little potato when playing. For example, you have a say in its appearance before the game starts. So, you won't be stuck with a brown Pou if you prefer a Pink version. You'll also get to access other exciting customization features, such as the room Pou lives, takes its bath, and do other things. These customizations come in the form of wallpapers which you can then add to the room. You'll also be able to customize a schedule to fit yours.
Minigames
There are many minigames on Pou that will catch your interest. Many players show up every day to take care of Pou because they know that the game will reward them with a minigame once they are done. So it's a two-in-one game where you have the main storyline and some minigames to serve as incentives. These games will also give you coins when you win, which you can spend on Pou and provide the necessary things she needs. Some games include Sudoku and other simple card games that allow you to use your time judiciously.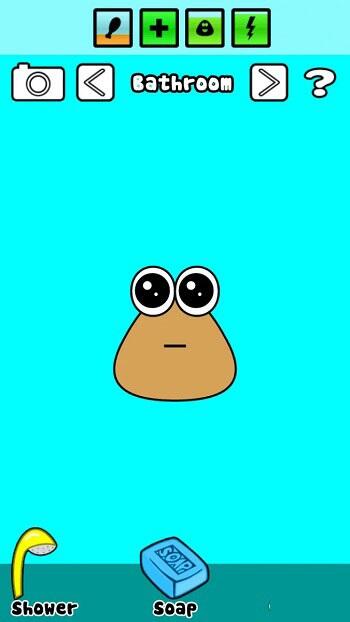 Avatars and Wallpapers
You'll be able to access many avatars and wallpapers when you play here. You can use some of them to customize how Pou looks, while others are to decorate the rooms and clothes.
Conclusion
The game is quite entertaining and immersive. This is because it has been popular for various reasons and is quite addictive once you start playing. You won't stop caring for Pou once you get a dose of the feeling in your first attempt.