Download and install Oddmar APK and prove yourself worthy of becoming a Viking. Then, dive into the epic Viking adventure and explore the vibrant Nordic lands.
About Oddmar
Oddmar was developed by Mobge, the same developer of the infamous iOS game Leo's Fortune. The game was released towards the end of 2018. Oddmar is one of the best platformers on iOS, and android users are also opportune to play this addictive game with vibrant graphics. It is an adventure game that centres around controlling a Viking who wants to prove himself worthy to earn a place in Valhalla.
It was first made available on iOS, and after winning an Apple design award, Android users were allowed to play the game.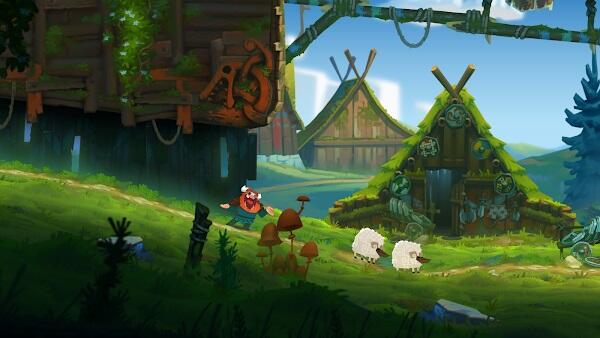 Though the Android version is free-to-try, the iOS version is not. Since the first chapter is free, You can try the game on your devices before parting with any cash. After completing the first chapter, Users will have to decide if they would make an in-app payment of $4.99 to access the next chapters.
Oddmar is a game with a lot of adventure. You discover your true powers, overcome challenges, meet new friends and enemies, and travel through beautiful, magical forests.
Game Story
The story is told through traditional animation; each cutscene is fully voice-acted by a single narrator, giving it the feel of an audiobook as one man does different voices for each character. Through these cutscenes, we meet Oddmar and learn that he isn't worthy enough to be a Viking.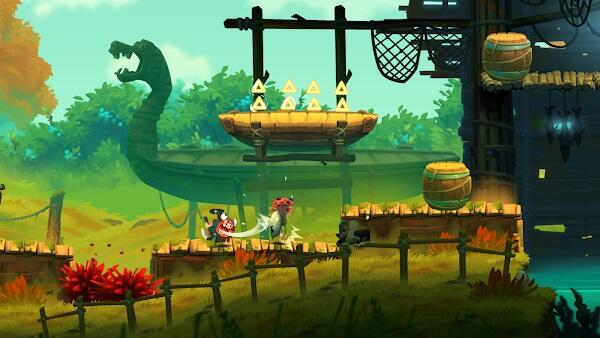 That is until a fairy appears in his dream and asks for assistance, giving him a magical mushroom that endows him with different abilities unlike any other Viking alive. For example, it means he can jump high and off walls because mushrooms grow beneath his feet and propel him upwards.
Game Experience
The game starts simple, and you would think it's just like any normal game, but then when you progress through the levels, you'd realize the game is getting harder and more interesting.
Throughout the game, you'll come across small shops where you can buy new weapons and shields. The weapons at your disposal would help defeat your enemies at each level. You can also use your character's defensive and offensive skills. These add a little more depth to the experience and give you a reason to collect all the coins scattered throughout the levels.
And those levels have been meticulously designed. If you've been in this genre for a while, there aren't many surprises, but there's enough thought put into them that won't make the game look old to you.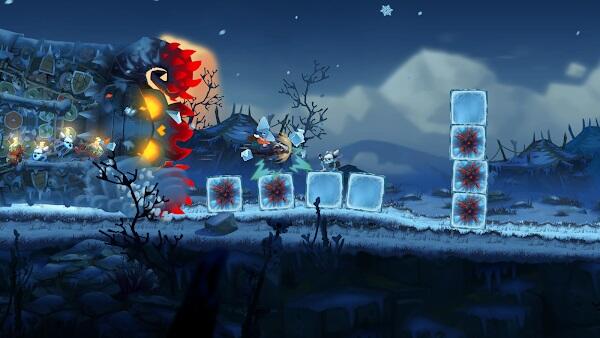 There are things you would expect from this kind of game. There are spikes, moving platforms, wall jumps, hidden things, and spinning. There are some remarkable moments when you get chased by a troll, and you would need to time your jump as the tree you're standing on collapses.
There are these unique set pieces in the game that keep you going. For example, you ride on a boar or a lumbering dragon through a dream world. And you do it all with a smile on your face.
Exciting Features of Oddmar
A thrilling action platformer game. It's arguably the most remarkable 2D platformer on mobile. It won the Apple Design Award 2018 as one of the best platformers on iOS.
Simple gameplay and simple controls: The simple control makes the game more enjoyable. You can control Oddmar by swiping to the left or right on the left side of the screen. The right side is for attacking and jumping. Swipe upward to jump. You attack by tapping the screen. Swiping down will also cause a quick downward slam. Oddmar is compatible with iCloud game saves and game controllers.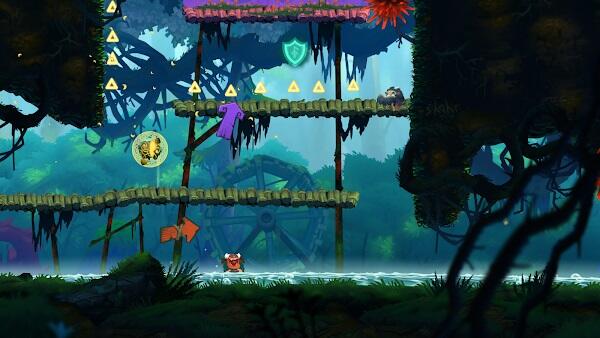 Immerse yourself in 24 carefully crafted levels: Oddmar isn't a particularly long game, with 24 levels, each with its own set of traps and challenges. Each level has three challenges, with some requiring players to finish certain levels as quickly as possible. You'll probably finish this game in a short period, but you'll have a lot of fun along the way.
Get fantastic rewards: Defeating enemies will grant you more coins, which are limited throughout each level.
Choose helpful creatures: You'll get to choose animals to ride on, like boars and lumbering dragons. These animals help you feel more powerful.
Graphics: The graphics, pictures and design give the game a stench of blood. The game world is always dark and foreboding., giving the impression that enemies are always lurking around. The fighting scenes are filled with "heroic" moments. The monsters in the game are extremely detailed and possess a unique clarity that makes them realistic on your screen (though your phone must be a high-end device equipped with quality graphics chips).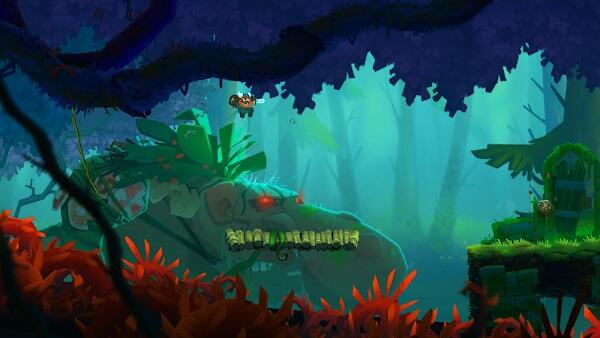 Sound: An intriguing soundtrack that is essential to Oddmar's success. Also, to add to the usual sounds of the fight scenes, every single note's strange music brings intensity to the game. And when the characters perform minor actions like going into the jungle, wading or riding their animal friends, each step is followed by a different piece of music that makes sense.
Conclusion
If you are a lover of the action-adventure genre, or perhaps you're a platformer fan looking for a quality game with fair pricing, Oddmar is one of the best options. Its amazing reviews on iOS are well-deserved, and the port to Android hasn't lost anything in the process. Sure, the price and short length may turn some people off, but you'll be hard pressed to find anything with such quality on the platform. For true platform games fans, Oddmar is worth the price to pay for it.
It's a perfect homage to classic games such as Super Mario Bros. while not being an older game with a newer interface. Hence it won't bore you out or disinterest you. Instead, the plot is intriguing enough to keep you fixed on your mobile screen so you can discover another plot point. Oddmar, in my opinion, is a must-play in a sea of mediocrity and should not be overlooked.


Join Telegram Group
Download and install Oddmar APK and prove yourself worthy of becoming a Viking. Then, dive into the epic Viking adventure and explore the vibrant Nordic lands.