Download Ocean Survival APK, an adventure game where players have to survive in a lifeboat floating in the ocean for as long as they can; do you have what it takes?
An In-Depth Description of Ocean Survival
Ocean Survival is a 3D first-person game mixed with action, adventure, and survival giving users the ultimate and realistic gaming experience. It is challenging to survive in the wild as there are not enough resources to do so; you have to hunt for food, water, and the necessities to keep you alive.
What do you do when you are in a ship that ends up sinking into the sea because of a great storm, and you are the only survivor (you wake up alone in a lifeboat)? Indeed, you will have to save yourself before nature shows you the harsh side of life, which is what the Ocean Survival game is about. Players have to survive at all costs and build a solid shelter.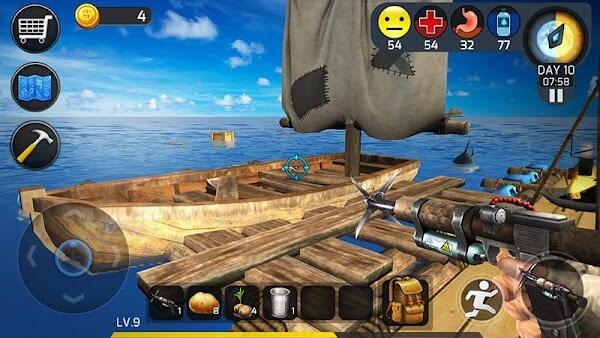 Ocean Survival is perfect for anyone who wants a challenge regarding survival, as all they need to do is fight to stay alive until the rescue team finds them. To stay alive, players need to collect different objects that will come in handy during the game, create hunting weapons, collect valuable materials that can be crafted, and always keep an eye on their life stats (thirst and hunger).
Players can use whatever objects they find to expand their lifeboat into an appropriate and larger shelter. They can do this by aiming at whatever they want to collect and keeping their finger pressed on the screen until their energy is reloaded. They can either use the fishing weapon or touch the screen to rotate the view.
Players can also use the elements they find to build tools they may need later. For example, they can make bandages and a makeshift kitchen. Unfortunately, players also have to deal with sea intruders in the Ocean Survival game, so they must keep an eye on their surroundings day and night.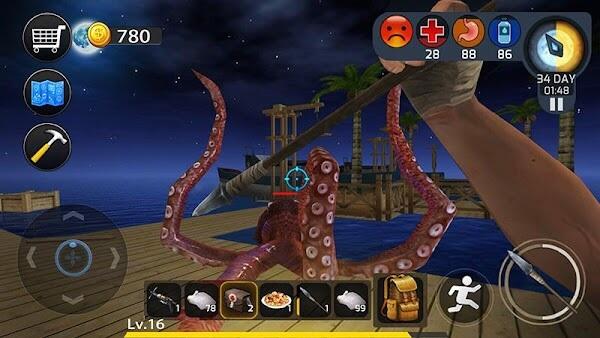 Sharks will loom around the shelter built to have the main character for breakfast, lunch, or dinner. It is up to you to look carefully and create tools you can use to defeat the sea intruders. It is no doubt that Ocean Survival is a fun game; players have to help the character to survive at all costs.
The Ocean Survival game was published by Candy Mobile and is available on Android devices. The Ocean Survival download is a straightforward process; what are you waiting for? Download this exciting game now.
Features of Ocean Survival
Ocean Survival is an exciting game with some pretty interesting features, highlighted below.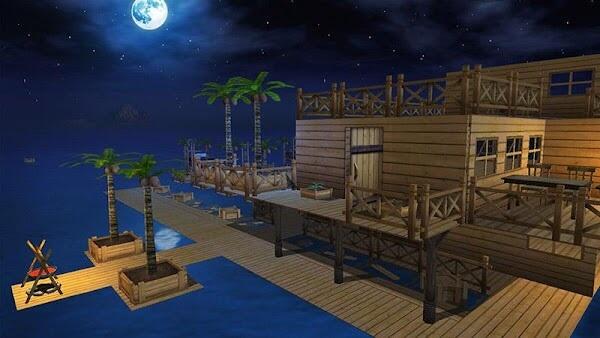 Construct Your Shelter
Creating a shelter gives the main character in the Ocean Survival game a play to stay and rest after a long day of collecting different resources. It also serves as a form of protection from dangerous sea intruders and harsh weather. In Ocean Survival, players have to construct their shelter from the ground up, which is essential for survival.
Players can collect different materials from the ocean, such as wood, so they can design the home of their dreams on the ocean. When they collect enough wood, they can even make furniture such as chairs and tables to make their shelter comfortable to live in. Instead of a harsh and deserted island, they have a comfortable and homey shelter made from scratch.
Find Resources
Players can explore the massive ocean landscape to find resources to help them survive. They can either use a harpoon or rotate the screen to retrieve materials they can use to make food and build essential materials such as bandages and a water purifier. These tools help players survive on the ocean as long as possible.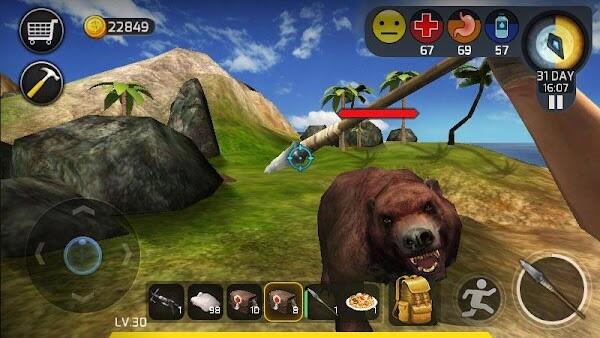 In Ocean Survival, survival is made somewhat easy as players can make different materials; weapons that players can use to hunt (spears, guns, or hammers) and fishing rods that players can use to catch fish for eating. The guns will also come in handy in cases of dangerous situations with sea intruders like sharks. Players must make as much food as possible to store them later.
Cook Food
As much as a roof over your character's head is important, so is food; without food, your character will not survive, and that will equal game over. Luckily, you can easily retrieve different materials and catch fish to make delicious meals (use the extensive crafting system with several recipes).
All earned ingredients can be cooked according to the available recipes that players can access (there are several different recipes to make meals more diverse). Players can use the fish they catch with their fishing rod to make delicious sushi.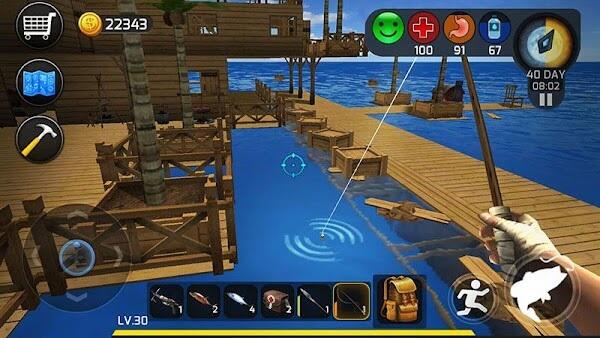 A Realistic Experience
One great feature of the Ocean Survival game is that it gives its players a realistic and fantastic game experience. The sound effects and realistic visuals make it seem like one is stranded on a deserted island surrounded by sharks. This will immerse players in the ocean setting and have them return for more.
The Ocean Survival game controls are also quite simple; with just a few tries, players are sure to get the hang of it. Players will likely get immersed in the fun and forget that the main character may not be having fun as sharks on a deserted island surround him.
Conclusion
I am sure everyone has thought about what it is like to get stranded on a deserted island. Well, no more wonder as you can enjoy a realistic experience downloading the Ocean Survival game.