Download Ninja Turtles Legends APK and enjoy this role-playing game featuring your favourite teenage mutant ninja turtles. Fight against shredder and his accomplices.
Brief Description of Ninja Turtles Legends
The ninja turtles are back in this action-packed game where you take control of your favourite turtle brothers and other characters to defeat their enemies. Leonardo, the leader of the turtles, sets out on an adventure to reunite his turtle brothers, their long-lasting enemy, Kraang, separated. On his adventure to save his brother, Leonardo teams up with some old friends and foes to assist in rescuing his family.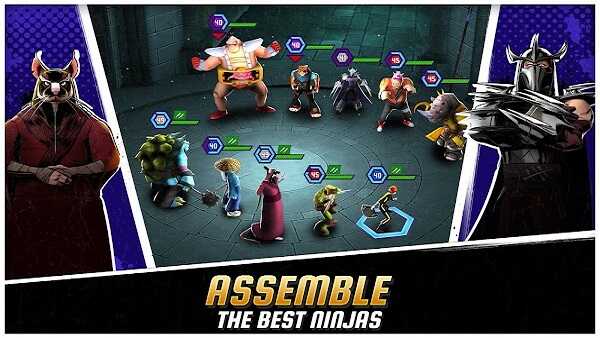 The game consists of seven chapters with an all-new original story in the turtle universe, and under each chapter, multiple stages make the game enjoyable to play. After each stage is completed, you are rated and given stars for each outcome. Three stars are given when you complete the stage without any of the characters on your team dying, two stars if one of your teammates dies and a single star for any other outcome. Depending on the result of each stage and how many stars you stack up, you are given random items as rewards. They are usually items to upgrade your character, warp passes, mutagen and the occasional greenback.
Ninja Turtle Legends was released on the 1st of June, 2016 and offered by Jam city incorporated. The google play store rated it T, meaning it is not a game children can play, but teenagers and above can enjoy, as it contains a certain level of violence. The game controls are easy. In the game, you play by selecting the character you want to use or the enemy you want to attack and proceed by tapping the action you want them to perform. It is easy to understand, so playing the game is easy.
The more stages you pass, the more stars and XP you get and the higher your chances are of levelling up. When you level up, you receive different packs that include additional items that upgrade you, including new characters that you can recruit to your team to make fighting battles easier.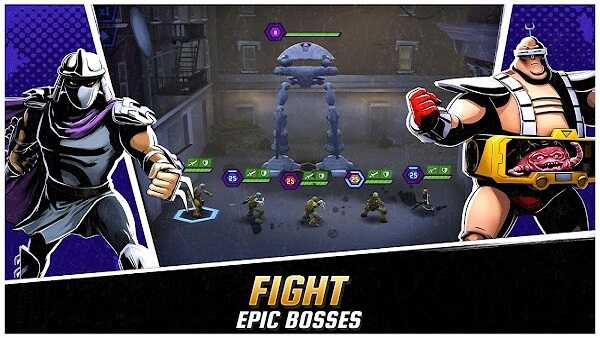 Ninja Turtle Legends is a fun role-playing game where you will face many enemies from the original story, so you will have a long way ahead. The dynamic game offers different characters with unique abilities and fighting styles, so you will be kept engaged. The game also has vivid graphics.
Fun Gameplay and Concept
Ninja turtle legends is a role-playing action game where you take control of Leonardo initially, but as you advance, you unlock other characters. You're tasked with rescuing the rest of the ninja turtles. It starts at a decent pace with a few weaker henchmen, but you fight stronger enemies and even bosses as you progress.
Ninja Turtle legends have a variety of playable characters from the original story you can control, each with its strengths and special abilities. Knowing how to use them properly will make defeating enemies easier. The more you pass stages, the more experience points you get, giving you room to upgrade yourself and your team through recruiting and upgrading items. The characters unlocked can be trained and upgraded to make your team stronger.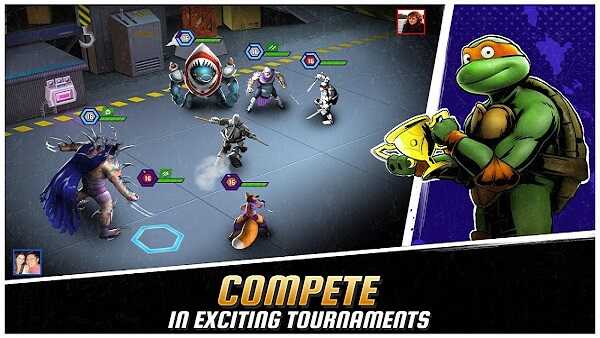 The game is played on a two-dimensional platform and is a role-playing game where you and the enemies you face will take turns performing attacks, and who manage to reduce their opponent's life bar till it's empty win the battle.
Apart from the story mode, other modes can be played on the game, for example, the tournament mode. This mode allows you to face other players' teams and battle them; these tournaments can last a week or more. When tournaments are won, you receive experience points and random rewards that will improve your character.
Ninja turtle legends allow you to watch ads and get free packs, energy, mutagen and other items. Asides from this, there are different ways to get these items, like completing levels.
Game Features to look out for
As you play Ninja turtle legends, you can look out for different fun features that will enhance your gaming experience: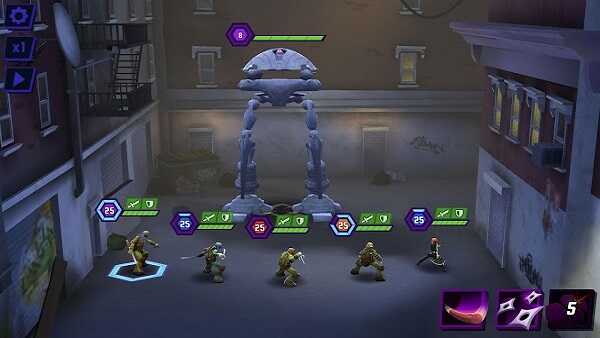 Play with characters from the original story:
You can play with multiple characters from the original Teenage mutant ninja turtles show. Team up and play as either friend of the turtles or their foes.
Upgrade and level up playable characters that you've unlocked in the game. Discover their powers and abilities.
Battle enemies in the turtles' favourite locations from the show, including the sewers, New York City rooftops and other locations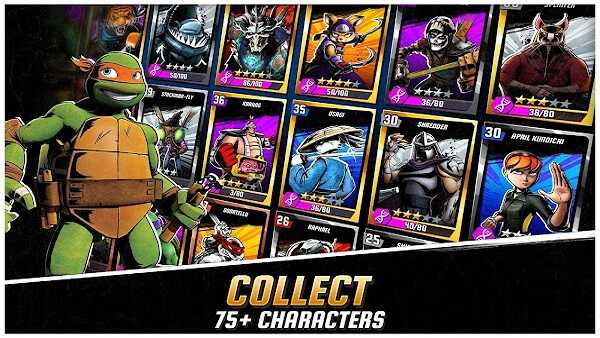 These are points required to continue the story and play some certain stages in the game. Your pizza points increase as your overall level increases
This is the currency used in the game. They are earned through constant progression in the game and can be used to purchase pizza points from the pizza shop.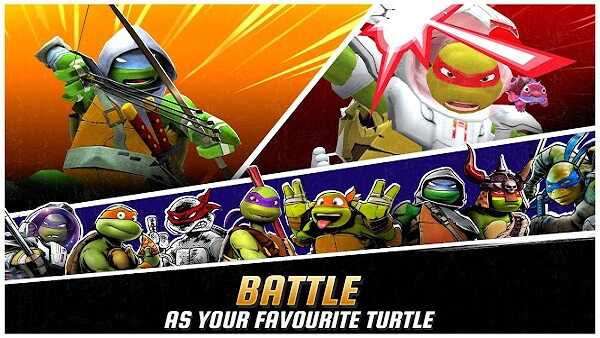 As you play, you constantly level up when you pass stages. Keep playing and reach the ninja turtles legends max level. There are more exciting features that you can enjoy, download ninja turtle legends and enjoy a fantastic gaming experience.
Ninja Turtles Legends Tips and Tricks
For one, many tips and tricks can make your ninja turtles legends experience more convenient for you. Know who to match up with during battles. When facing a mighty boss, you shouldn't look at using your weakest member on your team. Also, completing daily missions will earn you XP, mutagen, greenbacks, and warp passes. There are other ways to earn all those but focusing on daily tasks is a more efficient way to collect them. Again, mutagen should be used to level up your characters first before upgrading your abilities. Lastly, try to have one character or each type as it'll help you in different battle conditions.
Conclusion
Ninja Turtles Legends is a fun game that will keep players engaged. There are a lot of upgrades, abilities and characters in the game so that you can get the best out of your gameplay. You can enjoy the game better by using your real money to make purchases in the game.