Download My Play Home APK for a fun kiddie experience where you get to create a dollhouse and control everything that happens in there. It's also very convenient.
What You Need To Know About My Play Home
My Play Home is an interactive gamelike app designed for kids. You get to create a house, the family characters that live in it, and control their actions. For the family members, you have access to a variety of race and gender choices. The playhouse in the app stays unchanged when you exit the app. You alone can change the settings.
It can be hard to keep children's brains stimulated when they are stuck inside for a long time. My Play Home takes care of this by being an app that is both interactive and fun to play with. In addition, the app targets kids' intellect by giving them many chances to make important decisions.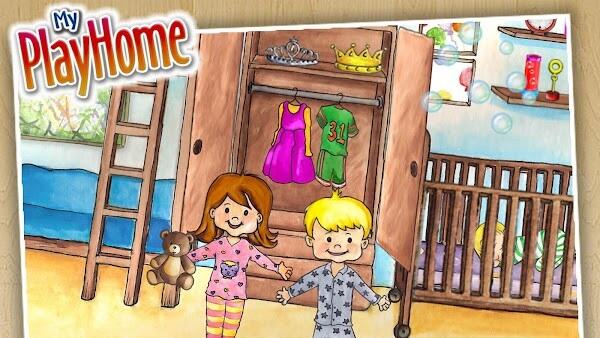 My Play Home is a dollhouse simulation game. It is not only an app that makes children happy but also one that inspires them to learn how to deal with certain situations. It can be downloaded on AndroidOS and iOS devices. However, it is advisable to get it on tablets for children since the display is better on larger devices.
Gameplay
In My Play Home, you have a screen version of a house full of dolls. Each doll plays the role of a family member: mother, father, son, daughter, grandfather, or grandmother. The house has all the rooms you'll see in a real home: kitchen, living room, bedrooms, entertainment room, study room, bathroom and toilet.
It also has many amenities, including a pool, TV, shower, closets and kitchen equipment. But, of course, you get to use all of these too. The app is designed to be easy enough for the young audience to understand but detailed enough for an older audience to have fun with.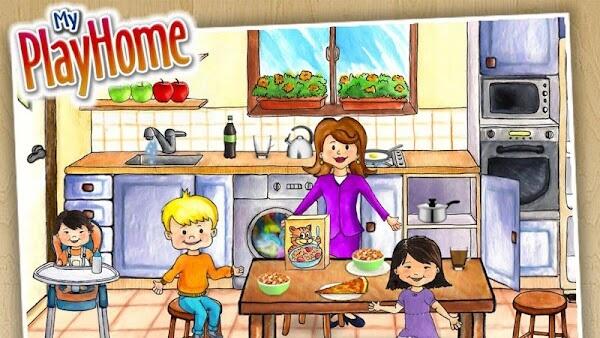 My Play Home is a game of simulations that help you learn. For example, if it rains when the family is in the car and everyone gets wet while going into the house, you get to tap the grandfather character to make him bring a towel to wipe everyone to prevent a cold.
In My PlayHome, you watch how the family members express their emotions. It is so realistic that the doll characters are making faces portraying their emotions at every moment. What's more, there is an array of editing options for the house and the characters.
Like in real life, the dolls need to have their outfits changed daily, and you are responsible for this. You can also change the house's look by moving things or adding decorations. The characters can grasp almost everything in the house.
My Play Home's gameplay encourages exploration. You get to explore the house, explore the brains of your doll characters and explore the many features of the game. It is a better way to help children build knowledge.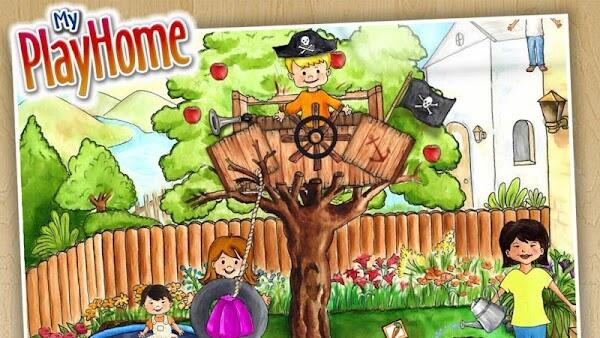 My Play Home is not only for children. You can play with your kids to assist them with seeing the correlation between the game and their everyday lives. This way, they can develop more good habits and apply the positive lessons learned from the game.
My Play Home Features
The child-friendly app, My Play Home has features that are aimed at ensuring players have a fun time, and they include:
Sound: The background music is soft and warm to create an atmosphere with a homely family feel. You have the option of adjusting the volume or changing the song. My Play Home also produces unique sounds when you interact with objects in the house.
Graphics: The graphics are done in a cute, hand-drawn style. It looks like something out of a book for children. Most kids are visual learners, and this game takes advantage of this. The colours are vivid and elegant, sure to attract and keep children's attention.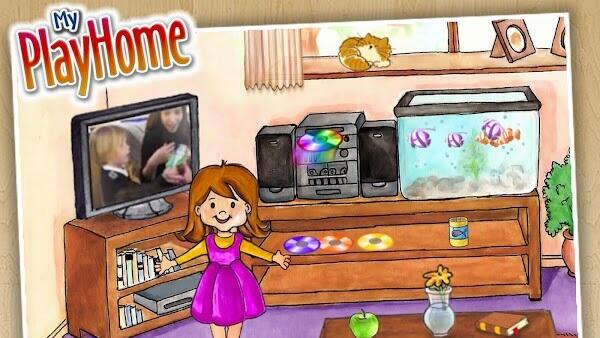 Free: My Play Home is free to play, and there are no in-app purchases. Everything offered by the game is free. From the beautiful house to the accessories and amenities, you do not have to pay for anything.
Attractive Game Content: The game app offers game content that is attractive and enjoyable. The developer has combined shapes, characters, and roleplay to produce a game that is easy to love. The beauty of this game is the freedom of use. Every room has different things, and you are free to use any of them. Your characters can make meals in the kitchen, shower in the bathroom, sleep in the bedroom, and use all the rooms to their maximum potential.
Children-Oriented: My PlayHome is a game for children from 2-8 years old. This is not to say adults cannot enjoy it, but the features focus on entertaining and teaching this age range. If you like dolls, there's nothing to stop you from playing.
Ad-Free: It's amazing to see a free game that has no ads and is free from the shackles of in-app purchases. There are no spam ads to distract you in the middle of your game. Money is not a limiting factor, so you can interact with the game as much as possible.
My PlayHome checks all the simulation boxes. Kids are easy to please, so even a mediocre game would have been exciting for them, but this game is nowhere near mediocre. This much, you can surmise from the features.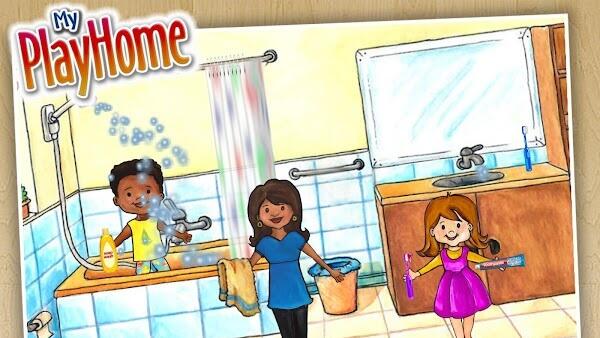 The game offers a chance to improve children's vocabulary and have them engage in activities appropriate for their age. By walking your kids through the game, you can have them talk to you about what is happening in the game and have them learn tenses that way.
Conclusion
The learning advantage of My Play Home cannot be overemphasized. It is so much better than real-life dollhouses because the developer has added features you cannot find in real life. Children can see firsthand how a home works and take charge of the duties.
You can also have your children mirror the My PlayHome activities in real life. It is a fun way to get them started on chores and prepare them for teenhood and adulthood. This game is a win for interactive technology and the young ones.