Download Moy 7 APK, the latest version of the virtual pet game series. Get ready to see the octopus Moy once more. Take care of Moy, your own virtual pet.
Moy 7
With significant modifications to the user interface and how you interact with the many rooms Moy spends time in, Moy is finally back for the seventh installment. The game feels more alive and intriguing now that there is more interaction with the world than ever.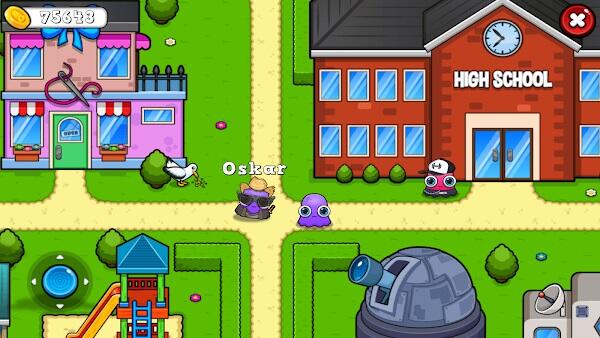 There are currently more than 95 various games and activities available. There are tons of games and methods to gather coins. Casual, arcade, racing, and puzzle games are the four different genres into which the mini-games are divided. Additional artistic pursuits include playing the piano, drums, or guitar. In addition, you can paint, color in a picture book, run a zoo, plant roses in your garden, or play doctor to save patients.
Description of Moy 7 game
The seventh version of Moy is called Moy 7. This time, some modifications have been made to how you communicate with the purple octopus while engaging in fun mini-games.
Moy 7's gameplay is simple, making it ideal for children. Play by tapping on things to watch how they react or alter. You earn coins as you solve challenges, which you can use to upgrade your wardrobe and customize your pet's fur, beard, and color. You can also buy supplies to prepare your preferred meals, refurbish your home, and acquire new creatures for the zoo.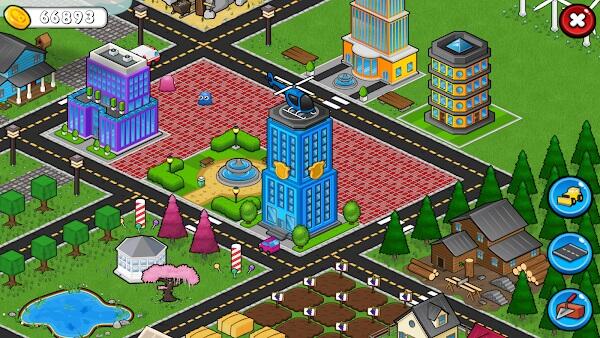 As you go about your everyday duties and engage in countless entertaining mini-games with your pet, Moy 7 is a delightful opportunity to provide for them. In any case, your Moy will be happier and healthier the more affection you give him.
Gameplay
As soon as you start the game, you raise Moy, a lovely octopus. You must play, care for, and take care of Moy to ensure his constant happiness.
A stork brought Moy, a baby purple octopus, from the ocean to land. Moy makes friends and starts a new life because of numerous occurrences.
However, Moy is not capable of caring for himself. He needs you. You must feed Moy, give him a bath, and let him out.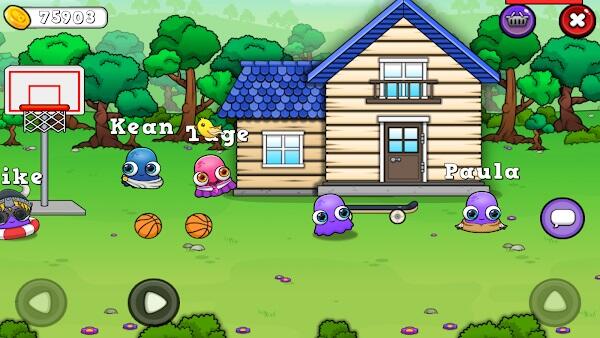 You have all the resources to do that in Moy 7 Virtual Pet Game. Visit the supermarket, where Moy's favorite foods like sausage, pizza, hotdogs, ice cream, chili, and fruits are readily available. The amount of nutrients added by each type of meal varies. They have different pricing as a result, which gives Moy energy.
Moy will be exhausted after a long day of work and will cling to the ground. Give Moy a bath and lay him to bed.
Explore numerous areas
There are lots of places you can go exploring. Explore the front yard, living room, bathroom, play area, park, beach, treehouse, and theater.
Every location offers unique features and activities. You can alter the context a little when you go there. You can change the color of the paint on the walls, the weather, or how the objects are arranged in Moy 7 Virtual Pet Game.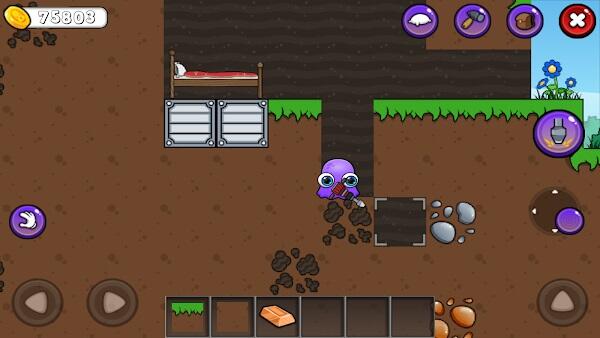 However, if Moy is overworked, works excessively, or neglected to take care of fundamental necessities, he risks getting sick. Moy will develop a pathological condition and a depressed attitude. To help Moy recover quickly, you should give him a respite, take medication, and administer an injection.
Features of Moy 7 app
Special experience
A lot of people have had some experience caring for a pet. Most people find them to be a source of great delight, but caring for them takes time and work. And dogs and cats are the most typical pets we have. However, the Moy 7 Virtual Pet game is for people seeking something fresh. You will look after Moy, a virtual pet. Because Moy is not an animal, it's unlike any other pet. He is an unusual creature with unusual features and a peculiar shape. In this game, it's up to you to take care of him.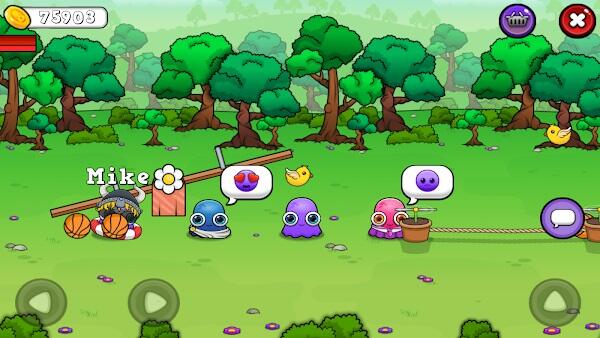 Simple Tasks
If you've ever owned a pet or if you don't know, you are aware of the time and effort that goes into caring for them. Pets are identical to humans, but even for the most elementary duties, they need assistance. Here, you'll be responsible for your pet's basic requirements, including feeding, exercising, playing, grooming, taking a shower, and engaging in interactive activities. The more you look after your pet, the more cash you can make.
Upgrade
Because of the upgrade, coins will be available for you to spend. You can use these coins to buy new clothes, skin tones, haircuts, and other accessories. Additionally, you can purchase furniture, fish for your aquarium, animals for your zoo, and other items.
Mini-games
There are more than 95 different games and activities you may engage in with your pet in Moy 7 Virtual Pet Game. Arcade, racing, puzzle, and casual are the three genres into which the mini-games are divided. You may also do other things here, including drawing, coloring, running the zoo, and planting flowers.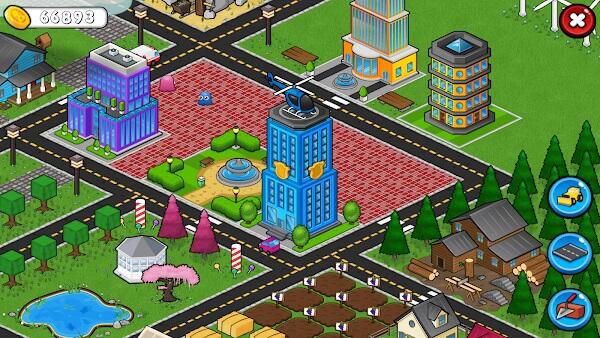 Enhanced Graphics
Since this is the seventh version, anticipate enhanced elements and clear graphics.
Moy 7 Latest version
New outfits have been added by the developer in the seventh iteration. You can go into the store and look around. Moy will definitely enjoy it!
A stunning miniskirt, an attractive suit, a Native American dress, a sweatshirt with a cross-strap, etc. You can also buy additional hair, eyes, spectacles, and other accessories.
The focus of this game is taking care of your Moy. Brush his teeth, give Moy a shower when he's dirty, tell him when it's time to go to bed, feed him a nutritious diet, take him on a walk, and play games with him. Your Moy will grow and be happy the more you take care of him.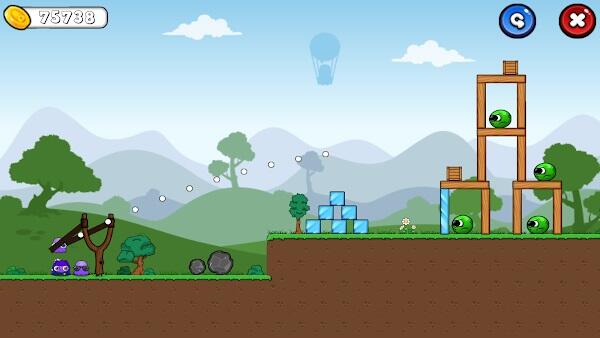 You can buy new clothes, body colors, haircuts, or even wigs for your Moy with the coins you earn from playing any of the several mini-games. Additionally, you can use coins to decorate your home, buy fish for your aquarium, add new animals to your zoo, and buy ingredients for your own dessert baking.
Conclusion
Moy 7 is a fun virtual pet game. It provides you with amusing moments and a general overview of pet care. You'll have to devote time to caring for pets and doing other things.
A fantastic game that lets you care for a virtual pet. Download the unlimited coins to instantly purchase everything your pet requires.


Join Telegram Group
Download Moy 7 APK, the latest version of the virtual pet game series. Get ready to see the octopus Moy once more. Take care of Moy, your own virtual pet.