Download Little Big Snake APK latest version free for android and explore a world of snakes controlled by you for survival in the arena.
Little Big Snake
Little Big Snake is a massive multiplayer io game created by LittleBigSnake, Inc in 2019. The game was first launched for only android devices and desktops. Now, it is available for iOS too. The game is constantly updated from time to time. For every Little Big Snake new update, new features are added to make the game more fun and exciting. This game is competitive and requires patience to win over other competitors.
Little Big Snake app description
Little Big Snake is a mobile arcade game created to provide fun for every demographic. It doesn't matter your age; the game is enjoyable and engaging for all ages. Every player is given a snake immediately after download and installation.
Each player must guide their snake on a gigantic map with different arenas to become the biggest snake among over 200 players. As your snake moves in each arena, it absorbs energy and tries to obstruct the path of every other player. If you want your snake to grow faster, guide it to other snakes in the arena and ingest their mass.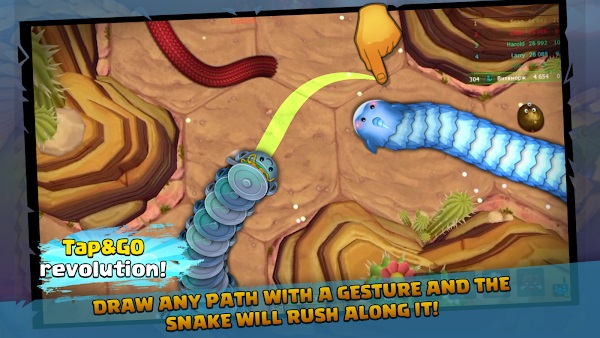 The game is filled with endless quests, a level progression system, and a temple where you can buy permanent improvements with gold. Different skins as cosmetics and different chests to unlock and gain rewards.
Apart from the standard version of the game, there is a premium version called the Little Big Snake VIP. The Little Big Snake VIP version is a game changer as it is ads-free, extra lives in every game, double treasure chests, live chats with friends, extra keys to open chests, and access to brand new skins for snakes. The Little Big Snake free VIP costs $2, while the other version costs $1 per month and $10 for a year.
Features of Little Big Snake
Little Big Snake has several exciting features to ensure you enjoy the game.
Gameplay
Little Big Snake is a very easy and enjoyable game to play. It was created to be played by all ages. As mentioned before, in this multiplayer game, everyone is a snake. You can move your snake using the mouse if you are using the desktop version or your touchscreen if you are using the iOS or Android version. The snake is in your control, and losing control means losing the game to your opponents.
The snake is always on the move with no button to pause or halt, but an autopilot mode allows your snake to move on its own, which will be discussed later in this review. Usually, your snake crawls but to increase the pace and catch up with others, click space.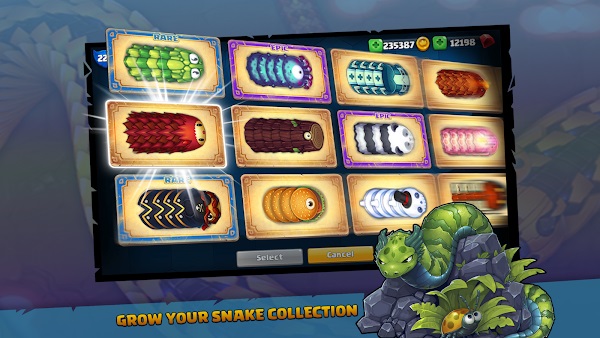 The snake's energy bar decreases rapidly as you accelerate and pass obstacles—a reduction in the snake's energy results in the loss of mass. Direct the snake to eat food along the way to regain energy and mass. Energy levels can be upgraded on Evolution.
You need to use the joystick given to turn on the Little Big Snake mobile. Increase speed by pressing down on the screen, as every other player will also be moving. Apply caution as you move your snake around its surroundings to prevent death.
If an enormous snake tries to swallow your snake, increase speed and try to chase its tail. This tactic is a ploy, but it might be enough to fool the other player and escape. Run parallel with the other snake in running and make sure they hit an obstruction or another snake. If your snake is bound to turn, circle it around a rock, reach the lair rock, and exit the game unharmed and victorious.
Autopilot mode
Autopilot is an essential feature in the game because you can trick other players with it. If you are using a desktop to play, you can activate the autopilot mode by clicking the autopilot icon in the lower right-hand corner of your screen. If you are using a mobile device, taking your operating fingers off the screen for three will activate the feature. After activating the feature, Little Big Snake AI will take over, and your snake will avoid barriers and other giant snakes on its own.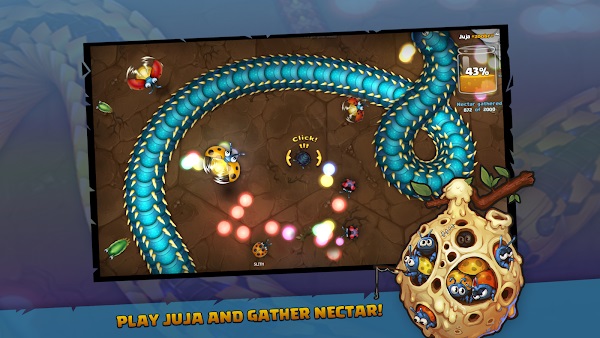 Power-ups
Power-ups are essential features in every game. Power-ups improve your snake's capabilities and boost its power in the game arena. There are several power-ups in Little Big Snake, and each of them has different functionalities it confers on your player. The power-ups offered include Devourer (uses food to grow the snake), Lightning (no energy reduction while running, snakes move a bit faster), Entomologist (Jujas won't run away when snakes approach them), Magnetism (allows snakes to get food in a larger volume), and Watcher (enhances view radius).
Power-ups are encased in green transparent bubbles, and you need to run into them to gain the power.
Skins
Skins are for aesthetic purposes and to add a little colour to the arena. Skins can be traded through XP or bought with rubies. Little Big Snake's legendary skins are one of the three top-rated skins. The other two are Epic and Rare skins. It costs $50 to buy a skin package on the app. However, if yiu do not want to buy skin with real money, you will need rubies. The prices of each top-rated in rubies are quite expensive, and you will have to pay a lot to get enough rubies. Legendary skins cost 9999 rubies, Epic skins cost 400 rubies, and rare skins cost over 500 rubies. Instead of waiting to get 10,000 rubies, you can settle for other skin types.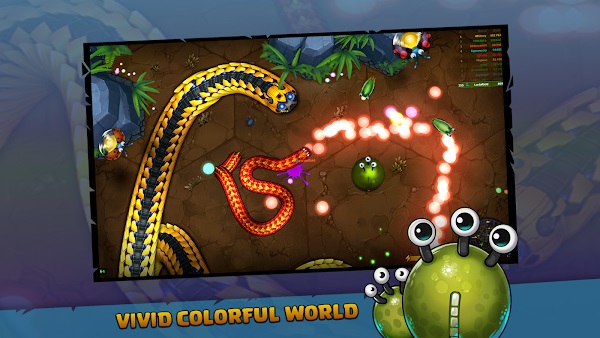 Conclusion
Little Big Snake allows everyone to have fun on their mobile devices easily. Download the game, customize its skin to suit your taste, and triumphantly slither through the arena to the finish line. Little Big Snake is a game of patience, and as long as you have it up your sleeves and other tricks, you will emerge the winner.
Get this game now and gain access to unlimited fun.