Download Inshare APK for a valuable and efficient platform to send and receive files from people. Manage all your files, folders, and storage with the Inshare app.
About Share
Share is a sharing and receiving platform for various types of files on Android. The app is handy for managing all your files and keeping them organized. It is ideal for sending and receiving large files to and from friends and families. The app is equipped with the latest and most functional technology that allows you to send any file with blazing speed. It helps reduce the typical transfer time you'd spend transferring files between two devices.
To send files, you'll be able to use the send button pretty quickly. From there, loads of features will aid you in easily sharing your files with just a few taps. For example, the app loads all your music, documents, photos, and videos, so you can quickly select anyone you want to share and press the send button. The app's advantage is that there is no limit to your transfer so that you can share as many files as possible in the minimum time.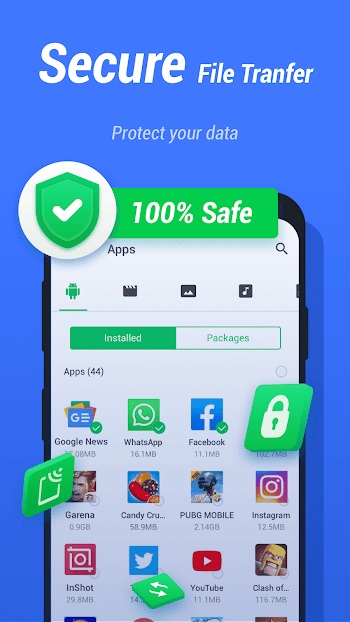 The app also has a great layout, which allows you to quickly surf your files to find anyone you're looking for. It also helps you categorize your files into different types, so you can find whatever you need quickly.
Receiving on the app is also quite simple. You'll easily tap the receive button and wait for the person Sending to connect and send the files. Once the notification arrives, you'll press the accept button, and your files will already start getting transferred in a matter of seconds. Thanks to the app's features, you will spend minimum time on connection and transfer/receive.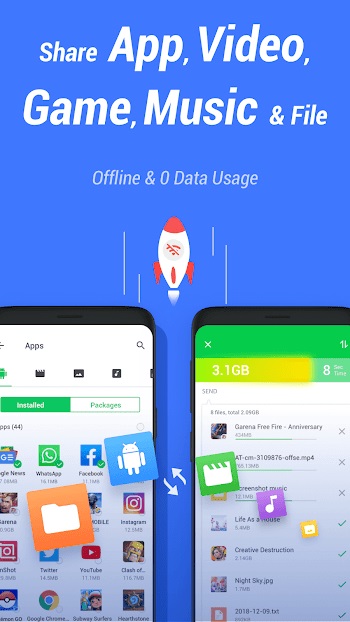 The app was developed by Inshot Inc, a publisher known for developing similar apps. It's available in over 47 languages, and the content is available for all ages. Share is also free for all file transfers. The app is currently downloaded by over 50 million users on Playstore, with an impressive rating of 4.8, which is one of the highest ratings for apps in this category.
Why Use Inshare?
There are many reasons millions of users enjoy and trust Inshare ad their go-to file transfer app, check out some of them below:
Easily share all your files between various Android devices with a simple interface.
Enjoy faster sharing and receiving speed when you install Inshare. Share massive files at up to 40mb/s.
Reconnect and continue the file sharing process if there is a disruption in the connection.
The app supports all types of files on your device.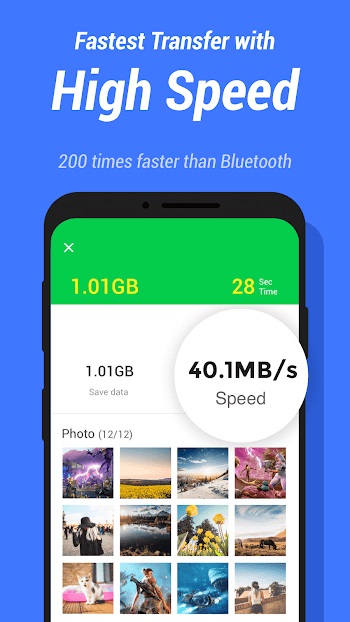 Send multiple files and folders at once with Inshare.
Share your files and folders offline without mobile data or network connection.
Inshare supports over 47 languages worldwide so that you can choose your preferred language.
Use the powerful file manager to keep all your files and device storage organized.
App Features
Inshore has some excellent features that set it apart from other file transfer apps out there; check some of its features below:
Simple UI
The app does an excellent job of keeping it simple for all users. You won't find it challenging to manage and share your files on the app, whether a kid or an adult. The send and receive buttons are available on the Home screen, and you don't have to go through a rigorous process to connect with anyone you're sharing or receiving from.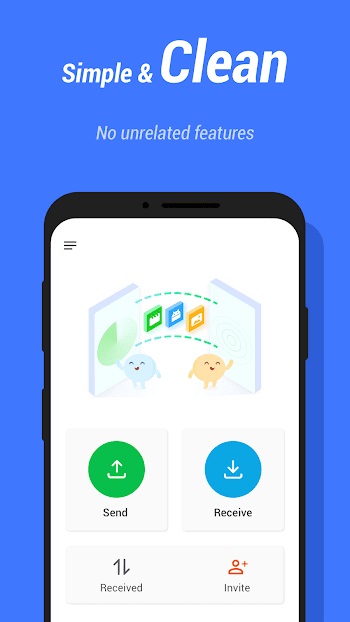 Once you click the share button, you'll see a list of other available users nearby, and you'll be able to choose which you want to transfer to. The transfer process begins once they accept your connection. The interface also has lovely layouts to navigate your files, apps, and installations easily.
Smart Transfer
An intelligent technology behind the transfer on Inshare allows the platform to safely and securely share your files between two devices. The intelligent transfer technology is also why it's so fast to transfer files on the app and why you spend a split second connecting with other Inshare users.
Fast Transfer Speed
The app offers a tremendously faster transfer speed that allows you to send various files in seconds and minutes. So regardless of what type of file or how heavy it might be, Inshare has a fast transfer process that lets you complete your request in less than a minute. For example, the transfer speed on Inshare is an average of 10mb/s but can go as high as 40mb/s if you have a solid connection between the devices. This speed means you'll be able to send files of 1Gb and more in less than a minute.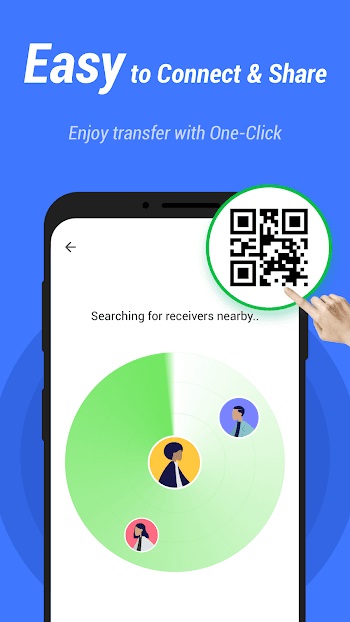 Powerful File Manager
As an additional service, the app also allows you to keep track of all your files with its beautiful interface. So, you'll be able to manage your device storage on Inshare. You can save, edit files and folders, and delete them from the app as long as you permit them. The file manager is also quite robust, recognizing and labeling any file saved on your storage. You can also use the file categories to quickly sort through different file formats and keep an organized area for your important files.
Cross-Platform Transfers
Thanks to the cross-platform feature, you'll be able to share your files across multiple platforms on Inshare. This means you aren't limited to Android-Android connections but can extend to Android-IOS Jip Phone, Windows, or Mac transfers. Considering how much users often demand this type of transfer, it makes Inshare quite useful.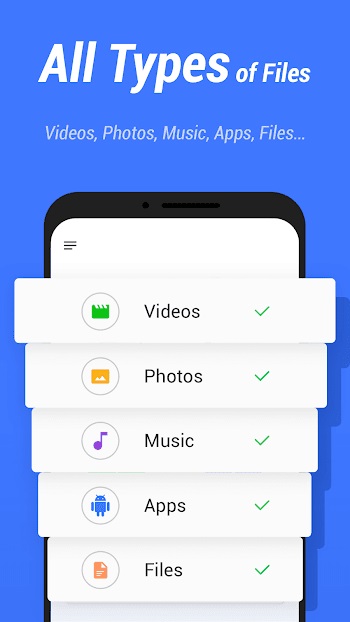 Multiple File Sharing
You'll be able to share various files when you connect with another device. For example, rather than share files singly, you can mark many files and share all of them at once. You'll also be able to share your folders directly with Inshare File Transfer app rather than share the folder's content.
Conclusion
This is a great tool that solves all your file transfer problems. The app helps manage all your file transfer needs and keep all your device files in one place. In addition, share provides a robust platform that allows you to share your files across various devices.