Download Hard Time APK for some tough prison simulation gaming time as you spend a sentence with about a hundred hardest criminals in the special facility.
What Hard Time Is About
Hard Time is a prison game produced by an independent game developer named Mat Dickie. Mat Dickie's games enable players to interact with them and feature odd genres. In this game, you are allowed to experience prison life and the violent challenges it comes with.
Before you go further, you should know that Hard Time is not the type of game you begin and end in fifty minutes. So don't get too excited at the beginning. The good parts will come in the middle of the game after you build strong relationships with the other inmates and make a name for yourself.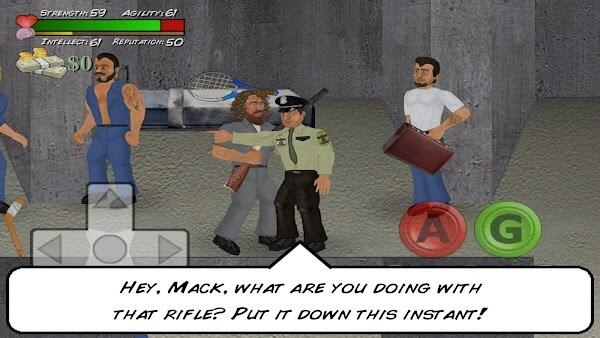 In a Hard Time, you create and customize your unique inmate and attempt to survive in a prison facility for 50 to 99 days. Each day, your mental and physical health deteriorates, and you don't even get to sleep for too long. You'll have to balance by finding activities that help you restore your health and keep you sane.
Features To Note In a Hard Time
This section focuses on the features and crime-related things Hard Time combines to give you a detailed prison simulation game.
Jail Time: To be in prison, you need a reason, some form of crime. In this game, some crimes that can result in prison time include assault, theft, possession, rape, terrorism and dealing. Engaging in these crimes in prison will result in a longer sentence. For example, if you assault your other inmates, wardens or civilians results in a court case. Stealing from wardens or inmates results in an arrest and, subsequently, a court case. If your character performs a special move, rides a vehicle upon or urinates an inmate, warden or civilian, it's considered rape. Terrorism comes about when you get caught setting bombs or murdering a specific person with a bomb. It's very hard to win a terrorism court case. Dealing occurs when someone buys an illegal item from you or you get caught delivering items to people. The judge's verdict usually depends on the dangerous item in question.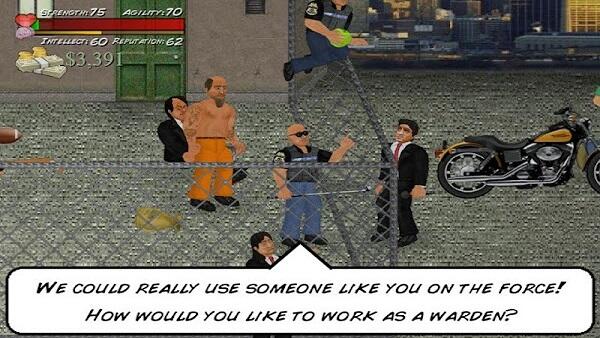 Income Sources: You can earn money by working for it or participating in illegal activities. You can work for it by sweeping or trading for profit. It is important to figure out a way to earn money because you'll need it to bribe some people and make your life easier.
Gangs: Speaking of gangs, you should note that if you're caught discussing joining a gang, it is considered a conspiracy, and you have another court case. You get invited to gangs if you have a high reputation or a strong relationship with any of the high-ranking gang members. The gang also considers how much money you have and the levels of your other attributes. The gangs in a Hard Time include Gang Bang and Roadkill. Suns of God and The Dark Side. Gang Bang consists of a group of homosexual inmates. Greetings are done in the form of kisses, and they're mostly neutral in prison issues. Inmates in this gang usually have their hands on their hips and wear shorts. Roadkill, on the other hand, is a group of the most physically fit inmates. They only allow heterosexual people with an agility level of 75% or higher to join the gang. All members wear black sleeves and tattooed skin. Suns of God is a violent group of white supremacist inmates. They forbid minority groups and homosexual inmates from joining them. They are rivals with The Dark Side, a gang of mostly black inmates. Although they let white people, the main aim is to unite members of the black community.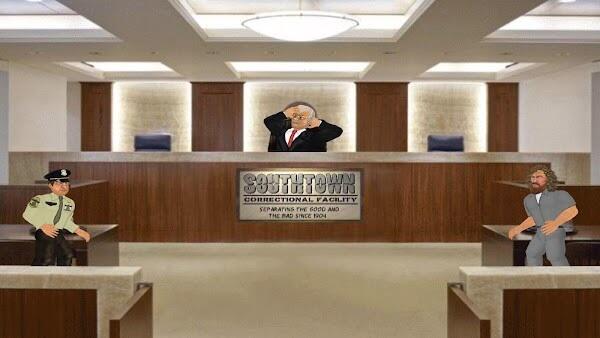 Game Stats: There are two major stats: health and mind. They are represented by green and yellow bars, respectively. The health bar can be replenished by eating, sleeping, purchasing painkillers, or using a syringe or a first-aid kit. It reduces gradually as you play but is almost diminished when you get injured. An empty health bar has your inmate character groaning on the floor, about to die. The mind bar can be restored by eating, resting or using a syringe. It decreases gradually, too but fighting or killing people greatly affects it. An inmate with a completely depleted bar will see breakdowns and sobbing on the floor.
Hard Time is such a detailed game that it is no surprise that the features also have great detail. Players must take note of all the information the game provides to play properly.
Character Attributes
Hard Time has four character attributes.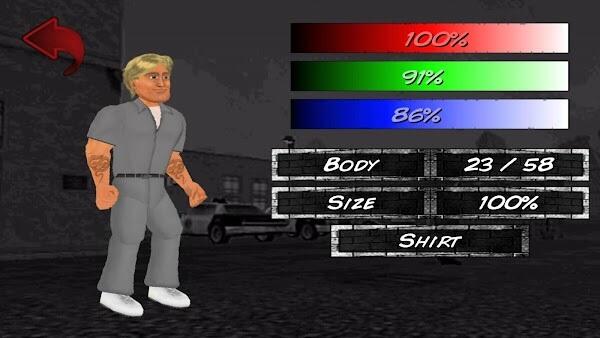 Reputations: When your reputation is high, people hesitate to mess with you. You can increase your reputation by winning fights, beating people up, not listening to wardens, joining gangs, lending people money, buying steroids and selling items. There are other ways to build your reputation, and each act has a specific number of points it adds to your attribute. For example, sharing money with an entire block adds ten points.
Intellect: You can increase this by reading books, using a tablet, playing the guitar and getting tips from wardens and inmates. It decreases when you repeatedly beat up people or watch TV.
Strength: This determines how much pain you can give and take. It increases when you get into fights, eat meat, and work out. It will decrease if you smoke cigarettes.
Agility: This attribute determines how fast you move. It improves when you jog or score baskets in basketball.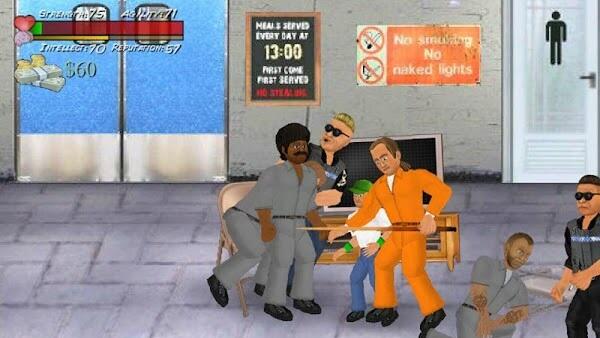 Your character's attributes factor in almost every decision made in the game. They will affect the judge's verdicts and determine how other inmates react.
Conclusion
Another thing you need to know is that you can escape prison. The ways might not always work out, but they're worth a try or several tries. With the aid of shovels, you can dig a hole that has a chance of getting you out of prison. You can also climb the fence that separates the prison from the public.
Climbing is difficult because of strength levels and the guards. Jumping the fence is easy but rare. You might die if you cannot execute the special moves required. Hard Time is a fun game with easy controls and a gradually unveiled story. If you have the patience and time, you'll enjoy it.