Download Final Fantasy IX APK and go on a breath-taking adventure in a virtual world. Get the best weapons and do your best to survive in this role-playing game.
Brief Description of Final Fantasy IX
Final Fantasy IX is one of the most popular games that enthusiasts enjoy playing. Although you might recognize it from your console, the developers met the needs of players by making an Android version for you to enjoy at no cost. Now, you can go on the adventures of Zidane and his crew anytime.
Final Fantasy IX is offered by Square Enix Co. Ltd and was first released on mobile on the 9th of February, 2016. It is also rated for teenagers with the content of mild language and violence. It is an RPG game that retains the quality from the consoles to your mobile device.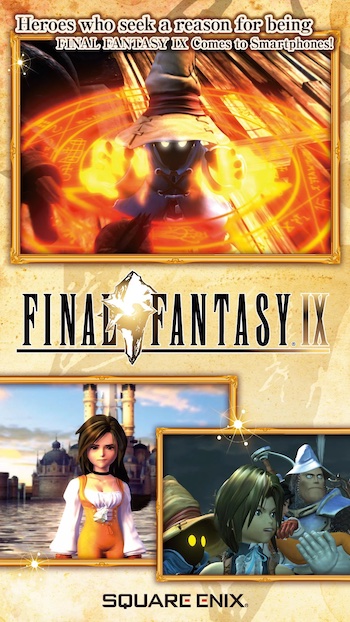 You'll be excited about this fun game if you're a fan of Final Fantasy. Go on exciting missions and follow the storyline. Also, you can get access to mini-games and amazing weapons to fight against your enemies. Dive into this fantasy game and do your best to win and survive.
Gameplay and Exciting Plot
Final Fantasy IX is based on an exciting story that you will enjoy. The game follows the storyline on every level and will keep you engaged in every step. It is based on the story of Zidane and the Tantalus Theatre Troupe. You will play Zidane, who must lead his crew to rescue the heir of Alexandria, Princess Garnet after she gets kidnapped.
But when they get to her, they find out that she has been trying to escape herself. So, the princess and Steiner, her guard, will join Zidane and his crew on an amazing journey to return to her kingdom. You can meet unforgettable characters along the way, like Quina and Vivi.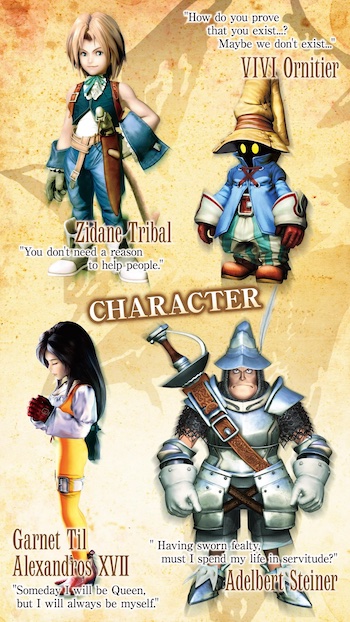 You can learn more about Zidane as you play and discover the crystal's secrets. There is also an evil force that tries to destroy their world, and you must learn about it to defeat it.
Final Fantasy IX has many features in the gameplay that will keep you engaged. One of these is the abilities that you can learn. You can equip yourself with different items and learn new tricks to win. When you fully master these abilities, you can use them when playing, sometimes even without providing the items again. This gives you endless customization opportunities as Zidane.
There is also the Trance feature in the gameplay. You can fill up our Trance gauge as you sustain hits in battle. The Trance gauge will become very well charged as you play, and your character will enter the Trance mode when it becomes full. This will reward you with powerful skills that you can use in battle. Do your best to sustain hits, which can help you win against your enemies.
In the Synthesis feature, you can create stronger items. There are different items that you have when playing. You can combine two items to make stronger equipment and use it to defeat other enemies. This gives you more powerful weapons as you play.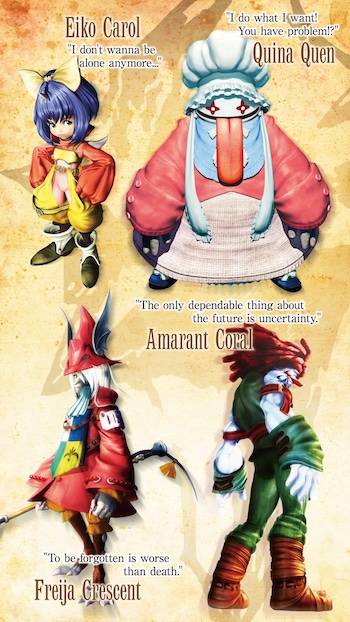 There are other features that you can enjoy in the gameplay. You can gain achievements when you play and increase the rankings among players. There are also different game boosters, including high speed and no encounter modes, to enhance gameplay and increase your winning odds. Final Fantasy IX also has high-definition graphics, with character models and movies that will pull you into the gameplay. You can also autosave your game and continue from where you stopped in the last stage.
Play Mini-games and Level Up Weapons
There are different mini-games that you can participate in while you play. Although the main storyline is exciting and keeps you hooked, the Final Fantasy IX also gives you extra games you can join in without playing the story mode. The mini-games can help you relax after intense adventures with your teammates.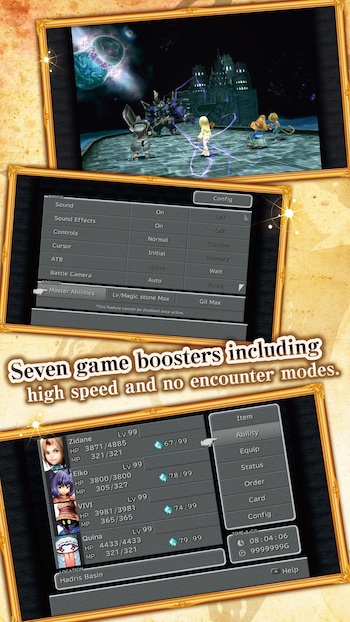 Some of the mini-games include Chocobos, a mini-game that allows you to find treasures. You can control the different characters to discover the treasure. Other mini-games include card games, frog catches, blackjack, jump rope, tetra master, and more. You can play the Final Fantasy IX game when you're not out there saving the world.
There are also special item rewards that you can win in the mini-games, and use those when playing the main game.
Join the Fun Adventure
One of the highlights of the Final Fantasy IX game is the RPG gameplay. It's one of the top RPG games players like and has turn-based play. Every character has a turn, and you can choose to use your skills, attack normally, or use one of their items.
The game has an appealing storyline and course, which is well depicted in the gameplay design. As a role-playing game, you can see the game in your view and enjoy the storyline.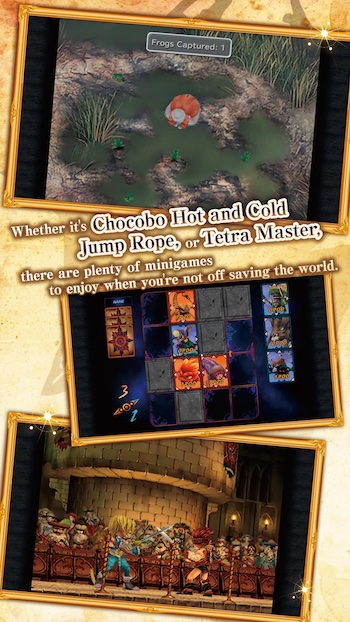 The Final Fantasy IX game also has quality graphics that enhance the fun adventure. It takes you to medieval times and has graphics that will remind you of an old-school arcade game. You can see the attention to detail in the graphics, like the castles, swirly staircases, or outdoor areas during the day or nighttime.
You can also enjoy the Final Fantasy IX storyline as you play. The game's storyline is well-paced with graphics and movement, so you can decide to move past each story or go through it to understand how the gameplay works properly. The storyline will make the gameplay even more enjoyable.
Conclusion
Final Fantasy IX is a fun RPG game for Android devices. You can enjoy playing this game in your free time, with its gripping gameplay and attractive graphics that keep you hooked. You can use the different items and weapons to increase your chances of winning and participate in the mini-games whenever you don't feel like going through the story mode. Join the adventure of Zidane and the Tantalus Theatre Troupe in this exciting game.


Join Telegram Group
Download Final Fantasy IX APK and go on a breath-taking adventure in a virtual world. Get the best weapons and do your best to survive in this role-playing game.