Download Evil Nun 2 APK to enjoy a full combination of horror and adventure in one game. It is one of the best horror games you will ever play as it promises to bring a new level of Horror.
All You Need To Know About Evil Nun 2
The Evil Nun 2 is the addition to the developer series of the Evil Nun. Its captivating trailer was released on October 30, 2020, leading to its release a few months later, exactly December 4, 2020. It was launched by Keplerians horror games, who are quite reputable for their top-notch horror games in the gaming industry. Keplerian horror games assure that Evil Nun 2 will be the best scary escape game they have ever made!
The Evil Nun 2 is not just a horror game to be played for fun. The Evil Nun 2 is filled with an inspiring story that keeps you engaged while you play. Its story centers around the Evil Nun, Sister Madeline, the game's antagonist. The game explains how she turns into her other self. It was evidence of the prophecy that Nàzrat said in the Evil Nun's prequel, that she will turn ugly if she becomes a bad mother. Nàzrat is the Lord of Sister Madeline. The Evil Nun 2 is connected to the first part in this aspect and shows that Sister Madeline became a bad mother and turned ugly as prophesied.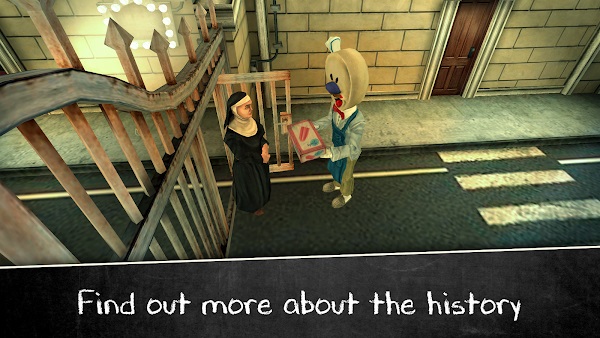 As a player, you get to explore this scary world in a constant chase from Sister Madeline, the Evil Nun. As the game portrays Sister Madeline as a bad mother to a little boy, you live through and play the game as the little boy. He is characterized as a soon-to-be blue-handed boy named William Bismarck. Through William, you will discover all the nun's pasta and escape other enemies along with the nun. The other enemies are mutant chickens, namely Gummy, Roostel, and Mr. C, who are vicious and pose a danger to the little boy.
You must be careful enough to sneak around Eagle's Junior High School, find an exit out of the premises, and find a way to hinder your captors. This is to ensure they do not carry out their plan and do not also disrupt your escape plan. You are given two options to deal with the mutant chickens - Gummy, Roostel, and Mr. C- and their master. However, you are provided with three tries to escape Sister Madeline before she carries out her plan. She plans to carry out a ritual that will ultimately kill you. As you explore the school, the reason for the ritual will be revealed as you progress in the game. However, to avoid being a victim of this relentless ritual, you need to move stealthily and escape the grip of the Evil Nun and her monstrous chickens.
Key Features of The Evil Nun 2
Fantastic storyline
The Evil Nun 2 is different from the original in terms of the storyline. You can play Evil Nun 3 without the original because the first game didn't have a back story. Apart from escaping Sister Madeline and her mutant chickens, you get to learn more about the nun's history. Everyone has a backstory or a history, and the Evil Nun 2 carefully crafts that of the nun so you can fully enjoy the game and understand its concept. It is a well-thought and crafted game.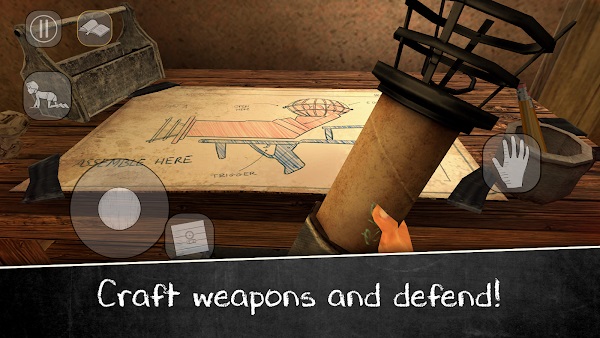 Solve Ingenious Puzzles
In the quest to escape the danger of this evil Nun, you solve puzzles to aid your escape. These puzzles come in different forms to keep you glued and engaged, but they are also easy, so you do not get caught easily by the bun and her puns.
Traps!
It is no fun if they are no traps in a haunted house. However, this game is not staged in a haunted house, a school. Instead, trap traps are set as you run from the nun to spice up the game. The traps are placed to slow you down and hinder you from fully escaping the school premises. You must locate these traps and evade them as well.
Craft Weapons and Defend
Apart from the thrill of a horror game, running, hiding, escaping, evading traps, and all the fun that comes with playing a horror game, you also get to be creative. You can craft Weapons of different types to defend yourself from the evil Nun and her chickens. Of course, there is no limit to how creative you can be; however, you will be provided with base materials so you can assemble them into potential creative weapons.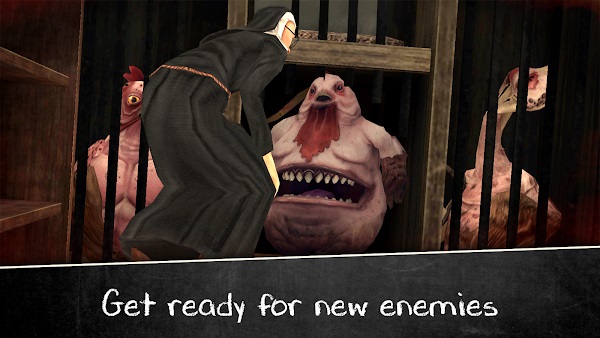 Graphics
The graphics of the game fits its theme perfectly. The chilling atmosphere, accompanied by your character's heavy breathing, depicts the game's theme. The characters are displayed clearly and in detail to provide a thrilling gaming experience. Moreover, the controls are clearly defined and easy to handle.
How to Complete The Game?
- Make sure you move stealthily so as not to make any noise. Sister Madeline and her mutants are around the corner
- Explore all the secret rooms in the school. There are more and bigger rooms than you can imagine
- Do not forget to hide. This will guarantee your survival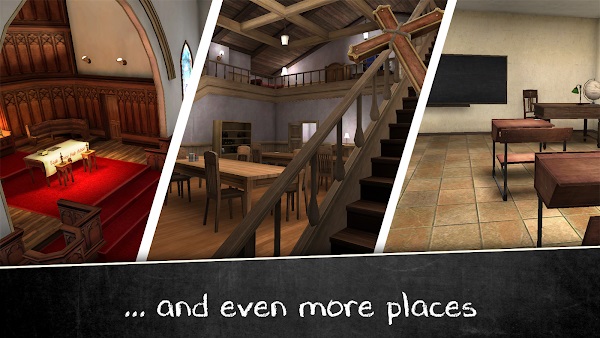 - Craft the most innovative weapons to defend yourself from the terrors of the evil Nun
- Run whenever you see monsters or the nun. Escaping is a crucial factor in completing the game. Monsters are haunting you.
- Solve all the puzzles as quickly as possible
Conclusion
The Evil Nun 2 is one of the scariest horror games that give players an unforgettable user experience. It is made for free lovers of horror games to play and share their experiences with everyone. It's more fun than the original, with a defined and engaging storyline, more enemies, more places, and secret rooms. It is a game you shouldn't miss out on!


Join Telegram Group
Download Evil Nun 2 APK to enjoy a full combination of horror and adventure in one game. It is one of the best horror games you will ever play as it promises to bring a new level of Horror.