Download Dirty Revolver APK to step into the world of Western cowboys' gunfights and battles. Here, you'll sharpen your skills and go against worthy opponents.
About Dirty Revolver
Dirty Revolver is a shooting game with outcomes based on the player's skill. It features intense gun battles between cowboys. It also has a roleplaying element which lets you play the role of the main character who fights to be the Victor in all the clashes with the opponents.
Dirty Revolver is an action game that is played in the third person. It is based on a cowboy's journey in the Wild West. The cowboy gets victimized and seeks revenge on the people responsible. This game is a product of Dreambox Visual Communications. It was released for Android devices in August 2020 and has received over a hundred thousand downloads since then.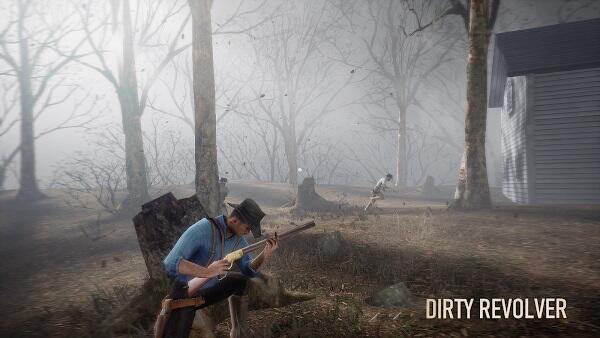 Your chances of winning are based on the guns you use, timing, and strategies. Your skill is the ultimate deciding factor in this game, so get ready to work on it! Dirty Revolver is a free game. Download the 192MB file and play at absolutely zero costs. The game is medium size, free and has great content. You'll come to see you have no reason not to download it.
Dirty Revolver Game Plot
Dirty Revolver is set in Wild West America in the 1800s when cowboys mostly populated the lands. You play the role of a character with a traumatizing childhood where his mum and brother got murdered in his presence. He grows into a gunfighter who needs to avenge his family and kill the culprits.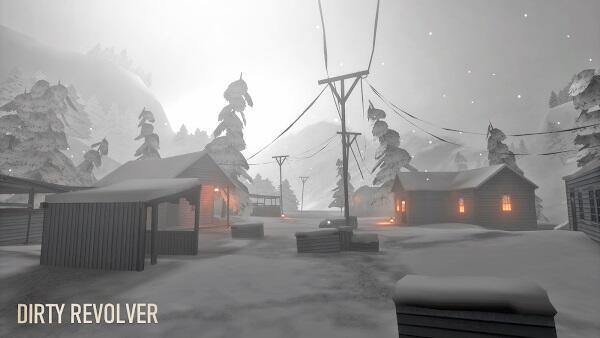 Wesley and his men are famous for the troubles they cause, including killing the main character's family and destroying an entire village. The main character survived because he had hidden as a child in a safe place thanks to his father. He was also trained to fight well. He grows into a man and begins to seek revenge after his father dies.
Gameplay
The gameplay is mainly shooting-oriented. You and the enemy stand at opposite sides, with barriers in front of each person to avoid bullets. Your character is programmed to find hiding places when there is no ongoing action in the game. To make your character attack the enemy, use the attack command.
Ensure you choose your timing and attack forms wisely. Defence is also an important part of this game. Like you, your opponent is good at hiding too. Dash the idea of killing your enemies with just one good shot. It won't work here. You and the enemy have health levels that must be completely depleted for the character to die.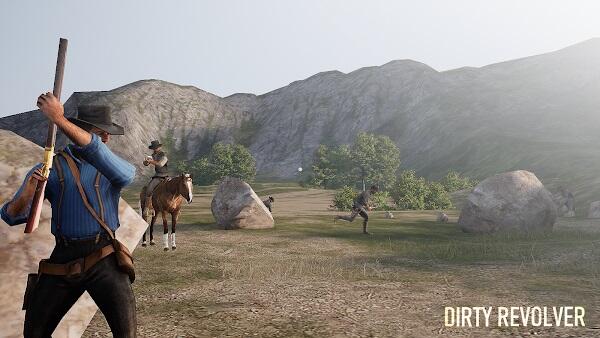 You'll need to shoot at the enemy multiple times to cause death. For example, shooting the head causes double the damage that shooting other body parts does. Dirty Revolver adds an extra fun feature to the gunfights. Some of your fights will have the opponents on horseback, so you'll have to show your shooting and horseriding skills.
You'll engage in battles that combine gunfights and horses as you go against your enemies on horseback. Note that you cannot shoot at the horses. Only shoot at the people. As you play, you have the added responsibility of finding the culprits among the gunmen in your battle. The Wild West is full of gunmen, and Wesley's gang is just one of the many you'll face.
Main Features Of Dirty Revolver
Dirty Revolver has features that have been designed and developed to ensure you have a good time in this shooting game. They include: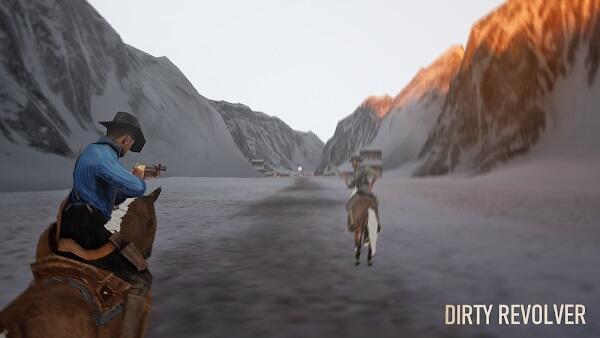 3D Graphics: Dirty Graphics features 3D visuals with realistic scenes. Weather conditions like rain, snow and storm have been added to make the fight settings seem real. The clouds are bright, and the animations are really good to look at.
Intense Gunfights: Dorty Revolver is not a game where you must collect weapons from different parts of the fight scene. The weapons are provided before you start the fight. All you have to do is fight your enemies as they appear on the scene. The fights are so intense that there's a solid wall provided to shield you from the influx of bullets.
Different Lands: The four land locations in this game are: Springday, Dirtycity, Coldwater and Darkwater. Each land has a different terrain type and specific missions that happen in it. The missions include Opportunity, Escape, First Raid etc. You will play these gunfights to find your true enemy and be his nemesis.
Weapon Upgrades: Upgrading your weapons increases the damage they cause. Every challenge you complete results in special rewards, including money. You can use the money earned to upgrade your weapons. This increases their firepower and helps you fare better in future battles. You can also use your money to unlock new guns. Make sure you check the specifications of the weapons before you purchase them.
Combat Controls: Since it's essentially a shooting game, the controls are easy to navigate. You make use of buttons to command your character to attack the enemy. The buttons are useful for horseback fights too.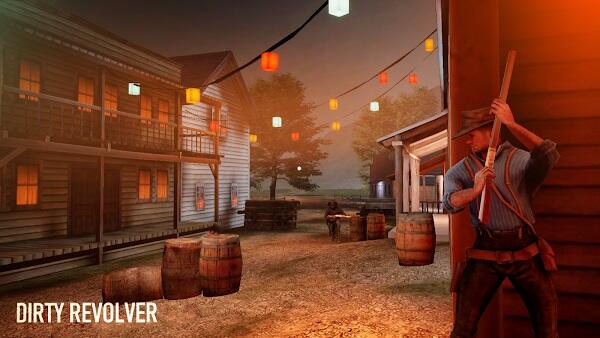 The gameplay does not take too long despite having different missions and locations to play. This game features different geographical locations too. You have the desert, hilly areas and green plateaus.
You get to customize your character's outfit. It doesn't add to your game success but is a fun feature. Changing your character's appearance adds some variety to the game.
Conclusion
Dirty Revolver puts the "dirt" in shooting gameplay. It takes you to the dusty roads of the Wild West and lets you gain experience by fighting several enemies. This ensures you are good enough to beat the gang leader that killed your family. When you eventually meet Wesley, his head is bound to roll. The horseback and foot fights are a welcome plus.
Another perk of playing Dirty Revolver is that it does not require an internet connection. You don't need to be online to play. It's almost unbelievable you don't need the Internet to access all the good game content here, but it's true. Just download the app, open it, customize your character, get a good weapon and begin to enjoy the game. It's that easy!