Download Crash of Cars APK, A unique style real-time multiplayer car battle game. Connect with friends from all over, and do your best not to get destroyed.
About Crash of Cars
In this car battling frenzy, the goal of each match is to collect as many crowns as possible. It's a destroy or be destroyed challenge as the more crowns you accumulate, the bigger your bounty becomes, and you become a driving target. Skill alone is not enough; there need to be proper strategies in place for each event in the battle if you want to be the last survivor.
Crash of Cars is proudly developed and was published by the Sydney-based company, Not Doppler, the well-known creators of the Earn to Die series. On the 23rd of March 2017, the game was announced to be accessible on App Store and Google Play services.
The game contains optional in-app purchases and can be found in 13 languages, including English, French, Spanish, Portuguese, and Russian.
Superb Gameplay
Crash of Cars operates like most IO games, having the same gameplay, competing against other players, and being the last survivor. In addition, there are many interesting places to visit with beautiful scenery and vibrant colors. Currently, the game has 4 different maps. You can choose your favorite map as you begin your game.
Power-ups are great ways to destroy other players and take their crowns. These crowns are collected and displayed to other players at the top of your username.
Crowns are collected in two ways for the game, you either
grab them up off destroyed cars, or

pick them up at random points along the map.
This is a unique game as it has only one game mode. You get started by clicking the green play button, where you immediately get involved in the game with other players. No waiting time or lobby like most multiplayer games, as this game has no beginning or end.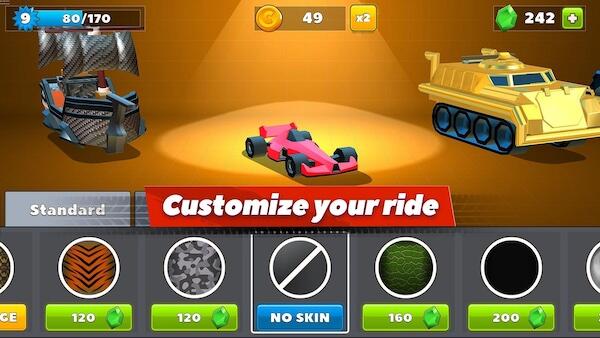 This game is endless; if your vehicle gets destroyed, you get awarded coins regarding the number of crowns you acquired during the game. The idea of an ultimate or final winner is fruitless as new players constantly join the game and keep it going.
As you play, you notice gray icons on your vehicle, which indicate your current missions, which pop up when they are close to completion. You also receive random items when you drive into blue floating "question mark" icons. The controls are easy to navigate and are done so using the onscreen navigators.
Premium Graphics and Car Customization
Crash of Cars has 3D graphics with good image quality, enough to be addictive and excite players.
Crash of Cars boasts a massive vehicular system, with over 60 distinct vehicles, including cars, ambulances, monster trucks, and more, which is divided into different categories: Epic, Popular, Rare and Legendary. Your vehicle can also be used as a weapon as some vehicles have a special ability. Hence, your car choice is always of utmost importance. The abilities a vehicle possesses can be accessed in the vehicle select menu.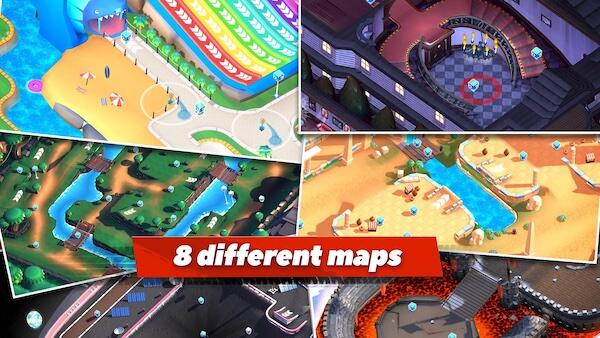 Common cars on the menu include;
Random,

Festive Sleigh,

Chuck,

Bug,

Family Van,

Police Car,

Camper etc., to name a few.
Legendary and Epic vehicles come with unique abilities, to name a few; we have the:
Fire Truck: which "will extinguish Flamethrowers."

Limo: "equipped with dual Side Cannons."

Ambulance: "drops Health every 30 seconds."

Speed: "the fastest of the bunch."
Cars can't be purchased outrightly; the only way to access a car is by playing the prize machines with coins or gems.
Like most vehicular games, you get to upgrade your vehicle, and you can upgrade your vehicle using coins. You can get these coins from converting your crowns after a match. There are many benefits from upgrading, such as increased power-up period and stronger weapons; you also get access to colours and skins for your vehicle.
Items and Power-ups
As previously stated, the blue boxes that have question marks on them are called Items. They power up your vehicle and give you a necessary advantage in each battle. Items available in this battle frenzy include: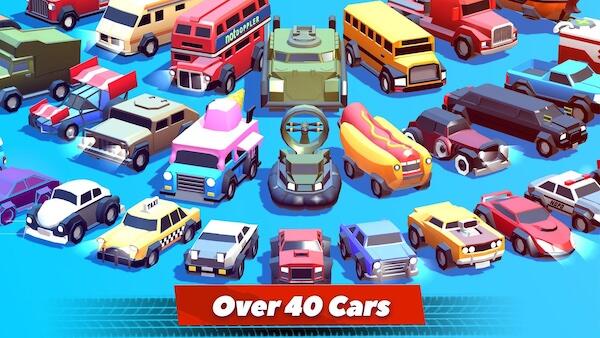 Boost: useful for getting away from other players quickly.

Cannons: Front, Side, and Rear: dispatches multiple enemies simultaneously.

Freeze Cannon: Freezes other players and running into the frozen players shatters them.

Flamethrowers: shoots out an arc of flames in front of you.

Health

Homing Missile

Land Mines

Oil: drips two large puddles of oil behind you.

Rail Guns: Anyone caught in its line is almost always instantly destroyed.

Shield

Spikes

Spread Cannon: a clearing tool when entering a potentially dangerous area.

Teleport: As the name implies, this moves you from where you are to somewhere else. This is done with a white portal which appears in front of your vehicle

Trebuchet: This drops a bomb on any marked area, which explodes seconds after being planted. The marked area is red, identified as a catapult attached to the top of your vehicle.
Key Features
- This game has four maps, including the boardwalk and Amusement park
- over 30 unlockable vehicles and skins.
- over 15 power-ups that are upgradeable, including a cannon, flamethrower, homing missiles, spread cannon, and more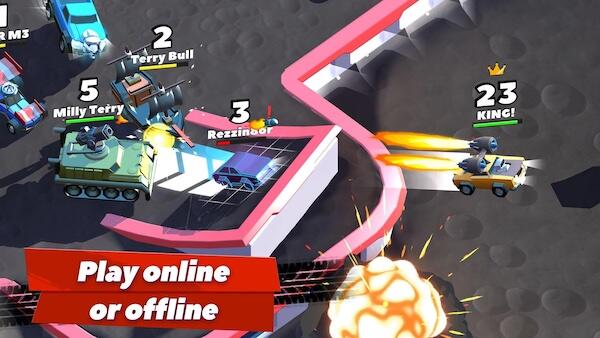 - You get to play with friends and other games with the classic .io playing style, no waiting time, join and destroy.
- Hourly updated Leaderboards.
- You can play offline with the single-player mode.
- Complete daily missions and get rewards
Conclusion
This game runs smoothly without significant lags and drag-backs with numerous gamers worldwide. Furthermore, the distinct vehicle choices make up for many setbacks in the game, making it fun.
You can compete against strangers and friends from all over the globe on one interface. In this fun battle of the crashes, may the smartest and best evader endure till the end?