Download Chrono Trigger APK, a timeless role-playing game that takes you on an adventure to save the planet – a journey to the forgotten past, far future, and end of time.
An In-Depth Description of Chrono Trigger
As stated above, Chrono Trigger is a timeless role-playing classic game where players go on an adventure to save the planet. In this game, you will take a journey to the forgotten past, the far future, and the end of time, hence why it is timeless. The Dream Team – Dragon Quest – developed the game and the creators of Dragon Ball, Akira Toriyama, Yuji Horii, and Final Fantasy. So, if you are a fan of these titles and thirsty for adventure, Chrono Trigger is perfect for you, and as you continue to read, you will see why.
Chrono Trigger Android is a 1995 role-playing game published by Square – as the story unfolds and players progress in the game, they will journey into different eras, including ancient times, prehistory, the present, and the future. Whether a first-time player or a long-time fan, you will surely fall in love with Chrono Trigger Android as it promises hours of exciting adventure. Do you think you have what it takes to take up this quest and save the planet? Well, there is only one way to find out.
Chrono Trigger has a deep but interesting plot that promises to drive you to shock. The story begins with the festivities of a fair, where a lucky encounter happens, and this introduces the young hero of the game – Crono. Crono meets a lovely girl names Marle, and they decide to explore the fair together. They go to see an exhibition – the teleport machine – the invention of Crono's long-time friend, Lucca. So, if you are mentally ready, let us begin.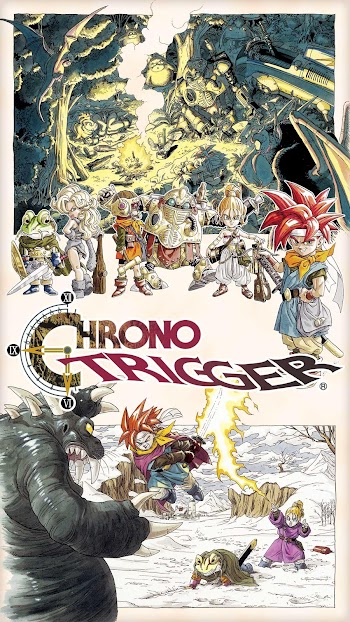 Marle, the curious and fearless girl she is, volunteers to be part of the demonstration. Unfortunately, the teleport machine malfunctions, and she gets sucked through a time portal. Crono shows his bravery at this moment – he takes hold of Marle's necklace and goes down with her, and they both find themselves in a world from four centuries before (400 years ago). Things become more complicated when people think that Marle is the missing queen and she is taken to the castle.
Marle was mistaken for the queen because she is the queen's descendant, so their facial features are quite similar. It is up to Crono and Marle to work together and find the actual queen in the past, or else Marle will cease to exist. So they go through a journey of space and time and embark on an epic quest to save the planet's future.
The Chrono Trigger latest version has updated controls, outstanding graphics, and incredible sound effects to make your gaming experience enjoyable. As you progress in the game, you will uncover many long-lost secrets and have to complete different challenges. You will also experience the mysterious and forgotten Dimensional Vortex and Lost Sanctum dungeons. Our site offers a straightforward Chrono Trigger download process so that you can get right to it.
Features of Chrono Trigger
Now that you know about Chrono Trigger, let us look at some of the exciting features this game offers.
Characters
Chrono Trigger revolves around teenage characters on a quest to save a planet's future. These characters are explained below.
Crono: this is the main character of Chrono Trigger – he is brave, courageous, and always willing to get to the bottom of matters. He possesses magic that creates light and thunder; his weapon is the Katana sword. He is the major reason this game has so many adventures to embark on.
Marle: the fearless character who volunteered to be part of the demonstration and why the story began. Marle is a dynamic character who has feelings for Crono. She possesses ice magic.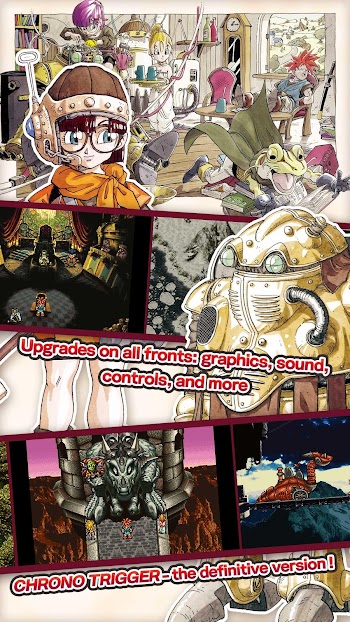 Lucca: this is Crono's childhood friend and the inventor of the teleport machine that sucked Marle and Crono into a portal of time. She possesses fire magic. She is very knowledgeable and a great addition to the group.
Robo: This is a robot of the year 2300 that the group discovered along their journey. Robo does not possess any magic but has laser combat ability.
Frog: frog is a frog who was once a medieval knight but was cursed. He is a fantastic swordsman who wields the Masamune sword that can subjugate demons. He possesses water magic.
Addictive Gameplay
Chrono Trigger features two main spices that make the gameplay addictive: New Game+ and moral concept. New Game+ is a feature that allows players to replay a scene multiple times until they are satisfied. For example, if there is an unsolved secret or a monster that has defeated you countless times, you can skip other scenes to get to these scenes and enjoy them separately.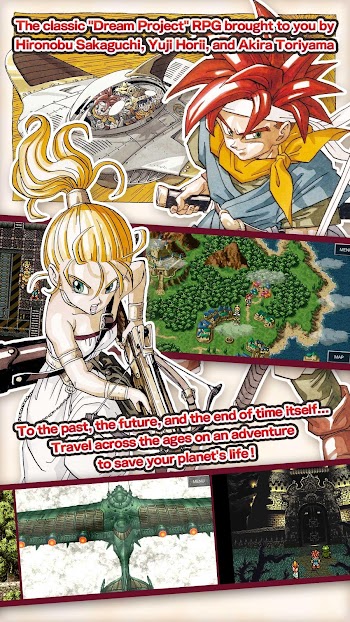 The next spice in the Chrono Trigger gameplay is the concept of morality which states that whatever you do in the present will have consequences and come back to you in the future. If you are familiar with time travel movies and TV shows, you will know about this concept. The game does not have an interactive style, but every decision brings different outcomes and consequences for each character.
The Dimensional Vortex and Lost Sanctum Dungeons
In Chrono Trigger, players will experience the Dimensional Vortex and Lost Sanctum Dungeons. The mysterious Dimensional Vortex dungeon exists outside of time and space. In contrast, the Lost Sanctum dungeon is an enigmatic gate in medieval and prehistoric times that will lead you to the forgotten chambers. Different wonders and challenges await you in these two locations; if you are lucky, some long-lost secrets will be revealed.
Tech Moves and Combos
No matter the dimension and time you are, you can unleash special tech moves during battles, and the higher the level, the more your tech moves and combos increase. Players can combine the different tech moves – this includes abilities and magic – to unleash special combo attacks and defeat enemies quickly and easily. You can also merge tech moves to create double and triple tech stages with destructive powers. The game features over fifty combos that can be executed between two and three characters.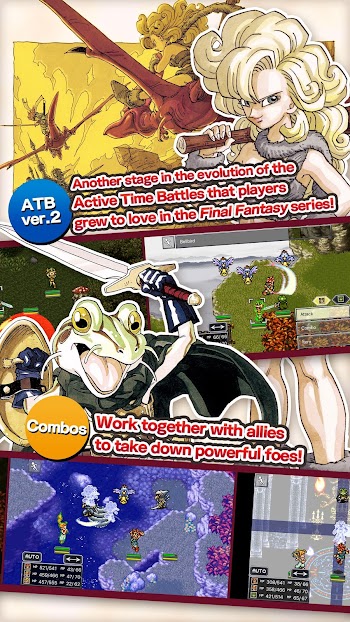 Other Features Include:
When you traverse the game map, your progress will be automatically saved, so you have nothing to worry about.
Players can choose to quit the game from the menu or save the game at a save point.
Time will not stop during battles; players can only enter commands when their character's gauge is full.
Chrono Trigger latest version has updated graphics in higher resolution, thereby guaranteeing a top-notch game experience.
The game features music and sound supervised by the composer, Yasunori Mitsuda.
Conclusion
Dive into a world of time and space where you get to travel through different eras on an adventure to save a planet's future. Saving a planet is a challenging task that only the bravest and strongest can handle. Our Chrono Trigger download process is straightforward – so what are you waiting for? Be the brave one and hit that download button now!