Download Catapult King APK and have fun destroying different castles and fortes. Play the hero and save trapped princesses from evil dragons with a catapult and stones.
Catapult King
People have always loved action games because of the cool graphics and exciting stunts. Catapult King is just as fun and exciting. In the game, you play a hero and control a catapult with stones. You use the catapult to knock down towers, guards and defeat your enemies. There are multiple game levels, and the game has a bit of a fantasy element.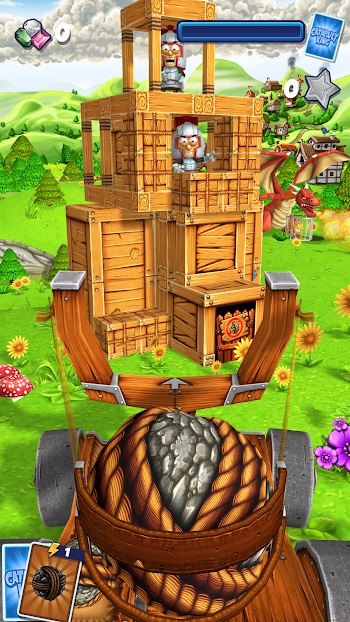 Fans of angry birds games will love this catapult action game. Get the Catapult King app download today and start battling fire dragons and armed guards!
Game Description
Catapult King is a casual action game developed by Wicked Witch Software in May 2012.
The game is played in the first person and simulates a catapult. Your character is a warrior, and your job is to rescue the stolen princess from the castle. Lots of soldiers and a dragon guard the castle!
You must defeat the dragons and the guards and destroy the fortress to win the game. You may use your arsenal and weapons from the store to defeat them. You can also upgrade your character by leveling up or buying skills.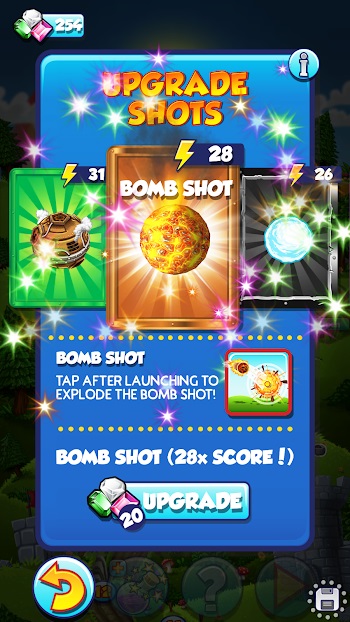 While the mission seems very easy, it can be hard to defeat magical creatures using regular stones and a catapult. You can upgrade your catapult and buy special stones and blasts to help you win.
Get the Catapult King game download, level up your character, and defer your enemies in this relaxing action game.
Features of Catapult King
Interesting challenges - You can never get bored of playing Catapult King. The storyline is amazing, and there are endless levels and upgrades for you to enjoy.
There are over 100 levels for you to play. Each level is more difficult and engaging than the last.
You can upgrade your catapult and use powerful special moves like Strike, Shock Earth, etc.
Good game physics: The in-game physics is very realistic and well designed. Destruction within the game is also well designed.
Get Catapult King game free download today to access all these amazing features.
Catapult King GamePlay
Catapult King has more than 100 unique levels for you to play. Each level has a different arrangement of guards and buildings and a new set of enemies for you to conquer. As you advance in the game, the levels get more complicated, and your enemies grow more powerful.
Once you pass level 20, you can unlock special bullets and spells that assist your slingshot aim and help destroy enemies quicker and more efficiently. You can upgrade your slingshot to a cannon and increase the force of your shots.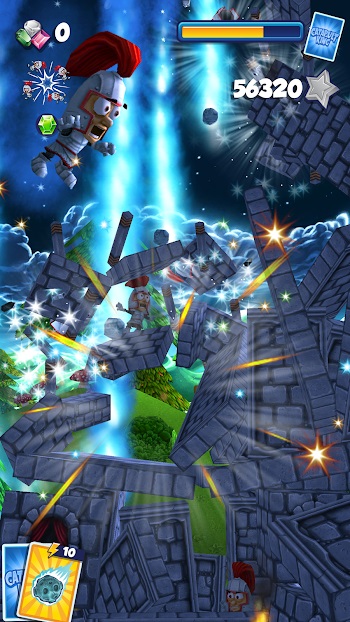 Sometimes, Catapult King awards players with prizes for passing a level. This prize could be treasure, ammunition, magic, and so on.
Since the game is in the first person, it is easier to spot and lock on to your target. Once you've done this, shoot your shot and watch the destruction play out. You can set the direction of the slingshot before throwing it.
The best part is, there is no limit to how many stones you can throw. You can keep ambushing your enemies until you defeat them. You also get back up lives after each level you complete.
Get the Catapult King free download today and fire ammunition into the Dragon King's kingdom to save your princess!
3D Animation Graphics
The new Catapult King download has nice game graphics. Everything from the castles to the fire dragon is beautifully animated with detailed graphics.
As the game is in the first person, you can clearly see the side you're attacking. When you shoot your slingshot, the game zooms in to show your enemy's fortress being destroyed. With this close-up view, you can see the graphics more clearly.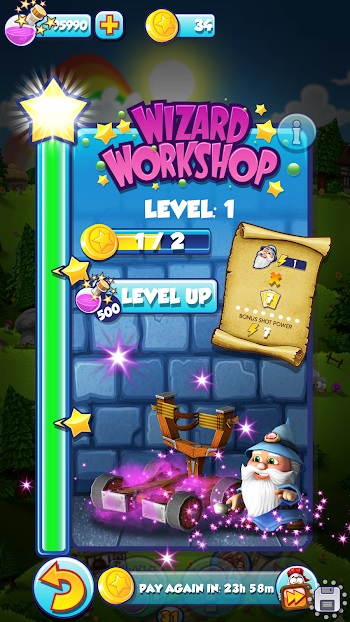 The whole outlook is very dynamic and unique.
Lots of NPC Characters
Because Catapult King is played in the first person, most of the characters we see are on the enemy's side.
There, you can see different trees, valleys, wooden blocks, and many armored soldiers dressed in various costumes.
Each level has a different number of soldiers and a different scene arrangement.
Magic Stones and Special Powers
It can be hard to hit your target with a regular stone and catapult. To fix this issue, you can buy special magic stones from the game store. These stones and ammunition are stronger and can take out more guards.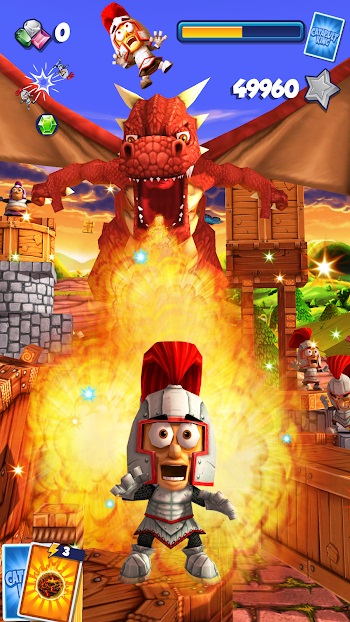 Players can buy special spells and magical powers from the store to add to the fairytale theme in Catapult King. These can assist in your aim and increase the impact of your shots. If you have coins, you should get lots of spells and power-ups, as this will help you level up.
Get the Catapult King unlimited magic download today and purchase as many spells as you want!
Interesting Storyline
Lots of players love Catapult King's engaging and interesting storyline. The story is very similar to a traditional fairytale story.
Your character is a hero with a slingshot. An evil dragon lord has kidnapped the princess of your kingdom, and your job is to rescue her. The game environment looks very magical and is lush and green.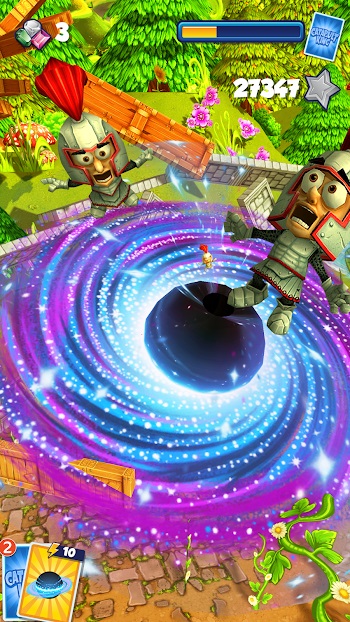 You need to destroy the strongholds to the tower, defeat the guards, and fight the giant dragon guarding the building. Once you've done this, you'll save the princess, and the game will be complete.
Downsides to Playing Catapult King
Catapult King is an amazing game. But, like most games, it has some features it can improve on. Some players feel the plotline needs to be more diverse and not just a simple story. The game is more suited for newer smartphones and may not work well with older devices.
In addition, the game does not have many action scenes and is more of a casual game. Players also want more game controls while playing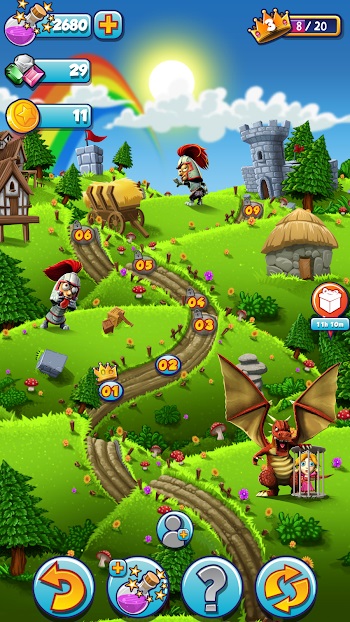 Despite these drawbacks, Catapult King is still a top-quality game worth downloading.
Conclusion
Catapult King is a great action game with nice graphics and a quality storyline. The game is well made and has many levels for you to enjoy.
Overall, it is an amazing action game; you should try it out!