Download Brawl Stars APK latest version to enjoy intense fighting sessions. It features lots of brawlers, weekly events, and overall fulfilling gameplay.
In-Depth Details about Brawl Stars APK
Brawl Stars is an action game offered by Supercell. It offers an action-packed multiplayer gaming experience.
You will choose your brawlers from an ever-growing cast of characters. There are currently over 50 brawlers available, each with a unique fighting style.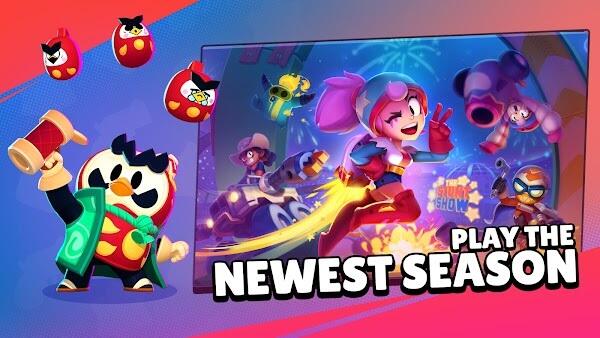 Once you have chosen your brawler, you will take them into intense 3-vs-3 battles. The objective is to defeat all the opponents and be the last brawler standing.
Hypnotic Gameplay
This game is intense and addictive. It lets you bring out your inner brawler. With each battle, you will upgrade your brawlers and unlock new abilities.
You start with a few unlocked brawlers and skins. Fortunately, you can customize your characters to match your playstyle. This way, you can have a unique team perfect for you.
Always ensure that you win rewards at the end of each match. These rewards will help you upgrade your brawlers and buy new items from the store.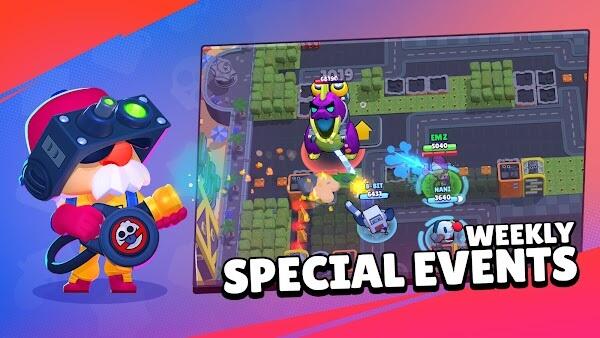 The controls are pretty straightforward. Simple touches on your smart device will help you unleash a powerful attack. You can play this game with ease, even if you are a first-time player.
Multiple Game Modes to Consider
Playing Brawl Stars is never boring! You will have access to different modes, including:
Gem Grab. This is a 3 vs. 3 battle where you'll be required to collect 10 gems and hold onto them for 16 seconds. If you get fragged, you will drop all the gems you are holding. Always work as a team to outsmart the opponents.
Showdown. This is a winner-take-it-all game where you can play solo or form a team of two. You must gather power-ups and eliminate all other brawlers to win. The last brawler/team standing will be declared the winner.
Heist. It's a 3 vs. 3 game mode where you must steal your opponent's treasures. You will have to work as a team to break their safe and escape with the treasure.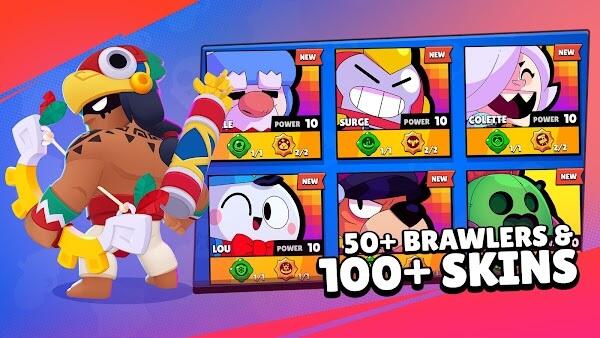 Brawl Ball. It's a 3 vs. 3 game mode where you must score goals to win. The first team to score 2 goals will be declared the winner. You can play this game mode in different arenas, each with unique obstacles. The game does not have any red cards!
Special Events. These are PvE and PvP events where you can earn unique rewards. You will have to complete different objectives to progress in the event. The further you progress, the better the rewards will be.
Bounty. It's a 3 vs. 3 game mode where you must collect stars by fragging opponents. The team with the most stars at the end of the match will be declared the winner.
Championship Challenge. This is an esports event that happens every month. You can join in and compete against the best players in the world. The top players will earn a spot in the Brawl Stars World Finals.
You can unlock your brawling potential in these under-three minutes' matches. The gameplay is pretty simple, but it's incredibly addicting.
Unlock Items & Level up Your Gameplay
This game offers unique ways to level up and unlock items. You can buy brawl boxes from the store using the coins you've earned from playing. These boxes will give you random items, including brawlers, star powers, and more.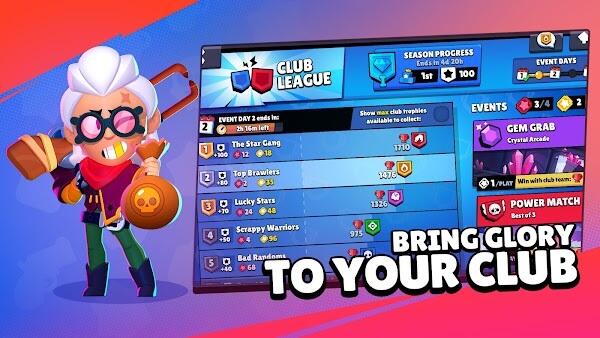 You will also earn trophies by winning matches and completing objectives. Earning trophies will help you progress through the different tiers, each with its rewards.
Even better, you can join or create a club. This is a group of people who can help you to earn more rewards. You can chat with members of your club and take part in club-exclusive events.
Unique Features of Brawl Stars APK
Many Unique Maps. The game features a wide selection of maps, allowing you to have a different experience each time you play. You will always have something new to enjoy in the gameplay.
Complete Quests. There are daily and weekly quests that you can complete to earn rewards. These rewards will help you level up your brawlers and buy items from the store.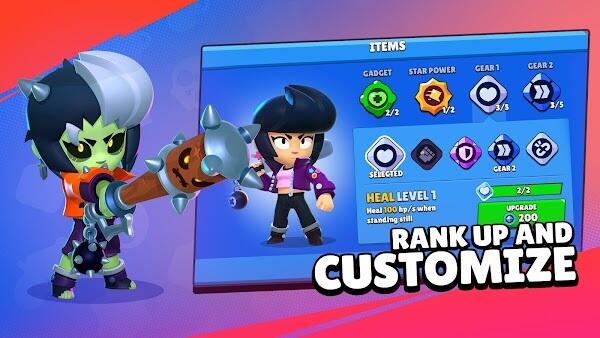 Multiplayer Battles. The Brawl Stars APK is all about multiplayer battles. You can play with friends or random people from around the world. There's also a club system that allows you to join or create a group of like-minded individuals.
A Dynamic Leaderboard. The leaderboard is always changing, so you can see how you compare to the best players in the world. You can also compare your progress with friends and club members.
Numerous Customization Options. You can customize your brawlers with a wide range of skins, gadgets, and star powers. This feature offers high-level personalization that allows you to make your brawler unique.
Impressive Graphics & Sound Systems. The graphics are colorful and cartoony, while the sound is adrenaline-pumping. This combination makes for an immersive gaming experience.
Cost-Effective In-App Purchases. You can buy brawl boxes and other items from the store using real money ($0.99 – $99.99 per item). This feature allows you to progress through the game without grinding for hours.
Brawl Stars APK Download
If you want to use premium features without spending any money, you can download the Brawl Stars APK 2022. Here are its benefits: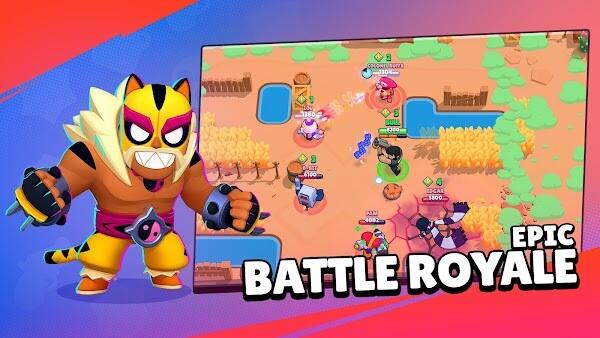 Brawl Stars APK Unlimited Everything. The APK will give unlimited brawl boxes, brawlers, and skins. All you to have a blast in the game without spending a dime.
Brawl Stars APK Unlock All Characters. The game will let you use all the brawlers, including those that are locked. You can use any brawler you want in any game mode.
Brawl Stars APK Unlimited Gems and Coins. You will have an endless supply of gems and coins, so you can buy anything from the store. This will help you to progress through the game quickly.
No Ads. The Brawl Stars APK unlimited money is distraction-free. You can concentrate on your winning strategy fully!
Conclusion
The Brawl Stars APK is an action-packed game that will keep you entertained for hours. It's easy to pick up but difficult to master. The APK allows you to progress through the game quickly and unlock all the features.