Download Beggar Life APK, a clicker and beggar-themed idle game with awesome features. Join the beggar in the game as he undergoes a life-changing experience.
Beggar Life
Beggar Life is a mobile game offered by manababa to engage players in the amazing gameplay. Beggar Life download has made it possible for beggars to be choosers. Watch the life of this poor beggar change for the best as he goes on several adventures. Get ready to build yourself an empire in the game and become a billionaire as you go. Get the game on your Apple and Android devices.
Game Description
Manababa's simulation game Beggar Life includes some role-playing aspects. You will play as a beggar in Beggar Life who looks like a disciple in Shaolin Temple disciple and is bald-headed. However, nothing miraculous or heroic is taking place to you; you remain merely a helpless beggar with a sharp mind.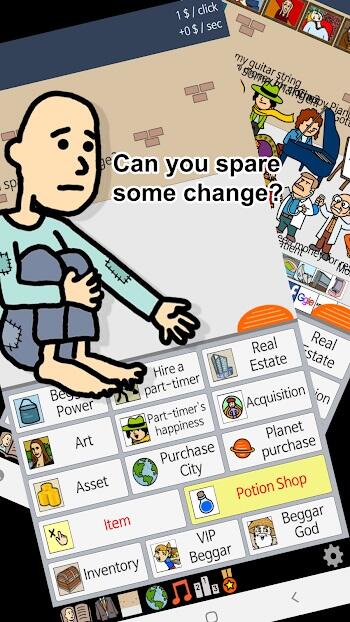 Even though you're a beggar, you maintain a positive outlook towards life, take advantage of every chance that comes your way, and employ every trick in the book to make so much cash. Consequentially, you're now recognized as the world's wealthiest beggar. Purchase real estate, homes, and the rest of the globe. Are you aware of how absurd Beggar Life is?
Beggar Life Gameplay
According to the simple in-game elements in Beggar Life, players may go right into the fun gameplay of an idle clicker. In making the beggar deliberately try to obtain cash in this situation, players may quickly allow the Beggar Life to play out. You would be required to periodically check on the gameplay and for a few crucial improvements. In this game, you can indeed perform one action: tap to gain funds. It is termed a game of clicker idle for this reason. You will get the funds for the beggar each time you touch the screen. You would also receive extra gold for every click as the strength level rises.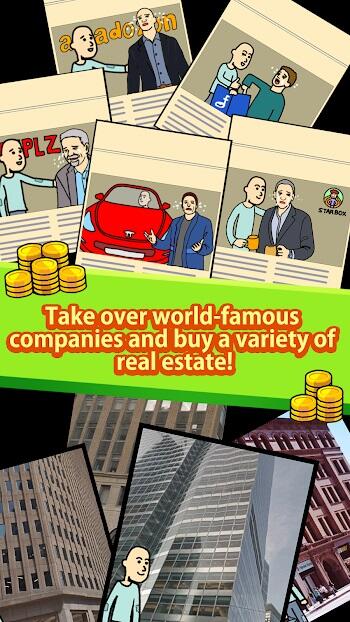 Do you know how they say begging is a real job? You will surely experience the idea in Beggar Life. In this game, you will employ contract beggars to assist you in earning extra cash. In times where cash is in excess for business expansion, the beggar will become ever crafty. His character will be evident as he convinces and invites rockers, football players, fashionistas, artists, judges, aliens, scientists, singers, and kings to assist him in earning more cash in a supercilious and pathetic way.
Features of Beggar Life
Here are the features of Beggar Life:
Employ Several Contract Workers
Android players may now expand the beggar business by employing fresh contract beggars to take a job for them in Beggar Life. You can freely acquire a variety of intriguing in-game personalities, such as a king, musician, rocker, soccer player, judge, fashionista, king, or scientist who will travel with you on your amazing excursions. You probably wouldn't feel lonely any longer because there may be a lot of other people who can assist you in the begging activities.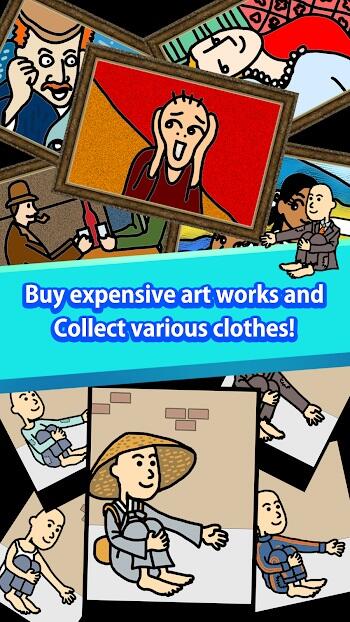 Increase Your Income
Beggar Life also gives you the chance to buy fantastic businesses and towns all over the globe, enabling you to turn into the true multi-billionaire of the earth and adding excitement to the gameplay. Merely by hiring the CEOs of these businesses, you may demonstrate your vast prosperity to the globe. Additionally, the created passive revenue will undoubtedly ease the game for most players.
Unlock New Features and Level Up
Your beggar would progressively gain extra scores and advance through the game stages as you play. By doing so, players will be able to access new game features, enhancing their enjoyment of the experience. Discover that you have the skills to work with new revenue streams. Or gain access to the helpful in-game tweaks that greatly improve the whole experience.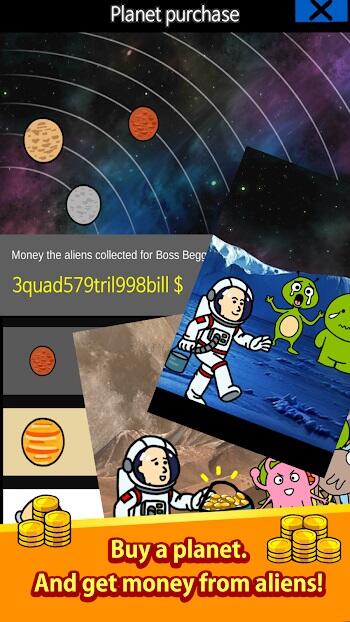 Purchase Artworks and Collect Properties
Gamers will be given the opportunity to acquire a variety of fantastic works of art and put them on display in your collection as you increase your earnings. You might also just sell your artwork to others to generate significant money for your trade ventures.
If you're interested, you may now play the fun smartphone game Beggar Life and acquire your fantastic assets from other players. You can either retain them as yours or trade them for big money. You alone are in charge of the decisions.
Customize Your Beggar
Due to the distinctive clothes available for the beggar, individuals who are intrigued can now enjoy the enjoyable gameplay of Beggar Life more. Here, players are free to concentrate on giving their personas fascinating looks and employing unusual clothing combinations to give your beggars a range of features. Do not hesitate to advance through the game and acquire more clothes to increase your enjoyment.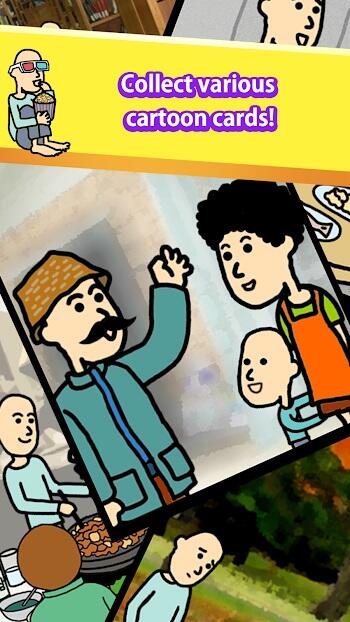 Collect Beggar Cards and Upgrade
Android players can take pleasure in gathering a variety of fascinating beggar cards in Beggar Life, allowing users to actively engage in the game in a variety of original scenarios. To truly enjoy the games, know the beggars in your organization and their individual stories using these beggar cards.
Players in Beggar Life shopping may also utilize a range of accessible improvements in their favorite mobile game, thereby making the game extra engaging. To earn money more quickly, activate specific personality bonuses right away, and more, please try to activate and have your enhancements ready.
Play Online and Offline
Engaging in the game online with friends and players from across the world is now enjoyable. As you compete against gamers and friends, have fun battling against one another in the thrilling battles for the multi-millionaire ranking. Gain the ability to brag about being a beggar while also receiving intriguing rewards.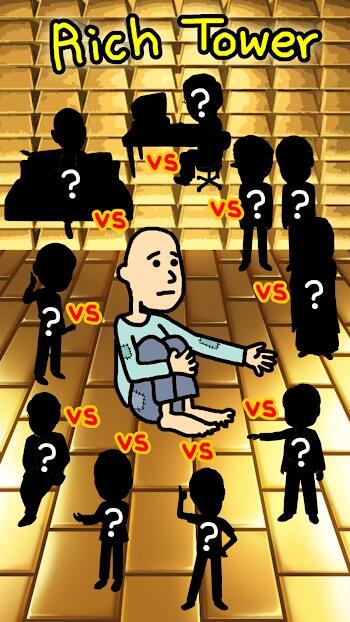 Idle Clicker's offline gaming is also enjoyable and trouble-free to play. Anytime you wish, just launch the game and begin exploring its features. To fully experience Beggar Life's engaging gameplay, it is not necessary to search for live Wi-Fi connections.
Conclusion
Beggar Life for Android gives players the opportunity to immerse themselves entirely in the engaging action of an idle clicker thanks to its straightforward and user-friendly in-game elements and distinctive and amazing tale. Enjoy developing your begging profession and use your diligence to accomplish big things.