Download Adguard APK for removing ads and trackers. Adguard protects your anonymity, removes unnecessary web elements, and saves traffic and page speed.
What's Adguard?
Adguard is a product of Adguard Software and one of the most popular ad-blockers on the internet. The company specializes in creating security software for various devices. Hence, Adguard is a versatile ad blocker with many unique features in the free and premium versions. The app has a wide range of detection for ads and does more than hiding them; it keeps the browser and apps fully functional and working at a speed too.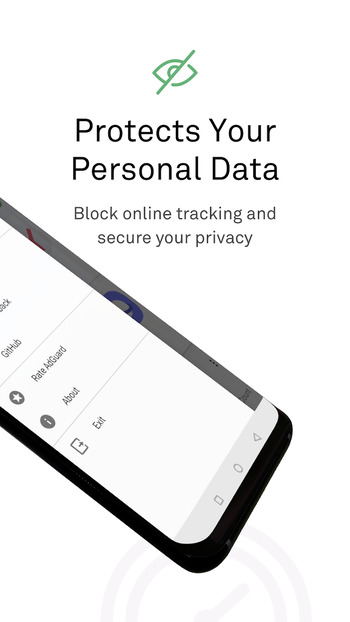 You also don't have to root your device while using Adguard Premium, and it's pretty easy to install after downloading the setup. Asides from providing an extra layer of security for your device, it also ensures you have a say in how it's done. Custom filters and user rules allow you to decide what happens and how it's done. It also supports multiple connected devices, which means you can use it on your windows, android, and iOS devices.
You can't deny the entertainment and convenience you get with Adguard protecting your device. Since some websites use pop-up ads that bypass the regular ad blockers, you can always trust Adguard to detect any ads and ensure they don't surface on your device, be it from your apps or browsers (depending on which one you opt for).
Why Choose Adguard?
Adguard Premium allows you to block out ads throughout your entire system, including browsers, apps, websites, and several other traffic sources on your device.
Provides comprehensive customer support that's available anywhere in the world.
Adguard also prioritizes your privacy by keeping your data safe and secure from third-party apps.
It boosts your general browsing or device speed by reducing the time spent loading ads.
You can customize the app and browser filters to meet your preference.
It supports multiple devices and can be installed as browser extensions or ad blocking in all apps.
Ideal for dark themes or settings when browsing at night.
You can also import or export Adguard data, so you don't lose any settings when you lose your files or change devices.
The ad blocker supports multiple languages, which you can change in the General Settings Tab.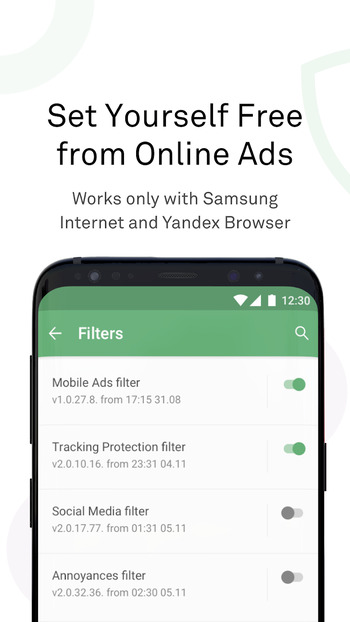 Below are more benefits of using Adguard Premium:
Amazing UI
Website Autoscan
Ads banner removal
High security
Virus and malware removal
Access to Premium VPN
Custom filters
No roots required
Apps management
DNS blocking and filtering
Extensions support
Adguard Premium Features
If you'd like to know what features you'll be getting from this app, below are some of the incredible cards Adguard has up its sleeves.
Ad Blocking
The app does an excellent job of keeping ads off your device as soon as you have it installed. The process takes place naturally, and you don't have to sacrifice your device storage or performance resources. It also has an antivirus that keeps track of malware on your device, although you must keep it rooted to access it.
Browsing Security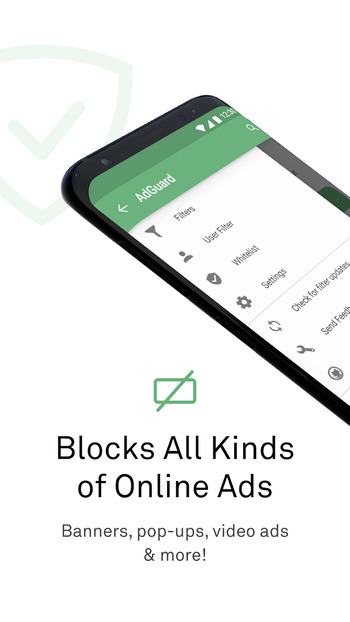 You can finally bid farewell to any fraudulent and phishing websites on your browser and ensure nothing you don't want enters or exits your phone without your consent. You can also avoid malware attacks from emails, apps, and websites.
Parental Control
For parents who wish to protect their kids from adult sites or dangerous sources on the web, Adguard can help you. The app denies all inappropriate websites and search results with obscene content you don't want your little ones to see. In addition, you can customize the app denylist to suit your parental rights and only allow safe content when they use the phone.
Privacy Protection
You sometimes have software running in the background and monitoring your activities. But with Adguard Premium protects your device, recognizes suspicious activity, and denies them access to your device. In addition, your data stays personal and secured, so you don't have to worry about data theft or loss.
Cosmetic Page Processing
When regular ad blockers do their thing, you sometimes notice empty spaces left after the ad is blocked. This space means the ads load even though you can't see them, so they reduce your page view. However, with the Adguard analogues, you can hide frames and empty spaces left after blocking ads.
Whitelist Creation
This feature is handy if you don't want all your apps to be blocked. For example, if you play games that require you to watch ads to access extra features, it means you won't appreciate these ads being blocked by Adguard Premium. So, you can add them to the white list and notify Adguard not to block ads from them.
Apps Management
You can keep track of the operations of apps on your device. In addition, you can choose to display some extra features on an app or not. For example, you can set up some apps to display information like traffic, data saved, and the number of filtered ads.
Advanced Configurations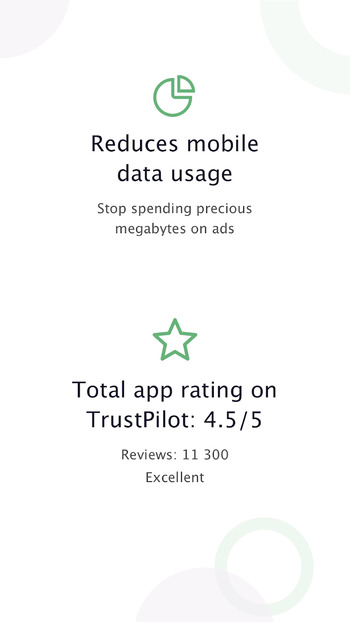 This is one of the best features of this application since it allows you to configure settings to suit your preference. The interface is also user-friendly, so you don't need technical expertise to be able to make changes here. You have to click the configuration option and start making the necessary changes.
Adguard Browsers/Apps
You can decide to have the protection on your device restricted to only a browser or all parts of your device. For example, if you install the browser extension, Adguard keeps that website safe from ads and attacks. However, you can also install the app/software on your device to provide all all-around protection on the entire device.
Adguard Free Vs. Premium
Generally, Adguard is free for android, but you can still purchase a license. The license options are flexible and offer additional features to users. The premium version does everything on the free version plus extra features like:
Stealth mode
Browsing security
Custom filters
Extensions
Ad blocking for browsers and apps.
Conclusion
That's it. Adguard Premium is one of the most versatile and powerful ad blockers you can opt for. It allows you to protect various applications from ads without getting distracted. You can also choose a free and paid version, though the most exciting features are available in the premium package.